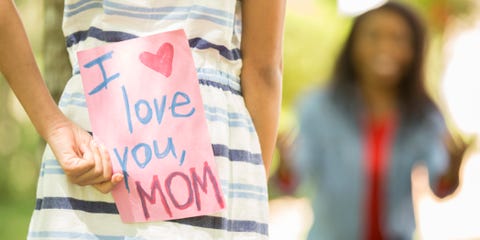 When it comes to moms, there's so much to be thankful for. And although they cherish a thoughtful gift, it's the card that really makes them feel your love. But figuring out what to write in a Mother's Day card can be challenging, especially when you aren't good with words.
To help you craft the perfect Mother's Day message, we went to the experts at Hallmark and American Greetings to give you some ideas. So whoever is a mom-like figure in your life — whether it's mom, grandma, mother-in-law, or another special lady — you can show her some love with these sweet card notes.
"Start from a positive place of love and gratitude—not only for what she's done as a mom, but for who she is as a person," says Wendy Bomers, senior writer at American Greetings. Give her a reminder that she's doing a great job, and let her know the multitude of reasons you're proud of her. Begin with a memory you share or a lesson you learned from her to make her valued.
The day is all about her. Tell mom how much she means to you in a personal, real way. "Your mom, of all people, is someone who knows the true you," says Bomer. "Let your writing reflect your voice, your thoughts, your heart, and your one-and-only relationship with your mom."
For all the times I didn't say it but should have…thank you, Mom. I love you.
I'm so lucky to have you as my mom and best friend.
Thank you for always being there with just what I need. It doesn't go unnoticed.
I'm so proud to be your son/daughter.
Every day I feel lucky to be able to call you Mom.
Of all the moms in all the world, I can't believe you're mine.
---
The wise matriarch deserves to know how much her role is admired and appreciated. Give grandma a smile with a sweet note acknowledging all she does for the entire family.
 Grandma, you mean so much to me. Thank you for always making me feel special, loved, and spoiled!
 Because of you, I got a really great mom. Thank you for everything.
 You've taught me so much about life, I look up to you.
 You are the heart and soul of this family.
For the wisdom you've given to my mom, which she's passed along to me, thank you.
How lucky I am to come from a line of incredible women.
"If your relationship is complicated, don't feel obligated to make your message more complimentary or effusive than you feel," Keely Chance, a master writer for Hallmark, writes on the site. "Instead, be warm and sincere in your card message. Focus on what's positive and true between you. Tell her you're thinking of her. Or simply wish her a beautiful day."
 I couldn't have joined a better or more loving family. Thank you for accepting me with open arms.
 We're so grateful for you and your love – I'm the luckiest daughter-in-law in the world.
 Out of all the mothers-in-law out there — I got the best. Have a beautiful day.
 Hoping all the love you give comes back to you tenfold today.
Thank you for raising such a wonderful son/daughter, have a great Mother's Day.
One mother you're born to, and one you get through marriage. I'm so lucky to have gotten you.
Anyone who has served as a role model figure in your life can enjoy a little extra appreciation on Mother's Day. After all, giving birth is not required. Show a special woman how much you care for and appreciate her by sending a warm message like these.
 You inspire me to be a better person. Thanks for being like a mom to me.
 Happy Mother's Day to an amazing woman I'll always admire, appreciate and love!
You are a blessing to your family…and to me.
Here's to a wonderful woman in my life—sending you extra love today.
Some mothers you're born with, some you choose. Thanks for allowing me to choose you.
To one of the most special women I know, Happy Mother's Day!