Virgo Tattoos: There's a reason why zodiacs are one of the evergreen themes of tattoos. For some of us, our zodiacs probably describe our shining spots or secret traits better than words.
And for Virgo, who has zero-tolerance for error, getting a zodiac-related tattoo seems like a choice that couldn't go wrong.
But not all Virgos share the same characteristics and aesthetics. That's why we've rounded up a collection of the best Virgo tattoo ideas that may be bold, simple, minimalist or out-of-this-world.
If you are lucky enough to be a Virgo, it's time to find your next ink-spiration.
Note: This post is for inspiration only. Please don't copy the designs.
Go follow these tattoo artists and give them some love:).
Virgo tattoo elements and meanings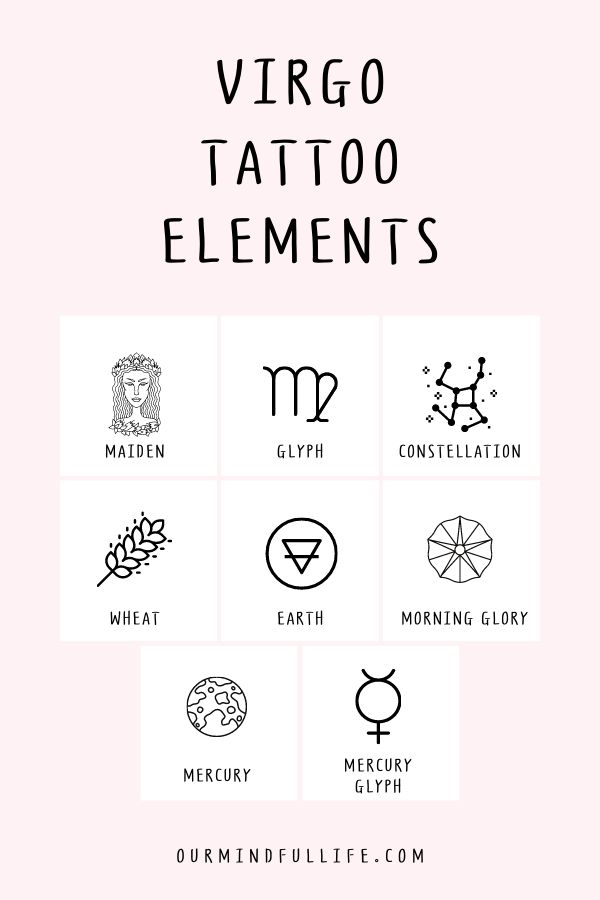 Virgo the Maiden, also known as the Maiden or Virgin, is a shy female carrying wheat or corn. It's the symbol of harvest.
The wheat is a comment element in Virgo tattoos in association with the Maiden, or some other origins, the Goddess of Harvest. Virgo season marks the beginning of the harvest time and is thought to be a sign of productivity and prosperity.
Virgo constellation
Virgo glyph
Mercury
Mercury is the closest planet to the Sun. It is in charge of communication, and it also guides the way we think. That's why Virgos are oftentimes critical thinkers and analysts.
Virgo is an earth sign, along with Taurus and Capricorn. Earth signs are diligent, practical, and reliable.
Birth flower: Morning glory
Unlike sunflower or roses, morning glory is more low-key but still gorgeous. Their pedals are relatively small and may not always catch attention. But their vivid colors and beauty will stand the test of time, just like the Virgo sign.
Virgo sign symbol and constellation tattoos
A small constellation arm tattoo for Virgo
by @_bodysoul
A flower sleeve tattoo in the shape of Virgo constellation
by @nuhfun
A starry Virgo symbol tattoo for women
by moth_tattoo
 Virgo wrist tattoo
by @kissa.tattoo
A sleek Mercury glyph neck tattoo
by @besarmate_ink
Minimalist zodiac and planet symbol tattoos
by @kissa.tattoo
A minimalist constellation tattoo on the back
by @blacksheeptattooby_jar
A hidden constellation tattoo for Virgos
by @trueinkstudios
A black and white Mercury tattoo on the forearm
by @uni_tattoo
A minimalist fox tattoo for Virgins
by @mairaegito
Virgos, just like their spirit animal fox, are sensitive and independent. They are self-aware and are always prepared. If you are sharp like a fox, this tattoo idea is perfect for you.
A watercolor lotus tattoo for Virgo
by @leejacktattoo
A colorful stars tattoo for Virgo girls
by @deardeeri
An abstract Virgo tattoo between the boobs
by @borja_ink_tattoo
A small Virgo symbol wrist tattoo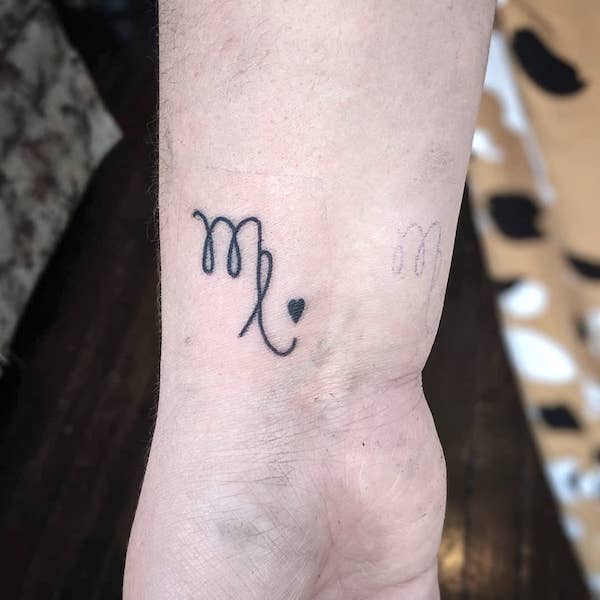 by @dreamworxink
A constellation tattoo behind the ear
by @mcqueen_mode
A simple zodiac tattoo below the collarbone
by @benedictattoo
A sleek constellation tattoo on the back
by @notjustisabella
Tiny ear-back Virgo symbol tattoo
by @peria_tattoo
Read More
A floral constellation tattoo on the shoulder
by @ioioiotattoo
Matching couple zodiac tattoos
by @carvalhobe
A Celtic Virgo tattoo
by @nancyxing_tattoo
A tiny Virgo finger tattoo
by @topp_tattoo
Cute moon tattoo on the back
by @handitrip
A tattoo that brings a little zen to Virgo
by @diana_oldskooltattooing
A simple constellation wrist tattoo
by @yaelraz0n
A watercolor tattoo with the date of birth
by @tattooistxael
Unique tattoo ideas for Virgo women
A small Virgo tattoo under the collar-bone
by @dreamworxink
A tattoo that combined Chinese and western zodiac symbols
by @ourtattoo_iven
Virgo birth flower – Morning glory tattoo
by @mini_tattooer
A bold statement piece
by @lilianraya
The Maiden tattoo – the Goddess of Harvest
by @alixunderyourskin
Center of the Universe
by @anitablacksheep
Flower tattoo with the constellation
by @mrtnv_
Read More
A wheat foot tattoo for Virgo women
by @redcattattoo
Virgo is oftentimes associated with Demeter – the Greek goddess of wheat. That's why you may see a lot of wheat in Virgo tattoo designs.
If you are over constellations and zodiac symbols, consider wheat as your inkspiration.
A cute and playful Virgo tattoo for girls
by Instagram
The thinker
by @trueinkstudios
A lunar tattoo on the back
by @gabig_tattoo
A Virgo goddess tattoo on the arm
by @nathaliatattoo
"Trust your heart, not your eyes"
by @terrygrow
A delicate astrology tattoo
by @tattooist_sigak
A flower rib tattoo with Virgo constellation
by @ilwolhongdam
A Pisces Virgo Aries tattoo
by @highwaterstattoo
A fun way to get your sun sign, moon sign and rising sign inked.
Virgo spirit animal tattoo
by @rangsit_tattoo_studio
Fox is the spirit animal of Virgo. If you want a unique Virgo tattoo that does not include a Virgo symbol or a constellation, go for a fox tattoo!
The overthinker
by @flavtattoo
Read also: 38 Virgo quotes that will expose the sign
A traditional Virgo plant tattoo on the forearm
by @casanu
A watercolor Virgo thigh tattoo
by @zdvyhl
An impressive Virgo constellation tattoos on shoulder
A wheat tattoo with crown
by @averykiyo
A goddess tattoo with refined details
by @lordenstein_art
Bold tattoos for Virgo men
A bold third-eye arm tattoo
by @ray.tattooer
Anatomy of Virgo
by tutto_darifare
A geometric symbol tattoo for Virgo men
by @mentatdooisa
A bold colored tattoo on the arm
by @orsolyatatar
A Virgo mandala arm tattoo
by @charlotteannharris
Stars and landscape tattoo with a story to tell
by @bicemsinik
A tribal arrow tattoo with the Virgo stars
by @x_makeup_by_domi_x
The adventure-seeker tattoo for Virgo
by Instagram
Which Virgo tattoo is your favorite?
So there you have it. Here are all the Virgo zodiac tattoo ideas. Have you found the one for you?
If you want to know more about Virgo sign and Virgo personality traits, here's a video from my favorite astrology Youtuber. Enjoy!