Veterans Day Assembly Ideas & Activities : Veterans Day is celebrated on November 11. We can honor the 18 million veterans of the U.S. military and show our appreciation for the sacrifices they made for our country.
Memorial Day and Veterans Day are often confused by many people. The Memorial Day holiday honors soldiers who died in service to the United States, while Veterans Day honors everyone who served in the U.S. Armed Forces. In the U.S., we honor veterans with a wreath-laying ceremony at the Tomb of the Unknown Soldier at Arlington National Cemetery in Virginia, as well as with parades throughout the country.
In response to the Coronavirus pandemic, our participation in these events may change. The biggest Veterans Day parade in New York, for example, will be televised and streamed online. This will not change the spirit of the parade. Students can take part in Veterans Day activities. This will give your students an opportunity to say "thank you" while ensuring our veterans receive the recognition they deserve.
Veterans Day Assembly Ideas
Veterans Day is a day when Americans across the country remember those who have sacrificed their lives to preserve the values of liberty and happiness. It is often observed by school assemblies. As you plan your remembrance day assembly, think about ways you can educate your students on the lives of veterans and leave them more appreciative of these individuals.
1- Local Veteran Speech
It is impossible for a student to learn about veterans better than the veteran himself. In the weeks preceding Veterans Day, find a local veteran who served his country and invite him to talk to the students. Ask students to prepare lists of questions to ask the veteran during class. Allowing the veteran to speak at the beginning of the assembly, then moving through the lists of prepared questions, will ensure that the holiday is educational.
2- Veteran-Themed Art Show
Assemble a veteran-themed art show to honor veterans in an artistic way. Create some artwork that captures the things veterans do for Americans to prepare for this assembly. Display the pieces in the school gym or auditorium. Let students walk around the space and take in the works of art instead of having a standard assembly. Students can discuss their works with their peers while standing next to their works.
3- Make a Difference" Day
We are better off because of veterans. Create a "Make a Difference" assembly to convey this message. Organize the participation of volunteers from various local charities for this assembly. Ask these individuals to discuss what students can do to make a difference with students. During the assembly, have a teacher explain that veterans make a difference, but they can't necessarily make a difference in the same way. Next, let each speaker present his or her organization to the students gathered.
4- War History Presentation
Make Veterans Day a teaching opportunity by teaching your students about history. Speak with a museum or speaker who knows the history of war. Bring in this individual, who brings photos and artifacts from past wars. Speak to students about several different wars, along with current warfare, so that they can see how things have changed on the front line.

Veterans Day Activities for High School Students
You will find activities here that will bring the experiences of service members to life and help students understand why it is so important to never forget those who risked their lives to keep us safe.
1. Write a Letter to a Veteran
Veterans often suffer from post-traumatic stress disorder (PTSD), anxiety, and depression. Veterans also have a high rate of unemployment and suicide as a group. Service members deployed away from family appreciate heartfelt letters expressing appreciation for their service. Among the care packages sent by Operation Gratitude, the letters are the most cherished item. One enlisted man serving aboard the USS Ross in Spain called the letters a "ray of sunshine for the crew" after a tough deployment and mandatory quarantine due to the coronavirus pandemic. Sign up with Operation Gratitude for a letter-writing toolkit and mailing instructions. You can always have students write you a message online if distance learning makes it hard to collect handwritten letters from them. The message will be printed on a postcard and sent by Operation Gratitude.
2. Read Books About Soldiers' Experiences
Students should read the first chapter of Tim O'Brien's book of short stories about the Vietnam War, The Things They Carried. What are some of the physical items soldiers carry? What do the objects reveal about the characters, their emotional states, and how the war affected them? O'Brien uses repetition as a storytelling technique. How does repetition affect you?
Listen to this NPR interview with Tim O'Brien on the 20th anniversary of the publication of The Things They Carried to understand what veterans today carry with them from their military service. During the call, one caller shared that he carries "shrapnel in my leg and bitterness." O'Brien shared his own burdens: "I carry the memories of ghosts of a place called Vietnam and the people of Vietnam, my fellow soldiers." Students should write a paragraph reflecting on how these veterans' experiences are reflected in The Things They Carried.
3. Bring a Soldier's Story to Life
You can help your students make history! Engage them in the Veterans History Project, which collects and preserves the firsthand accounts of American military veterans, from World War I to more recent conflicts. Students ages 15 and older are encouraged to interview veterans and record their reflections on military service and its impact on future generations. The students can interview friends or family members who have served in the military or contact local veterans organizations, senior centers, or retirement communities to find veterans who may be willing to share their stories. Check out these resources from the Veterans History Project, including sample interviews and questions.
4. Invite a Veteran to Speak to Your Class
Make your students ask their families if they have any relatives who served in the military, and if they would be willing to visit the classroom – either virtually or in person – to share what Veterans Day means to them. You can also ask them to share stories or experiences from their time in the military with you. Establish a clear agenda before the meeting and remain sensitive to what they may or may not wish to disclose. High school students then have the opportunity to ask questions. If no student in your class has a family member willing to speak, contact a local veterans' organization to arrange a classroom visit.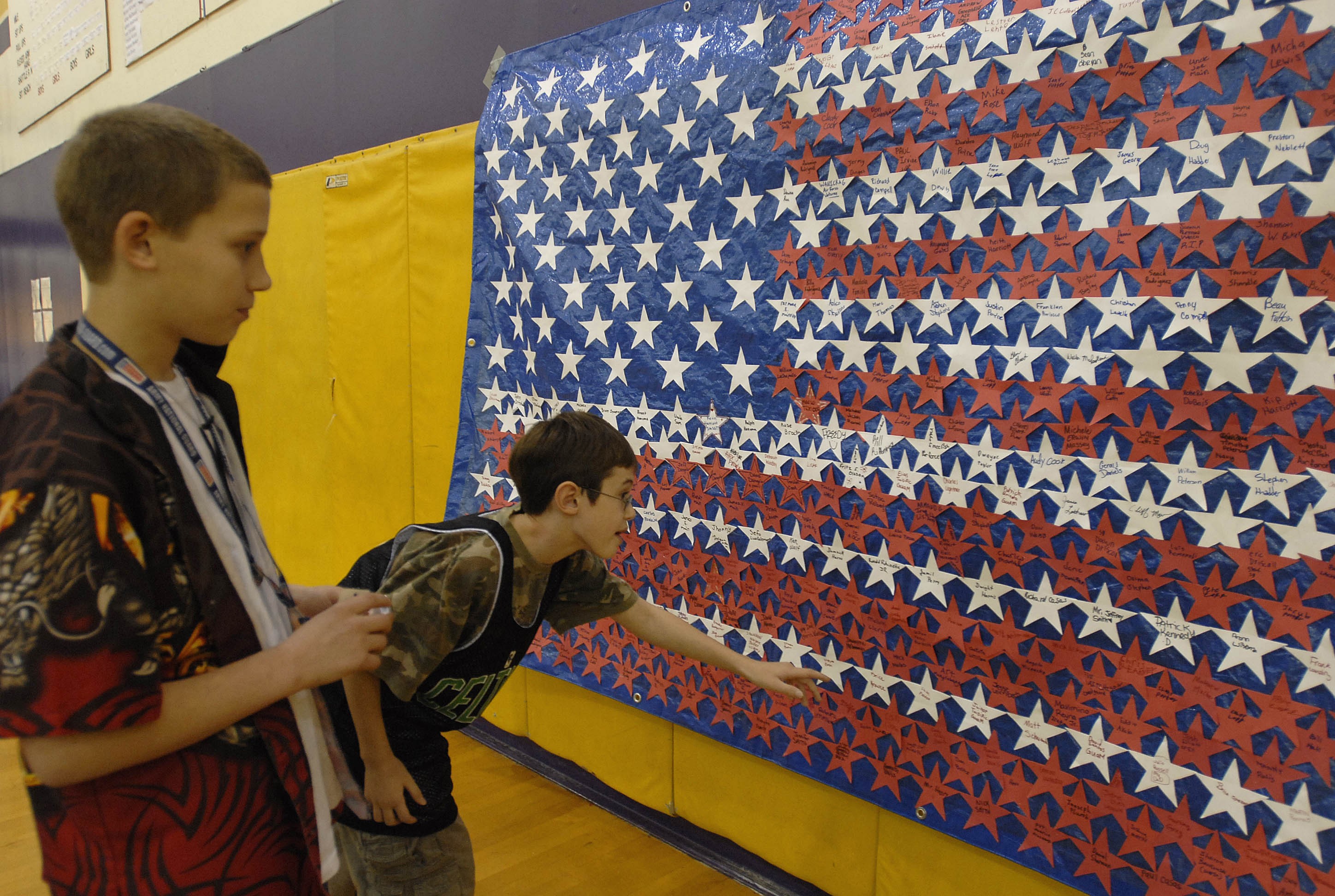 Considering the ongoing pandemic, a virtual meeting may be your best option. After the visit, ask students to summarize their most memorable takeaways. Find creative ways to align the assignment with your curriculum.
5. Create and Send Paracord Survival Bracelets
Using paracord bracelets-made of parachute cord that can hold up to 550 pounds-military personnel can create a makeshift shelter, make a sling, splint, harness, and attach camouflage nets to trees or vehicles. Make paracord bracelets using these video and photo instructions or ask your students to follow the step-by-step instructions. (Your school or district can purchase paracord bracelet kits from Operation Gratitude.) Then, you can ship the students' bracelets to Operation Gratitude, which will include them in care packages sent to U.S. members of the armed forces. Alternatively, your students can write letters to military personnel explaining why they are grateful for their service to our country and submit a copy to you for a grade or extra credit.
6. Take a Virtual Trip to a Military Museum or Memorial
You can take your students on a number of online museum field trips to teach them about the military today and its role throughout history. Some examples include:
National WWI Museum and Memorial, Kansas City, Missouri: The museum offers a number of online exhibitions on topics such as volunteerism during World War I, the end of World War I in 1918, and more.
National Museum of the United States Navy, Washington, D.C.: Your students can view artifacts, digital displays, and photographs related to various wars at this museum.

Additionally, the museum offers high school lesson plans on Pearl Harbor.

The Intrepid Sea, Air & Space Museum Complex in New York, New York offers virtual tours and talks as well as videos on its YouTube channel, oral history interviews with those who served on board the famous aircraft carrier, and a searchable online database of the Museum's collection of items.
View historic photographs and information at the National WWII Museum, New Orleans, Louisiana. View exhibits including "Road to Tokyo" and "Road to Berlin."

Students and teachers can also take advantage of distance learning opportunities and resources at the museum.

There is a virtual tour of the Vietnam Veterans Memorial on the National Mall available through the Vietnam Veterans Memorial Fund's mobile tour app, which can be accessed online.
7. Create a Veterans Day Timeline
You can have your students work in groups, either in person or virtually, and create a timeline depicting the key events in the history of Veterans Day. Each important event in the holiday's history should be described in a detailed paragraph or bulleted list. Videos, trifold boards, online presentations, or anything your students can come up with can be used for the timeline. During the creation of their timeline, which can either be submitted for extra credit or presented to the class, students should answer the following questions:
Why does Veterans Day take place on November 11 each year?

Veterans Day was originally known as Armistice Day. Why was this changed?

Is Veterans Day celebrated in other countries? If so, when?

What's the difference between Veterans Day and Memorial Day?
8. Write a Veterans Day Essay
Students can write a short paragraph, essay, or explanation about how Veterans Day has changed since it began nearly a century ago. What are the reasons (or reasons not) we should keep this holiday? Have the students share their reasoning with the class.
Veterans Day Commemoration Activities
Schools and the local community have the opportunity to produce a variety of cooperative programs on Veterans Day. Participation from patriotic groups can enhance the projects in this guide.
Indoor Ceremony
An indoor assembly program can provide a very meaningful tribute to America's veterans, depending on the facilities available. Depending on the size of the program, it may be possible to extend invitations to the general public. This outline of a typical Veterans Day ceremony represents a typical one-hour program:
Prelude and Posting of Colors
The school or community musical organization may perform several appropriate selections as the audience is seated. Processions and posting of colors are always memorable. Local veteran service organizations often participate in such programs with impressive banners and flags.
Pledge of Allegiance to the Flag and National Anthem
Inviting the audience to stand and sing the Pledge of Allegiance and the National Anthem should be the responsibility of the program chairperson, school principal, or student body president.
Introductory Remarks
The tone for the program can be set by appropriate introductory remarks lasting several minutes. You may read the following remarks or, if desired, read the President's Veterans Day Proclamation:
Conflict exists in the world today, and perhaps there always will be. Fortunately, the United States enjoys peace and freedom. Security, like other valuable things, does not come cheaply. Part of the cost has already been paid by Americans who answered the call to military duty when their country needed them. From the Revolution to the Persian Gulf, they have served in 11 wars, earning the distinction of "veteran." But freedom's cost continues long after the guns have been silenced. It is America's veterans who must pay. It can be difficult for some to readjust, to recover from wounds, or to overcome the hardships of age and infirmity without the help of their own country. Most do not expect recompense for their sacrifices. With the greatest amount of compassion and efficiency, let us continue to help those veterans in need. In honoring the rest, since they do not ask for special help, we should recognize their achievements and join them in their resolve to keep America strong and free.
Special Musical Selection
A band or choral group should perform one of the more impressive patriotic selections available.
Introduction of Guests
Local officials, school alumni with distinguished military service, veterans from the community representing various periods of service, and faculty members who are veterans can be selected as special guests.
Principal Speaker
Your principal speaker should be invited far enough in advance to allow him or her adequate preparation time for your program.
Student Essay or Reading
By including in school programs various presentations by individual pupils, students' participation can be increased. Selected essays from school-wide competition may be offered by the student-authors. Having a talented student read a well-known patriotic address by an American president or a famous military hero can be effective. Your program could benefit greatly from a number of published musicals and narratives.
Moment of Silence and Taps
Veterans Day is typically a day to honor America's living veterans, but it is always appropriate to include a moment of silence in honor of those who gave their lives for their country. An armistice was signed in a railway coach near the battle zone in France during World War I. When the bugles sounded "cease fire," hostilities ended, marking a significant moment in world history. In spite of the fact that 11 a.m. has traditionally been the hour for this type of tribute, a moment of silence is appropriate at any point during the program. After this, a rendition of "Taps" may be performed instrumentally or vocally.
Closing
Accompanied by appropriate music, assembled colors should be retired. Then the audience may file out.
Flag Raising Ceremony
If the weather permits, outdoor flag-raising ceremonies allow groups to participate in an event that is often overlooked. Although brief, such a ceremony should include the Pledge of Allegiance and the National Anthem. It is possible for a special guest to attend.