When you fall in love you can't get over his/her thoughts. You think about your beloved all the time consciously or unconsciously. And in our hearts we want them to  think about us in the same crazy manner. If you reading this article and you are in love, I'm sure you will be badly missing your loved one reading these. These "Thinking of You" Quotes article is specially dedicated to those people who are distant from their loved ones and their thoughts fill up your minds all the time.
When the person you love the most, loves you equally – this can be the best feeling in the world. You feel on cloud 9 and the world seems to be a beautiful place to be in. Below is a collection of cute.
THINKING OF YOU QUOTES FOR YOUR LOVED ONE!
---
"I am thinking about you I feel complete. That is enough for me"
---
"If I don't think of you, I don't think I'm alive."
---
"Out of sight, but totally in my mind. I miss you."
---
"Thinking of you is one of my favorite things to do. Just saying'.
---
When I think of you the smile is on my face, my arms need yours, my eyes need yours and my body need yours"
---
"I play the same song over and over again, because it reminds me of you.
---
"If it's the thought that counts, then I'll be counting a lot today."
---
"To think of you is to smile."
---
"Late at night when the entire world is sleeping, I stay up and think of you. I wish upon the stars, that somewhere you are, thinking of me too."
Sometimes you can't get somebody out of your head. You seem to be addicted to their thoughts all the time.
"I'm addicted to the way I feel when I think of you."
The wandering thoughts about him/her keep you awake and tossing all night.
"I lie awake at night thinking of you."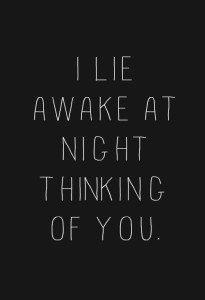 "Sometimes all I think is what you think of me."
"It all comes down to the last person you think of
at night. That's where your heart is."
"You're that Nothing, when people ask me what I'm thinking about."
"I smile like an idiot when I'm thinking about you."
"There will never be a day when I won't think about you."
This is the most common feeling with everyone who falls in love, I guess. To wish that the other person too thinks about you all the time.
"I wonder if we ever think of each other at the same time."
"I went to sleep, thinking about you and I woke up just the same."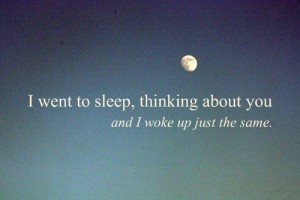 "I remeber every word you told me. I can't stop thinking about it."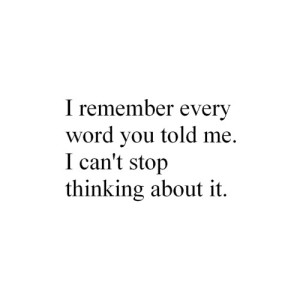 "My mind wanders and I get lost in thoughts of you."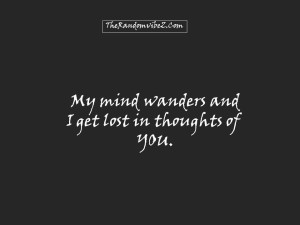 "Can you feel me when I think of you."
"Thinking of the crazy times I've spent with you."
A Good morning text doesn't only mean "Good Morning." It has a silent message that says,
"I think of you when I wake up"
"They say that time heals all wounds, but all it has done
so far is give me more time to think about how much I miss you."
"Those memories that you randomly remember and suddenly can't stop smiling."
Hope you all enjoyed all these "Thinking of You" Quotes, if yes then please share this article and keep spreading love. We have more such Love Quotes for you….