Taking Mom out for brunch on Mother's Day is a tradition that's becoming more popular each year. To help your restaurant stand out from the competition, decorate your space and offer mothers special treats that mark the occasion. From organization tips to Mother's Day menu ideas, we've created a guide to help your establishment make the most of this day.
5 Ideas for Mother's Day Restaurant Promotions
According to the National Restaurant Association, Mother's Day is the busiest day of the year for restaurants. With more than half the country's population planning to dine out on Mother's Day, your establishment needs to offer promotions that will stand out from your competition. Check out these suggestions for simple ways your restaurant can bring in more customers this Mother's Day.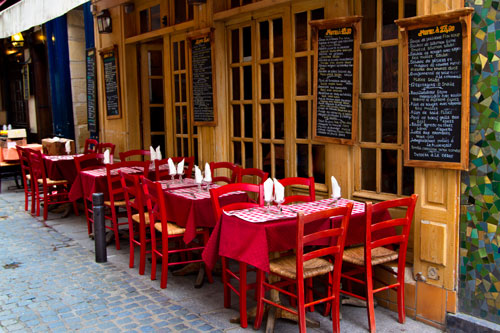 1. Open Earlier Than Usual
If your business typically only opens for lunch and dinner, consider opening a little earlier on Mother's Day to take advantage of the large number of diners who will be searching for a great place to eat before lunchtime. This also gives you the opportunity to serve an exclusive Mother's Day brunch menu.
2. Offer Discounted or Free Food to Moms
Giving your customers the opportunity to save a little money is a great way to make your business stand out. Try offering a discount for mothers' entrees or make their entree free with the purchase of another. During your dinner service, you can offer mothers a free cocktail or dessert to complete their meals.
3. Try a Prix Fixe Menu
Prix fixe menus are not only a great way for your restaurant to maximize profits, but they also make things simpler for your guests. On a holiday that is so popular for dining out, families may eat together in big groups, and a prix fixe menu could make things easier when it comes time to pay.
Plus, limiting your menu allows your kitchen staff to work more efficiently, so you can get orders out faster.
4. Have a Raffle for Prizes
You can put together a gift basket or give away a gift certificate to one of the moms celebrating at your restaurant this Mother's Day. Give each mother a ticket and announce a winner during your meal service to help your customers feel special.
5. Partner with a Charity
For your customers, Mother's Day is the chance to thank their mother, grandmother, or other special loved one for what she does. Your restaurant can encourage the grateful spirit of the day by donating proceeds to a charity like a local women's shelter, hospital, or food bank.
If you promote this partnership before the holiday, you may even attract more customers who appreciate your generosity to other organizations.
Mother's Day Promotions During the COVID-19 Outbreak
Some restaurants in the United States may still be closed or take-out only on Mother's Day, but that doesn't mean you can't capitalize on this lucrative holiday. Here are some ideas for how restaurants can make the most of Mother's Day crowds without dine-in service:
Spread the word on social media. During this period, customers may be unsure what businesses are open and what services they're offering. Utilize your social media accounts to promote your Mother's Day menu and specials.
Offer pre-made meal kits. Meal kits include prepped ingredients that customers just need to assemble and heat up. By providing the ingredients and the directions, you can allow customers to create your signature dishes from the comfort of their own homes. Additionally, meal kits can be sold beforehand to increase profits.
Provide free delivery to customers. Whether you do delivery in-house or utilize a third-party delivery service, having the option for delivery is a must. Offering free delivery will help give your business an edge over the competition on Mother's Day.
How to Prepare Your Restaurant for Mother's Day
To make this holiday a success, you need to prepare your restaurant for a higher volume of customers. Here are our suggestions to help your establishment to stay organized for Mother's Day.
1. Consider Hiring Seasonal Staff
Even though Mother's Day is only one day, some customers may celebrate in the weeks before or after the holiday. As a result, you may need to take on some temporary staff members for the month of May. You'll want to make sure you have enough staff coverage to maintain a smooth service.
2. Take Mother's Day Reservations
Even if your restaurant doesn't normally take reservations, Mother's Day is the perfect time to accept them. This helps you anticipate how many staff members you'll require and how much food you'll need to prepare. Plus, many customers will like the security of having a reserved table on the busiest day of the year.
3. Consider Setting Up More Tables than Usual
If you have any extra space that isn't ordinarily used for seating (like a patio), you may want to set out a few extra tables for the day. Be sure not to put too many tables in your space, as this could create an unpleasant experience for your customers and your servers. Choose special place mats, tablecloths, and centerpieces to make your meal service unique for the holiday.
Mother's Day Brunch Menu Ideas
Planning a menu specifically for Mother's Day is one way to help your meal service feel like a special occasion, and it can simplify the preparation process for your kitchen staff, too. If you're unsure of what to serve in your restaurant this Mother's Day, check out our menu suggestions below.
Baked French Toast: This dish is quicker than making pieces of french toast individually because it can be assembled in large pans. It can even be reheated to order. Fresh berries and cream on top make this a sweet choice that's a twist on traditional brunch fare.
Frittata: Quicker than quiche, frittatas can be prepared with many different ingredients to satisfy customers' cravings for savory foods. Additionally, you can get creative with your toppings, offering anything from salmon and dill to tomato and cheddar.
Moroccan Poached Eggs: This North African dish, also called shakshuka, is a nod to the trend of international cuisine taking center stage and will entice your more adventurous moms. Served with a simple flatbread, this dish is a showstopper.
Monte Cristo Sandwich: This classic grilled ham and cheese sandwich is made with french toast as its bread. To simplify preparation, you can use the same bread you use for your baked french toast.
Parfait: A lighter option of yogurt, berries, and granola is a healthy choice that's as pretty as it is delicious. Parfaits also make a great side dish or dessert that's perfect as an add-on item.
How to Promote Your Restaurant for Mother's Day
Now that you have a plan for how to prepare your restaurant for Mother's Day, you need a strategy for getting the word out to potential customers.
Social media is a great tool for reaching customers on Mother's Day and every day. If you have a sizable number of followers, posting announcements on Facebook, Instagram, and Twitter is an effective way to get the word out about any events you may be planning at your restaurant this Mother's Day.
Using traditional marketing methods is also a good way to promote your Mother's Day specials. In the weeks leading up to Mother's Day, have your servers encourage customers to come back for your special brunch. You can also print out flyers and hang them in a visible place inside your restaurant. If you have a good relationship with any local community groups, ask if you can post your flyers on their bulletin boards.
No matter how you choose to celebrate Mother's Day this year, make sure you don't lose sight of the most important part: celebrating moms! Encourage your staff to take the time to wish a happy Mother's Day to all the moms who visit your business and do your best to maintain a pleasant atmosphere, even if service becomes very busy.