Halloween Art: Ghosts and goblins, cobwebs, and candy! Halloween is here, and there is no better holiday for artistic expression for children. You're going to love these adorable Halloween Art Projects For Kids. In fact, they're so much fun, you'll want to make one for yourself!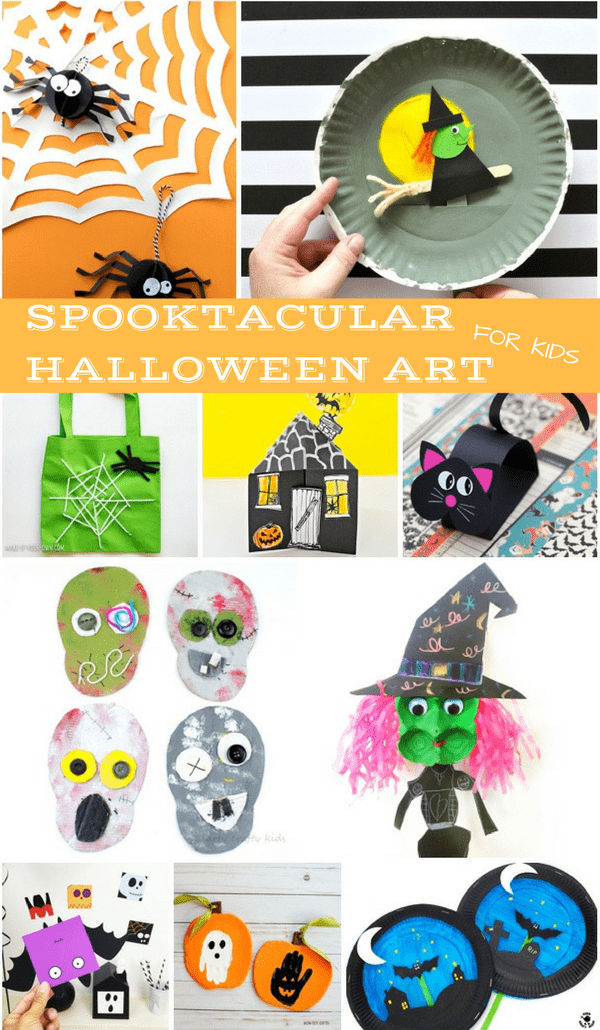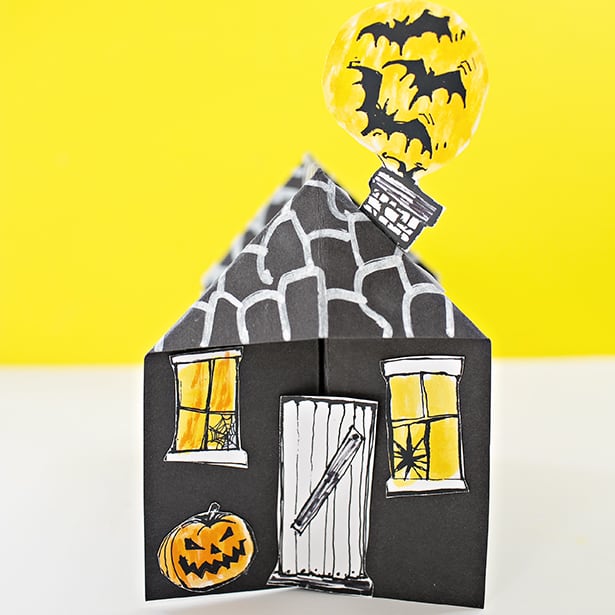 3D Haunted House via hello, Wonderful
Invite your kids to create a cute Haunted House with spooky details like creaky windows, pumpkins and bats they can color in.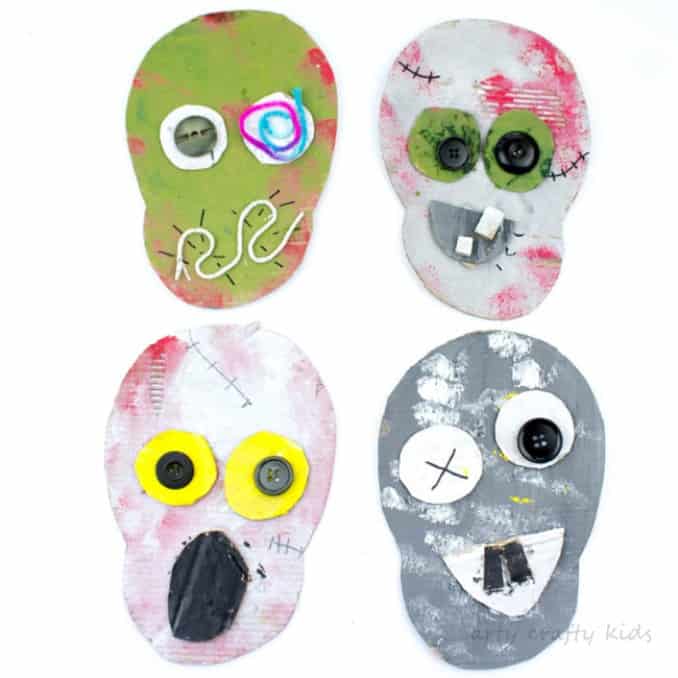 Cardboard Zombie via Arty Crafty Kids
Who knew the undead could be so cute? This zombie craft requires minimal supplies but will have even the most ghoulish kids squealing in delight.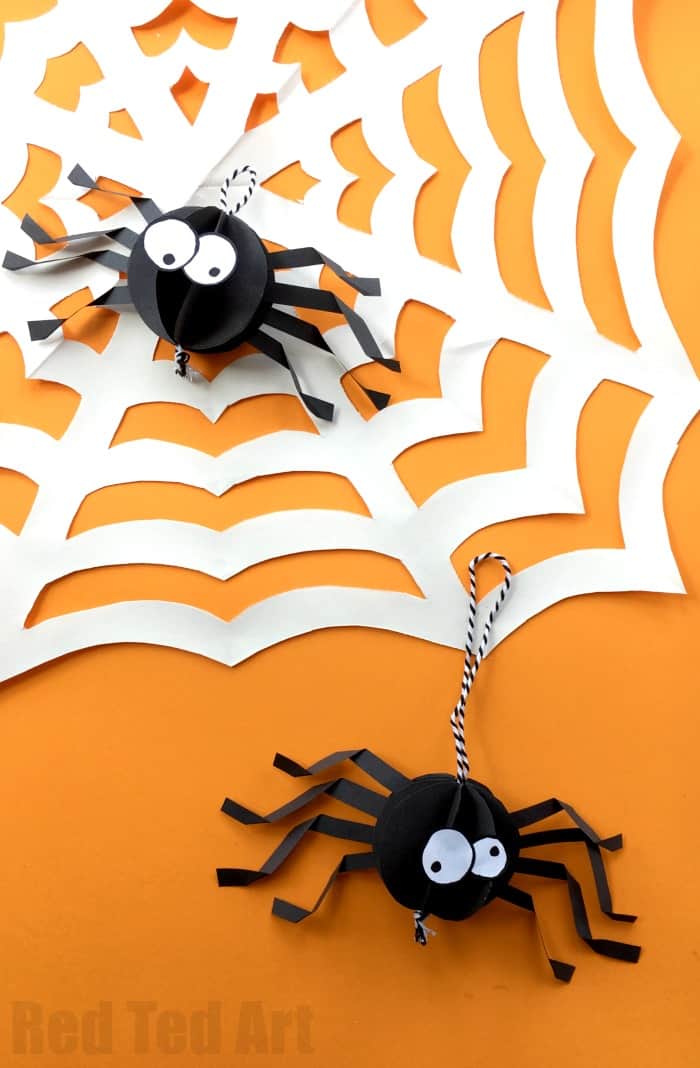 Paper Spider via Red Ted Art
No Halloween is complete without decor of our eight-legged arachnid friends. These step-by-step directions make it easy to make a 3D spider.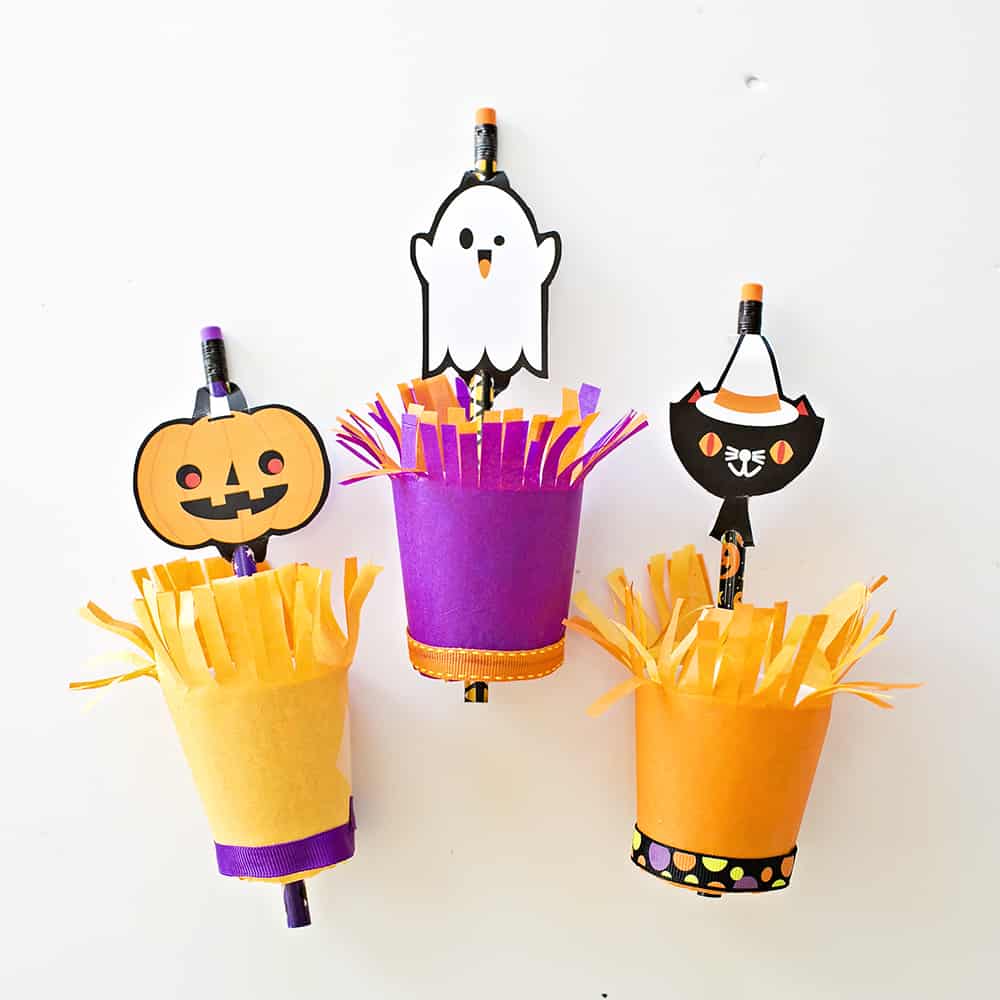 Halloween Peekabook Puppets via hello, Wonderful
These adorable puppets are friendly and not scary at all. Make a cat, pumpkin or ghost with option to color in your own. These make cute Halloween class favors!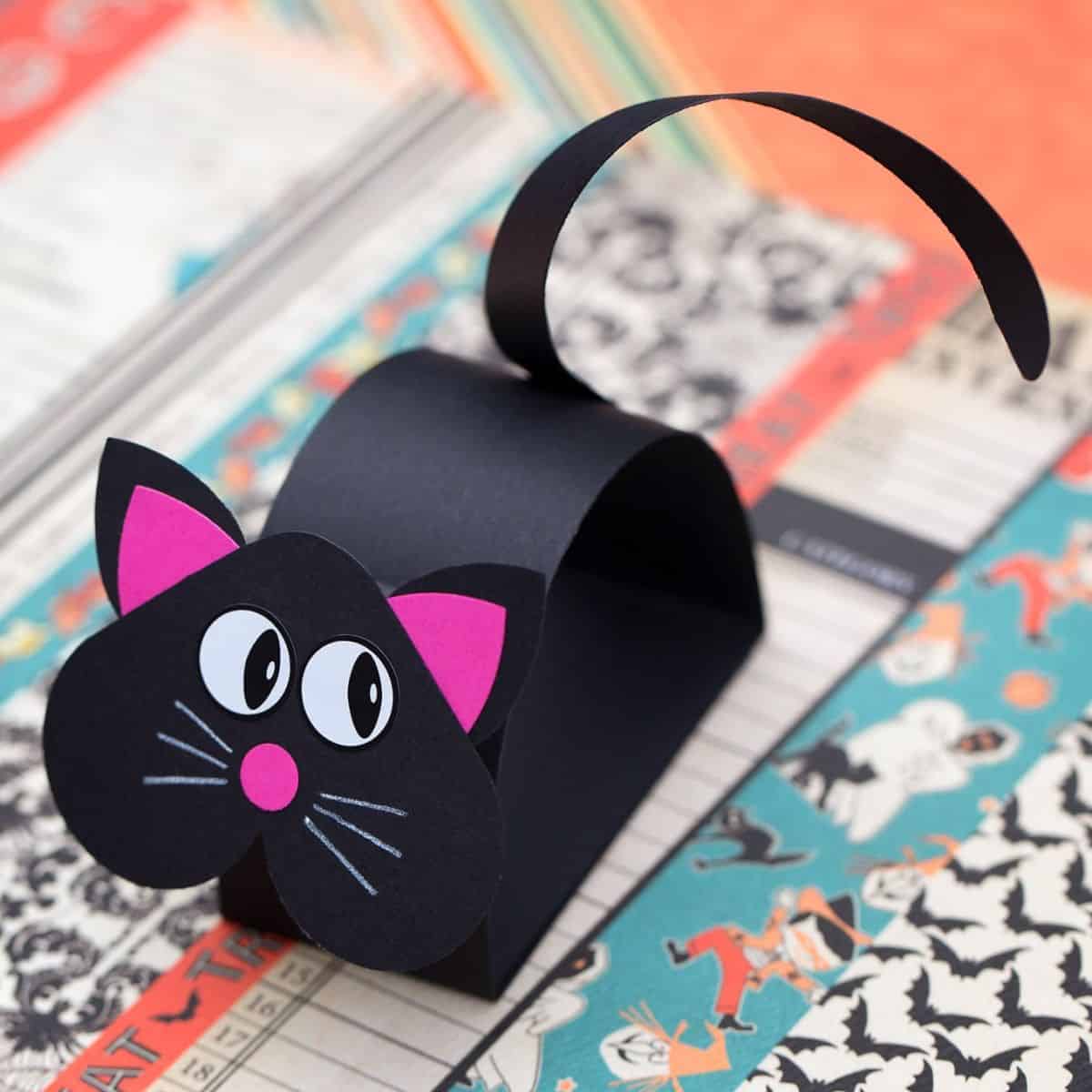 Bobble Head Black Cat via Fireflies and Mudpies
Black cats may be unlucky, but this is definitely a winning craft for kids! Don't be a scaredy-cat; try this one out. You'll get everything you need, including a free printable template in this post.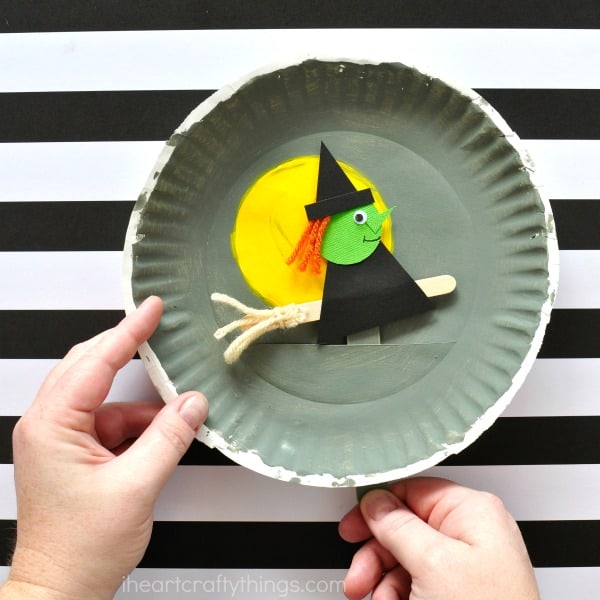 Paper Plate Witch Scene via I Heart Crafty Things
Paper plates are affordable and so versatile for crafting. This witch flying through the moonlight is one of our favorite, simple crafts for the holiday!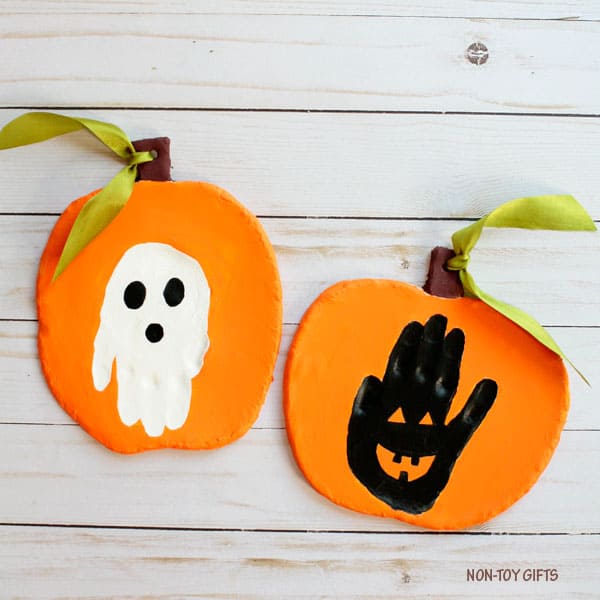 Handprint Halloween Keepsake via Non-Toy Gifts
We're always fans of crafts that double as keepsakes. Keep this clay handprint ornament as a memento of this Halloween. Hang it up for years to come and see how much your little goblin has grown.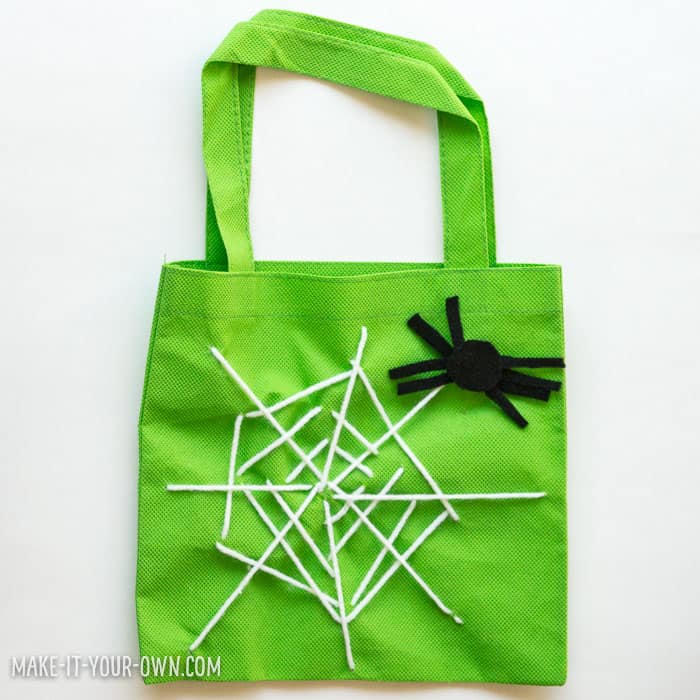 DIY Trick-or-Treat Bags via Make It Your Own
You could go to the store or spend money online on premade, commercialized trick-or-treat buckets or bags, or you and your kids can make their own unique bags. These personalized bags can be made from small cloth dollar store bags, felt, and other items.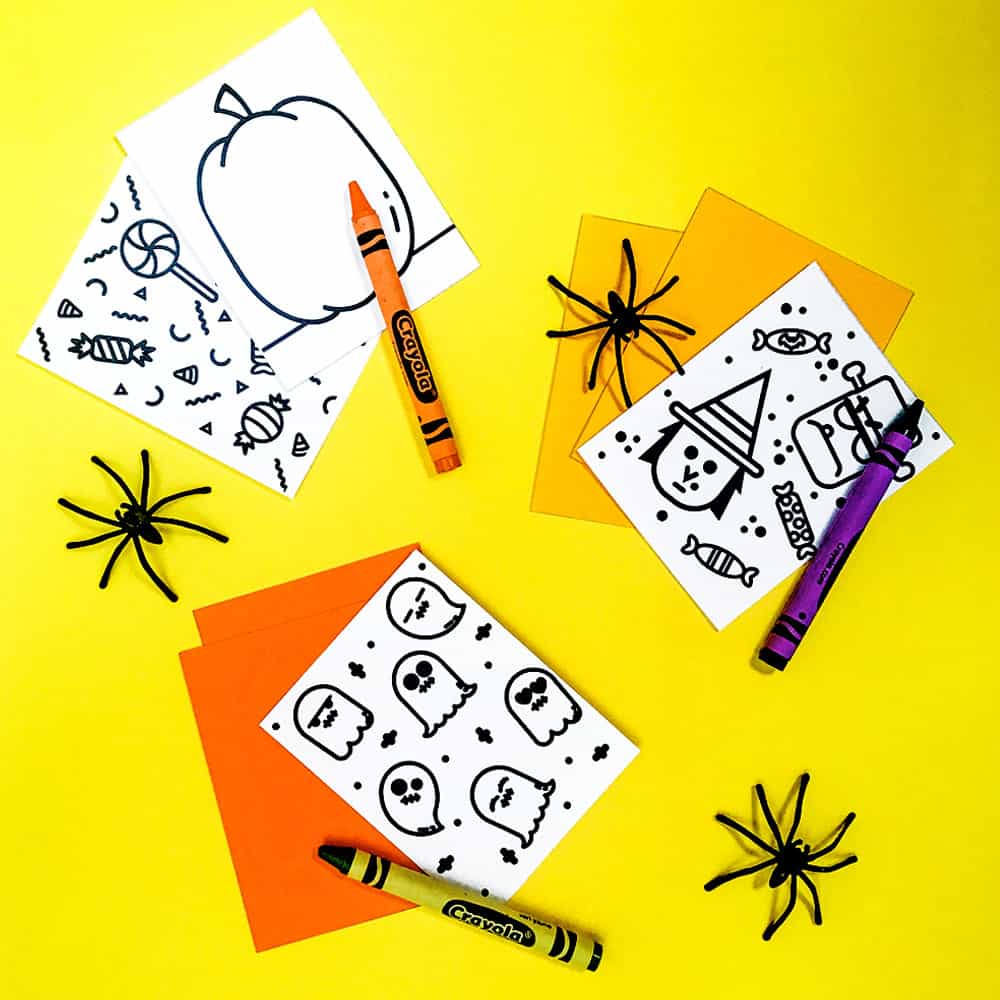 Halloween Doodle Books via hello, Wonderful
Kids love to color, and (who are we kidding) so do adults. Put together these Halloween-themed doodle books for trick-or-treaters, class parties, or at-home fun!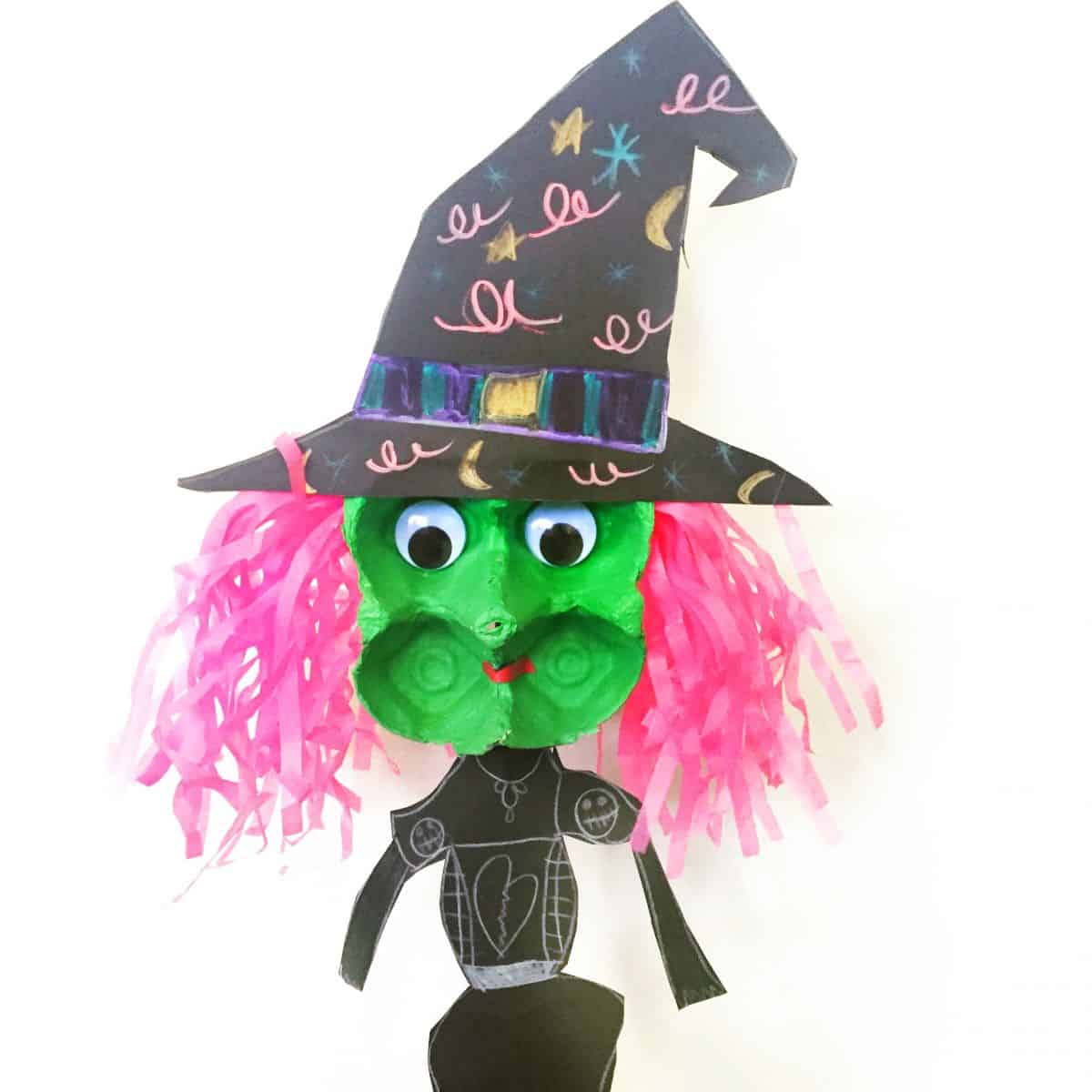 Egg Carton Witch via Art Camp
Double double toil and trouble. Your little ones will have so much fun creating this cute recycled witch out of egg cartons! How cute is that hot pink hair?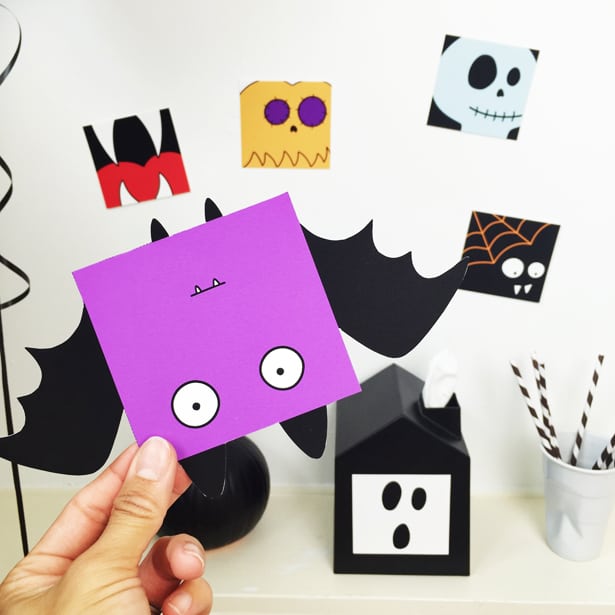 Halloween Fun Cards via hello, Wonderful
These cute Halloween cards are perfect for adding a Halloween treat or favor. Kids will love the blank coloring option to create their own Halloween designs!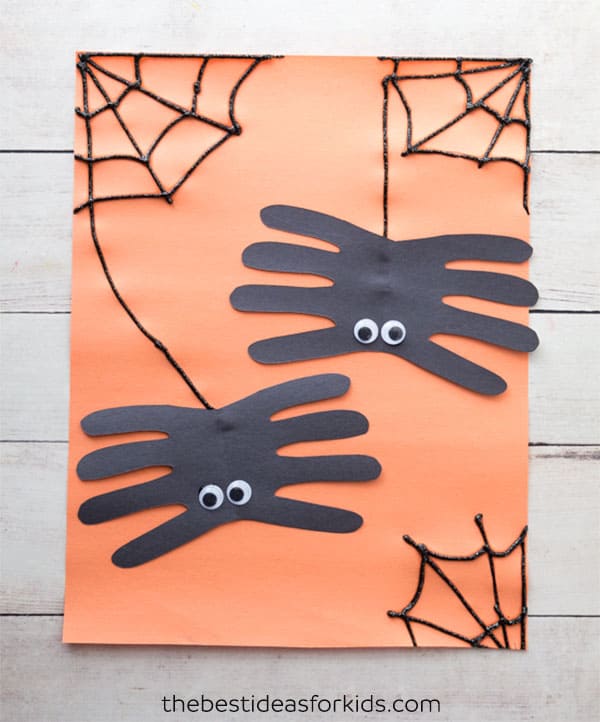 Spider Handprint via The Best Ideas For Kids
All you need is four fingers and a few supplies to make this keepsake spider. Another sweet way to see how your children grow from year to year, this craft is a favorite for kids and parents alike!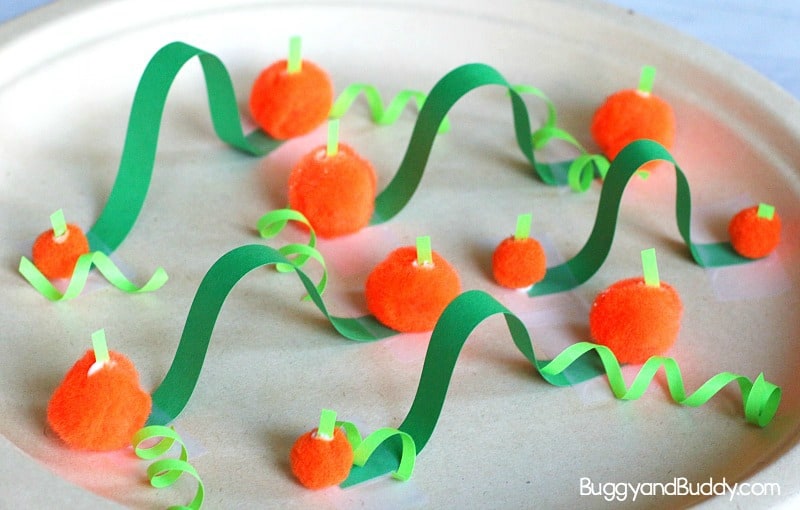 Pumpkin Patch Paper Plate Marble Maze via Buggy and Buddy
STEM meets Halloween with this interactive science art craft! Let marbles find their way through this pumpkin patch maze made of pom poms and strips of paper. Make it a race and time your kids to finish first.
Paper Plate Bat Puppet via Kids Craft Room
The bats come out on Halloween night and are perfect additions to this quick and easy Halloween craft. Once again, paper plates are used for a craft that you'll want to use a holiday decor.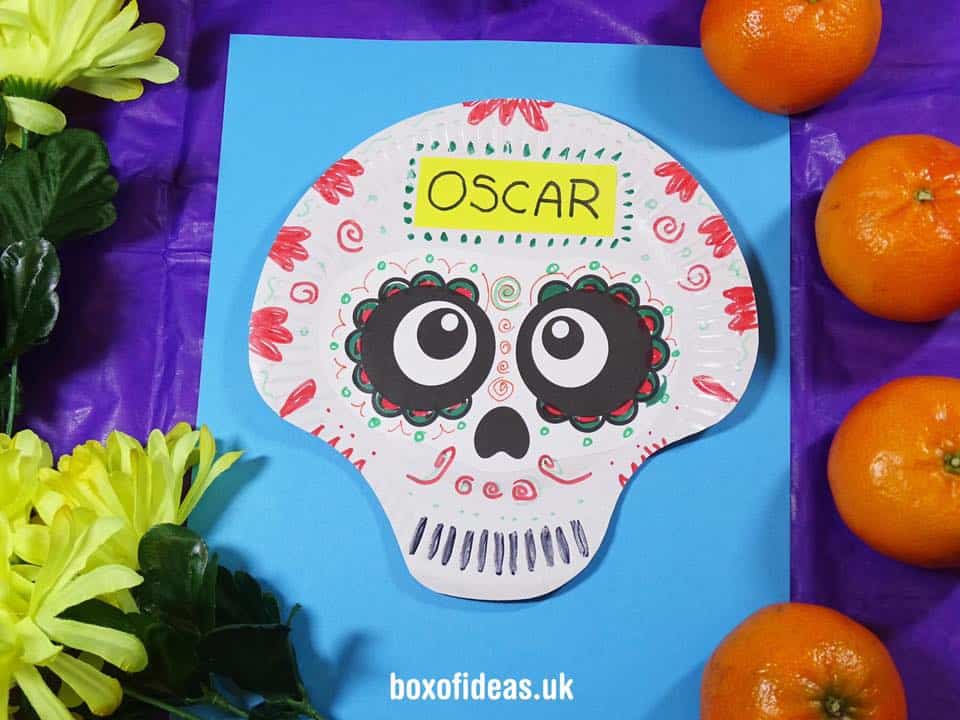 Day of the Dead Paper Plate Art via Box of Ideas
A non-scary way for kids to learn about the Day of the Dead with cute free printable templates included to personalize your own paper plate skulls.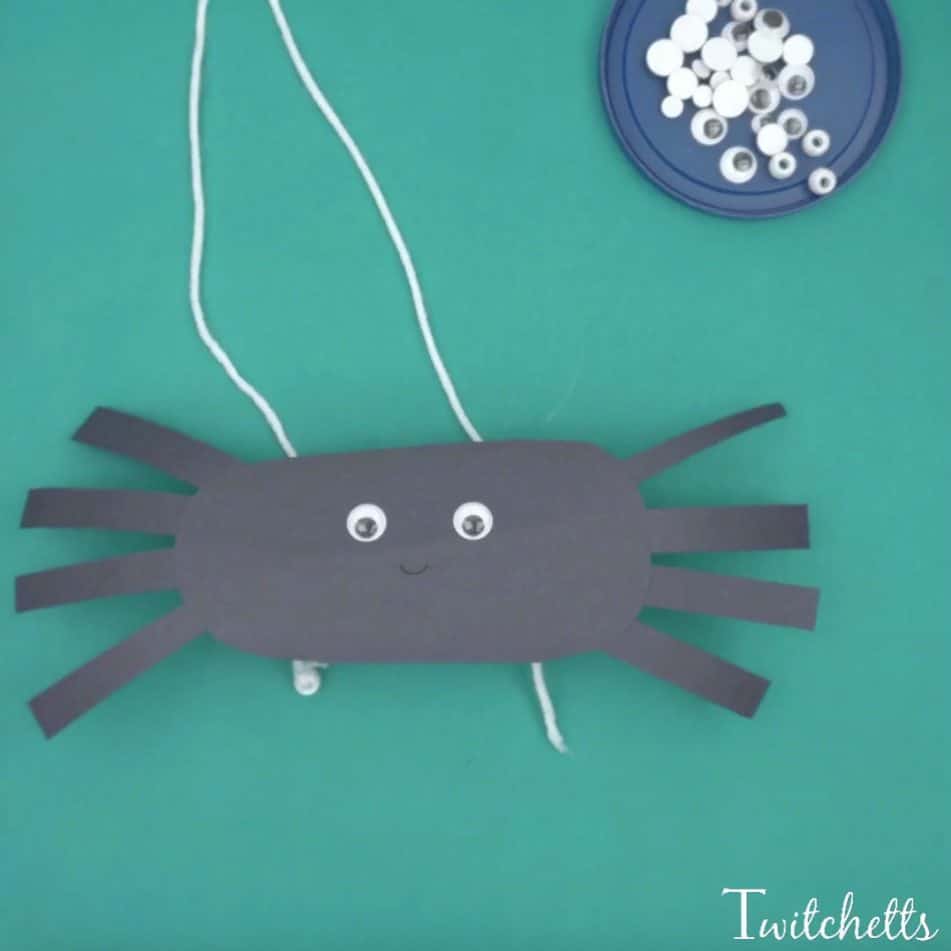 Climbing Spider Craft via The Twitchetts
See this itsy bitsy spider climb up the wall. What's fun is that he's easily made from paper and some recycled items.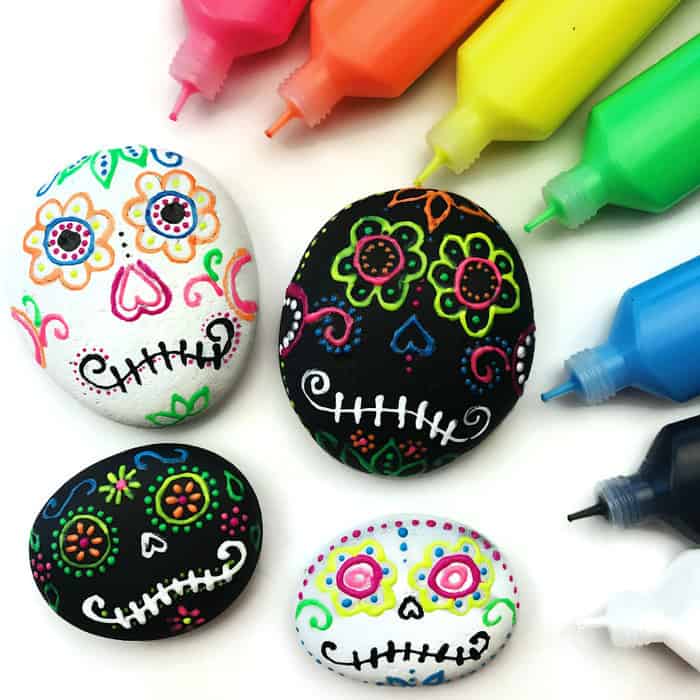 Sugar Skull Puffy Paint Rocks via Color Made Happy
Kids love painting on rocks. Next time, try this simple puffy paint version of painting adorable sugar skulls for a fun Halloween rock art project.
These simple ideas for Halloween crafts are some of our favorites. Try these scary, sweet, and ghostly 15 Spooktacular Halloween Art Projects For Kids with your kids.
With this selection of Halloween Crafts for Kids, you will never run out of crafting ideas! From the super easy Halloween arts and crafts that toddlers and preschoolers can make to more challenging step by step craft tutorials older kids or you will love to make too.
Browse through our selection of best crafts and pick your projects for this season (for your home or to make in the classroom).
 3D Butterfly Life Cycle Craft
Looking for Halloween crafts for specific age group? We have a few age appropriate sections ready.
You'll find lots of monster crafts, spiders, vampires, witches, ghouls, pumpkins and Jack'O'Lanterns, black cats, spooky ghosts and all kinds of ghastly creatures to create with your kids.
Crafting at home or in the classroom?
We have you covered as we have a few Halloween craft ideas for every occasion – from low prep crafts that will take 5 minutes to more engaging ones that kids will be able to play with once they are done.
Our Most Popular Halloween Crafts for Kids – the Puppets
These printable Halloween puppets certainly are on of kids favortites at the moment.
Here are some of Our Latest Projects
Latest Halloween crafts for kids that we added to our collection:
Monster Halloween Crafts for Kids
From scary to silly, you just have to add some of these ideas to your crafting plan!
Like the corner bookmarks above? See the step by step tutorial on making our DIY monster bookmarks.
You can't have a Halloween crafts party without making a monster or two… Or a whole bunch of them. We love getting silly and creating monsters – wiggle eye stickers or googly eyes are a must here, as they take the silliness to a whole new level.
Pick a project (we've spotlighted a few), go through the step by step tutorial and have fun creating your monsters.
You'll find cool Halloween paper crafts, silly toilet paper roll monsters, rock friends your kids can carry around (perfect craft for pre-k and kindergarten as it's all about fine motor skills).
Black Cat Halloween Arts and Crafts
We do love a good cat craft, and Halloween is a great excuse to make a whole bunch.
One of our favorite Halloween themed cretures to get crafty with is certainly the black cat. Younger kids will love making the handprint cat (such a great Halloween handprint art idea) – either by stamping their hands or by tracing them on black paper and cutting them out.
Spotlighting just a few of our favorites here, you will find simple hand tracing crafts that turn into wonderful cat and are perfect for preschoolers (toddlers even with some help) to 3D paper crafts that will bring a smile on any kids face.
Here they are;
Pumpkin and Jack o'Lanterns – Must do Halloween Crafts for Kids
Pumpking are an important part of Halloween! No real pumpkins around? Make a pumpkin craft.
One of the more popular themes with Halloween crafts ideas are certainly pumpkins and Jack o'Lanterns, and we have quite a few.
Featured above is the paper rosette Jack o'Lantern.
Bat Craft Ideas and Tutorials
We do love bat crafts and can't wait to share more with you. One of our all time favorites is the lovely bat origami bookmark.
Vampire Halloween Crafts
Moving on, we have some specific monsters, as you can't have kids crafts for Halloween without them.
I was always a bit fascinated by vampires, so these bloodsuckers certainly deserve a spot o their own.
Ghosts
Are you afraid of ghost?
We absolutely love making paper plate ghosts, as well as other ghostly creations. The swirly paper plate ghost we made is an excellent decoration, both for classroom or at home as it will twist and twirl in the air. How spookily cool!
While ghost sure cab be scary, we are sure you won't be afraid of these ghost Halloween craft ideas.
Spiders
Creepy crawly time!
Love them or fear them (I most certainly fear them) spiders are a fun crafting project to do with your kids for Halloween.
We can't wait to share more crafting ideas with you.