Grandparents are blessings from God who are irreplaceable. They are angels in disguise who are always looking over their kids and grandkids. As the times are evolving, people are losing touch of their tradition. Likewise, people are not realizing the importance of Grandparents. We see how they are mistreating them. While this happens in some cases, in most cases people love their grandparents.
You ask a kid about who pampers them the most, most of them will answer saying their grandparents. Similarly, for grandparents, they are adored by their grandkids. They love us unconditionally and pamper us endlessly. However, they also correct our mistakes and scold us when necessary. Thus, we see how grandparents are great blessings not everyone is fortunate enough to have.
Grandparents are True Blessings
Grandparents are truly a blessing in our lives. They are the ones who have made our parents the way they are. It is because of their upbringing that our parents love us immensely and care for us the same way our grandparents did when they were children. Moreover, grandparents are your support system. They are sometimes the only people who support you even if our parents don't.
Most importantly, grandparents are true believers in our skills and talent. They are the ones who push us to pursue our dreams when the world puts us down. Even though some of our dreams may not make sense to them, nonetheless, they still believe in us. They boost our confidence and allow us to perform better.
Furthermore, grandparents are one of the main reasons why we feel safe and protected. We know even if we don't live with our grandparents, they are always praying for us. They are looking out for us. Almost everyone's safe place is their grandparent's home. We have a sense of calm and composure knowing we can always go to our grandparent's place if the need arises.
Thus, we see how grandparents are blessings in disguise. They help in us so many ways, some of which we may not even realize. The ones who are lucky enough to have grandparents surely know their value.
I was lucky enough to grow up in my grandparent's house. Our family lived with my grandparents since I was little. As my paternal grandfather passed away when I was very young, I only remember a few memories of him. One thing I surely remember is he used to brush his teeth twice daily without fail. I adopted this habit and ever since I have been doing the same.
My maternal grandparents have been my true systems of support. I am lucky enough to have grown up around such inspirational people. My grandfather was a principal of a college, so he always emphasized the importance of education. He helped us with our homework when my parents were not available. I spent my vacations at their place as I enjoyed living with them.
Similarly, my grandparents always embraced me with open arms. They used to wait for every holiday for our arrival. My grandmother made delicious pickles and meals which we relished greatly. She taught me a few recipes too and tips and tricks that are very useful even today. I simply adore my grandparents for instilling good values in me and my parents and for giving us a safe space to grow up in.
They say grandparents, are the two most favorite people in the world to children. Grandparents are the main characters of your childhood, they are the ones that leave you with the most beautiful memories of your life. Some grandparent's teach you a very valuable lesson of life, they teach you respect, hard work, family values, and unlimited love. They show you their love in many ways, they say I love you in words as well as actions. Grandparents are the ones that sometimes get you out of trouble and guide you to the correct path. They show you trust, a trust that cannot never be broken. From time to time, I like to look at picture from the past to remember and to learn about my childhood past. Some are even taking before color pictures existed,
There was no lawn, but there were four flower planters. The house was painted all white, with the exception of the front door that was painted light green. My grandfather was still young, strong, and full of life, he always had time to play with his grandchildren. Every Sunday he would take us to the park, would buy us ice cream, and take us to Sunday mass. On the day when this picture was taken, we were celebrating my 10th birthday, and I was dancing with my grandfather. I cannot remember the song, but I do remember what he told me while dancing slowly. He said "My little girl" how he used to call me," in five years you won't be a little girl, you will become a young lady." At that moment I could not understand what he meant, but in my mind I was saying "grandpa I will always be your little girl." While dancing, he made me a promise, "My little girl on your 15th birthday, I will dance the first song with you." Who would know that he was going to die on my 15th birthday year, he passed away on June 21th, 1987 on Father's Day. He left me with so many beautiful memories, but the most important was my first dance on my 10th birthday. On the night before my 15th birthday, I went to bed around 10 p.m. I was feeling depressed, because I was only thinking of the promise that my grandfather had made in the past. A promise that in my mind was not going to
A promise that left me with a beautiful memory, and up to now I remember as if I am reliving it. My grandpa was the greatest grandfather of all, he always took care of his little girl, and even after being gone for so long he still care. I have no doubt that everyone in the family has a wonderful memory, of the man that played with us. It is hard to forget someone so important in your life, someone that gave everything that he was to make you happy. He was the man that always kept his promise, the promise that change his little girl's life. My grandpa was a man of his word, full of love for all his grandchildren, especially towards his "Little
Grandparents are the oldest members of the family. They are among the most influential & important persons in everyone's life. They are those people who care for us selflessly and love us endlessly.
They hold a special place in our hearts which no one else can take. They also advice us and shows us the right ways.
My Grandparents are also lovable, caring, mature and patient. They have always taught me to respect my elders and showed me the ways on how to lead a respectable and successful life. They share their experiences that can help me to do the right things in life. When I have them with me to guide me what to do I do not have to worry for anything because I know they will always take decisions for my betterment.
My Grandparents have both inner as well as outer beauty. My Grandmother is 70 years old and Grandfather us 73 years old. But still they have a young heart and do not seem to look so old like other people of the same age.
They both are very particular about their health and physical well being. This is why they do not seem to be so old. They do yoga and meditation regularly to keep them moving at this old age. I admire both of them a lot because they are so healthy & active throughout the day.
They also teach me to do yoga so that I can have a healthy skin and body. At this age also they have very strong desires towards leading a enjoyable house. They are full of love, kindness and family bonding.They are very modern yet firmly believe in family values. I have a big joint family. We are total 12 members in my house. We all love and respect each other a lot. My Grandparents plays a major role behind the great love and intimacy in the entire family.
They are considered as an idol couple in my relatives. People of all age love them and respects them a lot. Their main aim of life is to see my family happy and healthy. At this age also they are very particular about their dressing and watch what they are wearing and how they look.
They have a good general knowledge as today also they constantly read newspapers, books and economics. I think I am really blessed to have such good hearted, lovable and unique Grandparents. I learn so many new things from the each day. They are my role models. Nobody can ever replace them in my lives.
Everyone has an important person in life who he is closer to. For me, my favorite persons in this whole world are my grandparents.
They are a gift from GOD that is irreplaceable. They are perfect in every way. They are angels in disguise on Earth to take care of their kids and then grand kids. My grandparents are the root of my family and my love for them grows every day.
My Grandparents
Since childhood, I am very close to my grandparents. Instead of staying at my place, I always preferred staying with my grandparents.
I would miss them more after coming back to my house. Ever since I grew up, my love for my grandparents has grown stronger.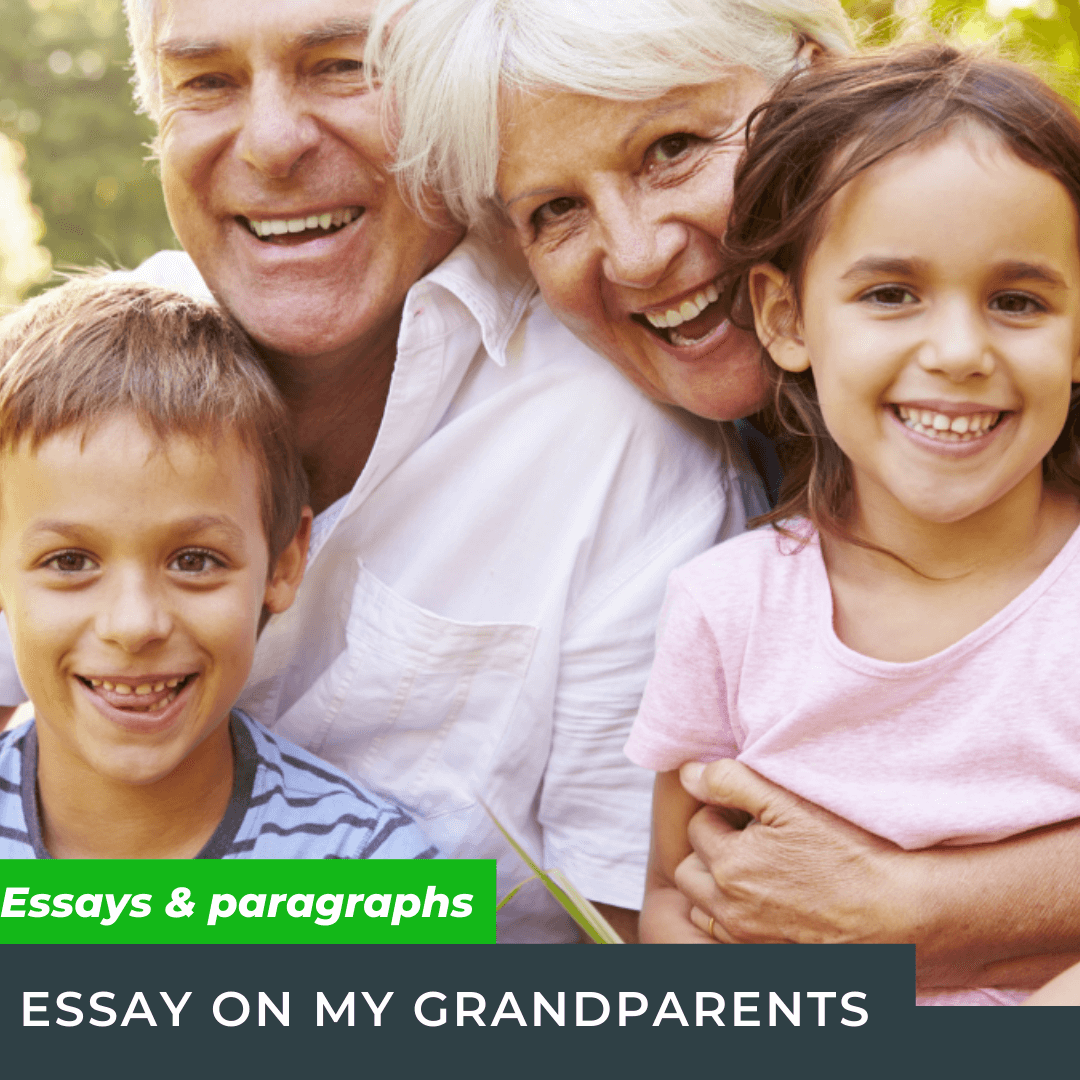 I never felt any need to make friends because for me, I already had best friends in the form of my grandparents.
Whenever I did something mischievous, they would save me from my parents too. We used to play so many indoor and outdoor games together like hide and seek, Ludo, cricket etc.
My grandfather is a very good player of chess and he taught me how to play chess too. He is a very active person. I never see him sitting idle.
He is always busy in doing productive things. He has made a small garden in our backyard that is full of beautiful flowers. He also planted many fruits and vegetables there.
Whenever, I come back home, I always miss the fresh fruits of that garden. When I was a kid, he used to read me stories every night.
Every story had a moral in it and gave me motivation to become a better person.His advice about life are very useful as he already has faced various hardships in his own life. These advice have always helped me in my decisions.
My grandmother prepares so many delicious meals for me. Her omelets are still my favorite thing at breakfast. She is expert in everything.
She also knows how to knit. Every winter, she knits colorful sweaters for me. I wear them so proudly at my school.She also taught me various tip and tricks of daily life that are very useful even today.
I wait every year desperately for my school holidays because I get to see my grandparents after that. I pack my luggage as fast as I can and then I surprise them by going there.
When I go there, I spend quality time them. I also show them my school prizes and awards which I get for my best school performance. The happiness that I see on their faces that time is priceless.
More than my parents, it is because of my grandparents who made me who I am today. They taught me how to be selfless and kind.
I never saw them fighting.They are my role model who always encouraged me in every field of my life.They are always concerned about my health and always taught me to inculcate healthy habits in my daily life.
Now they have grown old but they are still the backbone of our family.I adore my grandparents for introducing me with good values and ethics that helped me in daily life.I know that even if I do not live with my grandparents, they are always praying and looking out for me.