Columbus Day Kansas: American Indian legislators spoke Tuesday in support of a bill that would replace Columbus Day with Indigenous People's Day in Kansas.
The bill proposes to recognize the "historical, cultural, and contemporary significance of the Indigenous peoples of the Americas and Kansas" on the second Monday in October. It was argued that the change would show respect for the tribal communities of Kansas, as well as provide a more accurate account of the history of the Americas. Rep.
Christina Haswood, D-Lawrence, recalled her youth and wondered why she was taught inaccurately about Christopher Columbus.
We shouldn't celebrate someone who didn't land in North America on a holiday.""" Haswood said. "For the past several years, we've known this history to be false and harmful to Indigenous youth who are taught in schools to celebrate this day, but then go home and talk about our cultural history — the genocide, disease slavery and assimilation." Haswood and two other Democratic legislators testified before the House Federal and State Affairs Committee on behalf of the bill.
The legislation was not opposed by anyone.
Aside from changing Columbus Day to Indigenous Peoples Day, the bill would remove Native American Day from the calendar, which is celebrated on the fourth Saturday of September each year. A Native American Legislative Day at the Capitol would continue to be held on the first Wednesday of February under this law.
The change from Columbus will remove painful iconography for Indigenous communities and replace it with their story of resilience, Haswood said. Prior to Columbus, the Americas were home to hundreds of distinct and separate nations and cultures, said Rep. Stephanie Byers, D-Wichita and a Chickasaw Nation member.
The change will enhance accurate historical education about Christopher Columbus, said Rep. Stephanie Byers, D-Wichita. "It is time to honor those who were here before and whose descendants are featured in our institution's offices." Indigenous People's Day is observed by 14 states, the District of Columbia, and more than 130 cities across the country.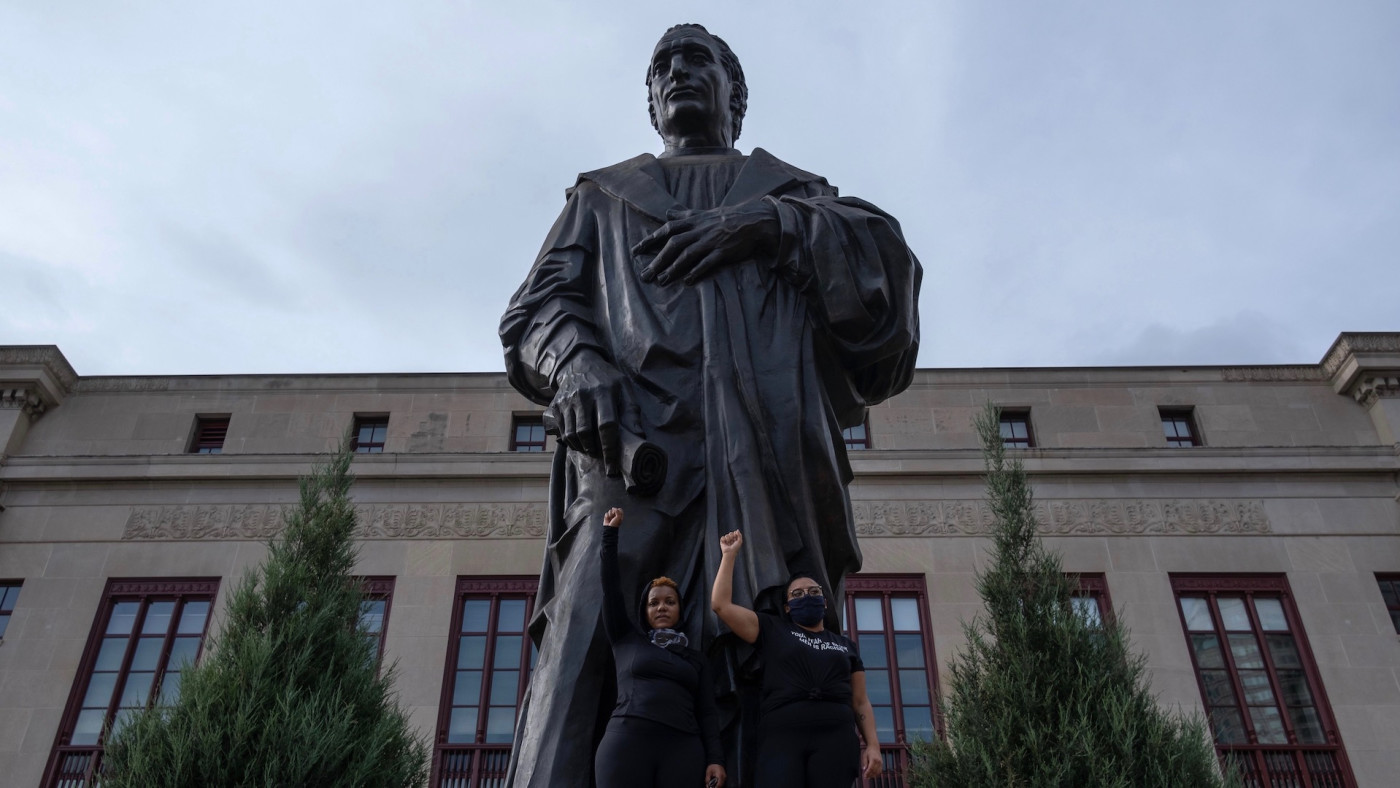 Legislators have heard testimony from Democratic lawmakers pushing for Kansas to join a handful of states observing a day honoring Native Americans instead of Christopher Columbus, but a chief proponent said he doubts that the bill will get a vote.
The House Federal and State Affairs Committee on Tuesday listened to remarks from three lawmakers who said Kansas needs to replace Columbus Day with Indigenous Peoples Day to acknowledge how understanding of Columbus' legacy has changed over the years.
Native American advocates have pressed states to change to Indigenous Peoples Day over concerns that Columbus helped launched centuries of genocide against indigenous populations in the Americas.
But Democratic Rep. Boog Highberger, of Lawrence, a lead bill sponsor, said he wouldn't be surprised if the panel's Republican chairman failed to hold a vote on the bill.
Highberger said he has proposed the legislation at least three times. The bill got its first committee hearing in 2019, but Chair John Barker, an Abilene Republican, didn't bring it to a vote.
After the meeting on Tuesday, Barker told reporters he doesn't know whether he will hold a committee vote on the bill this year. Without one, the bill would stall.
"It's a matter of selecting things that are priorities," Barker said.
Andy Tsubasa Field is a corps member for the Associated Press/Report for America Statehouse News Initiative. Report for America is a nonprofit national service program that places journalists in local newsrooms to report on undercovered issues