Columbus Day Indigenous Peoples Day: On Monday in the nation's capital, there is no Columbus Day. The D.C. Council voted to replace it with Indigenous Peoples' Day in a temporary move that it hopes to make permanent. Several other places across the United States have also made the switch in a growing movement to end the celebration of the Italian explorer in favor of honoring Indigenous communities and their resiliency in the face of violence by European explorers like Christopher Columbus.
Baley Champagne is responsible for that change in her home state of Louisiana. The tribal citizen of the United Houma Nation petitioned the governor, John Bel Edwards, to change the day. He did, along with several other states this year.
"It's become a trend," Champagne said. "It's about celebrating people instead of thinking about somebody who actually caused genocide on a population or tried to cause the genocide of an entire population. By bringing Indigenous Peoples' Day, we're bringing awareness that we're not going to allow someone like that to be glorified into a hero, because of the hurt that he caused to Indigenous people of America."
And so in Houma, La., people from across the state will gather to honor and celebrate Indigenous Peoples' Day for the first time.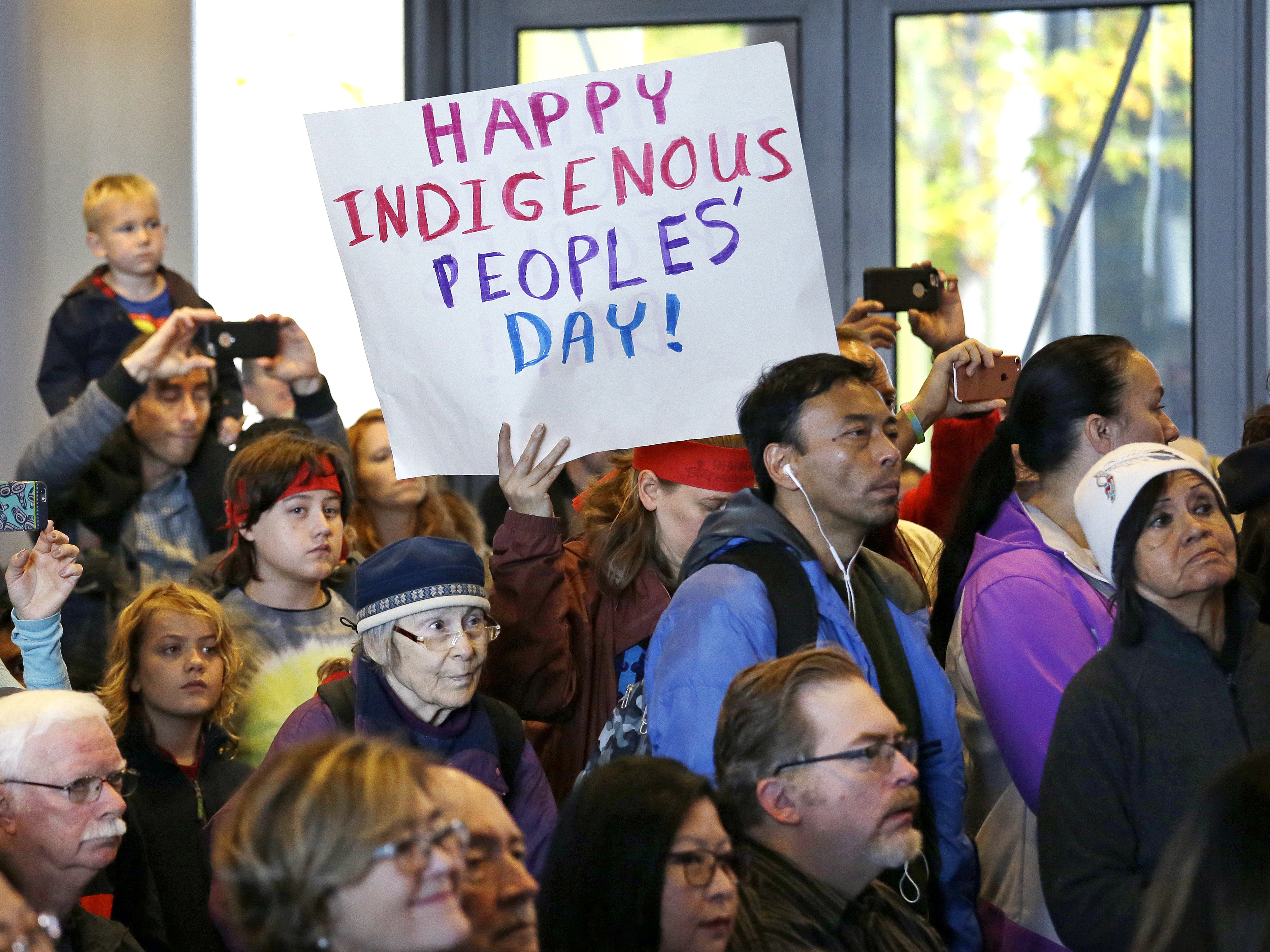 She wants it to be "a celebration and to bring acknowledgment to the Native population," Champagne said. "You know, because we have many friends of all different races in this area and Houma is named after the Houma people, the Houma Choctaw. So to bring this, I think it's long overdue. It's a big celebration. And we're just so excited to have this finally."
At least 10 states now celebrate Indigenous Peoples' Day on the second Monday in October, like Hawaii's Discoverers' Day or South Dakota's Native Americans' Day. More than 100 cities, towns, and counties across the country have replaced Columbus Day with Indigenous Peoples' Day.
Columbus Day has long been hurtful to Native Americans. This song conjures up the violent history of 500 years of colonial oppression at the hands of European explorers and settlers – a history with ramifications and wounds that persist today.
"Today we understand that while [Columbus] was an explorer and is credited with being one of the first Europeans to arrive in the Americas, we now know a great deal about the history and the way that he and his people behaved when they came to this continent," said Shannon Speed, a citizen of the Chickasaw Nation and director of the UCLA American Indian Studies Center. There was pillaging, raping, and generally setting in motion a genocide of the people who were already here. That's not something we want to celebrate. That's not something anyone wants to celebrate."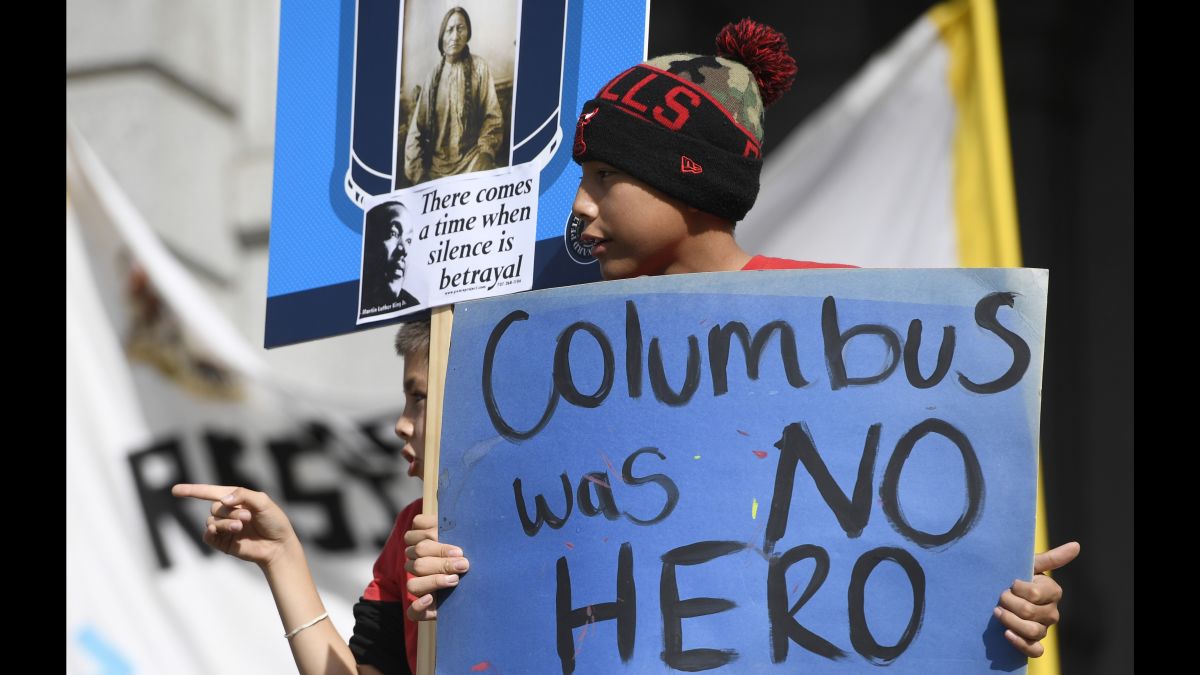 There is some pushback to the shift. Columbus Day is the day on which many Italian Americans celebrate their heritage and the contributions they have made to the United States. It was adopted at a time when Italians were vilified and faced religious and ethnic discrimination. In 1892, a year after the lynching of 11 Italian Americans in New Orleans, the first commemoration was held. In the face of rampant discrimination, Italian Americans used the day to mainstream and humanize themselves. It became a national holiday in 1934 in honor of a man who, ironically, never visited the country. He anchored in the Bahamas.
Italian Americans celebrate Columbus Day not just for its significance to the man, but for what it represents: a people searching for safety and acceptance in their new home.
In 2017, after someone vandalized the Christopher Columbus statue in New York City's Central Park, the then-president and chief operating officer of the National Italian American Foundation, John M. Viola, wrote in a New York Times editorial, "The 'tearing down of history' does not change that history. In the wake of the cultural conflict that has ripped us apart over these months, I wonder if we as a country can't find better ways to utilize our history to eradicate racism instead of inciting it. Can't the monuments and holidays born of our past be reimagined to represent new values for our future?"
As he went on, "We believe Christopher Columbus represents the values of exploration and risk that are at the heart of the American dream, and that it is our duty as the community most closely associated with his legacy to be at the forefront of a solution that respects all sides."
She acknowledges the importance of celebrating the history and contributions of Italian Americans, but there must be another way to do so.
Several Italian Americans support the move to Indigenous People's Day because they don't want to be associated with a man who is known for his horrific crimes against humanity, she said. "Italian Americans were discriminated against in this country, and I think it's very important to have a day dedicated to celebrating their heritage. However, it shouldn't be around the figure of Columbus."
Columbus' celebration, she said, not only whitewashes a violent history but also ignores the further trauma that honoring him would cause Indigenous people.
"Indigenous children are forced to learn about and celebrate the person who set in motion the genocide of their people," Speed said. "That's extremely painful. It creates ongoing harm. So a national holiday that creates ongoing harm for a significant portion of our citizens is not appropriate."
Speed said Native Americans feel pain when they hear "Columbus Day." However, Berkeley, California, residents asked the city to change Columbus Day to Indigenous Peoples' Day in 1992, then-Mayor Loni Hancock said it was the first time she'd really understood the negative impact of this holiday on Indigenous people.
"We had to think about what the holiday is about and who actually discovered America," Hancock said. "It was profoundly disrespectful to claim that a European explorer never set foot on that continent did that." "Disregarding the indigenous people who have lived here for centuries with very sophisticated cultures and pretty much in harmony with the earth."
The day was first proposed by indigenous peoples at a 1977 United Nations conference on discrimination against them. It wasn't until 1989 that South Dakota became the first state to switch Columbus Day to Native Americans' Day, celebrating it for the first time in 1990. As a result, Berkeley became the first U.S. city to observe Indigenous Peoples' Day. Pew Research Center reports that Columbus Day is the least consistently observed national holiday in the United States.
"The hundreds of thousands of Italian immigrants who came over in steerage class on the boats at the turn of the 19th century endured a great deal of hardship" Hancock said. "But the discovery of America is something you want to get right, and I think that's important. fully understand and take responsibility for who we are as a people in this land made it very important to be clear about who was here first and reflect on what happened in our history after that, in terms of the displacement and oftentimes genocide of those people. This might indicate a general disregard of the history and humanity of nonwhite people of many kinds in this country, and a reluctance to take responsibility for our past."
Rethinking How We Celebrate American History—Indigenous Peoples' Day
I wish you a happy Indigenous Peoples' Day. Indigenous Peoples' Day will be observed in more states, cities, and communities than ever before on Monday. They are part of a larger movement to teach a more complete and accurate history of the United States in our schools and public spaces. Considering that the majority of state and local curriculum standards end their study of Native American history before 1900, celebrating the survival and contemporary experience of Native peoples has never been more important.
Dennis W. Zotigh and Renee Gokey
October 12th, 2020
"The most American thing about America is American Indians." —Paul Chaat Smith (Comanche)
On the 300th anniversary of Columbus' first landfall in the Western Hemisphere, the first documented US celebration of Columbus Day was held in New York City in 1792. It began as an annual celebration of Italian-American heritage in San Francisco in 1869. At the request of the Knights of Columbus and the Italian community of New York City, President Franklin Delano Roosevelt declared the first national celebration of Columbus Day in 1934. President Roosevelt and the On October 12, the U.S. Congress declared it a national holiday three years later. In 1972 President Richard Nixon signed a proclamation making the official date of the holiday the second Monday in October.
Generations of Native people, however, throughout the Western Hemisphere have protested Columbus Day. In the forefront of their minds is the fact the colonial takeovers of the Americas, starting with Columbus, led to the deaths of millions of Native people and the forced assimilation of survivors.
In 1977 participants at the United Nations International Conference on Discrimination against Indigenous Populations in the Americas proposed that Indigenous Peoples' Day replace Columbus Day. Indigenous Peoples' Day recognizes that Native people are the first inhabitants of the Americas, including the lands that later became the United States of America. And it urges Americans to rethink history.
There has been a growing movement across the U.S. to replace Columbus Day with Indigenous Peoples' Day or Native American Day. South Dakota was the first state to rename Columbus Day in 1990. In honor of the Polynesian navigators who settled the islands, Hawaii also changed the name of its October 12 holiday to Discovers' Day. Berkeley, California, became the first city to rename Columbus Day Indigenous Peoples' Day in 1992. An estimated 6,000 Native people and their supporters gathered at Randall's Island, New York, in 2015 to celebrate the survival of the Indigenous peoples of the Western Hemisphere. The demonstration's success and the worldwide media attention it garnered planted the seeds for the future. the seeds for creating an Indigenous Peoples' Day in New York City. This year the nation's capital passed a resolution to change the holiday to Indigenous Peoples' Day. Universities and schools across the country are also observing the new commemoration.
Native American or Indigenous Peoples' Day is observed by these states and the District of Columbia in place of or in addition to Columbus Day. Most of them have followed the lead of their cities and smaller communities, a list that has grown too long to include
▪︎ Alabama
▪︎ Alaska
▪︎ District of Columbia
▪︎ Hawai'i
▪︎ Idaho
​▪︎ Iowa
▪︎ Louisiana
▪︎ Maine
▪︎ Michigan
▪︎ Minnesota
▪︎ New Mexico
▪︎ North Carolina
▪︎ Oklahoma
▪︎ Oregon
▪︎ South Dakota
▪︎ Vermont
▪︎ Virginia
▪︎ Wisconsin
Nevertheless, mythology about Columbus and the "discovery" of the Americas continues to be a first introduction to other cultures, ethnicities, and peoples for many American children. Teaching more In order to rethink our society's history, we must teach more accurate and complete narratives and perspectives. few yeThe museum has held Indigenous Peoples' Curriculum Days and Teach-Ins at the beginning of the school year in Washington, New York, and online this year.e, a Washington-based national education organization, and the museum's Education Office work with teachers of students from kindergarten through 12th grade in sessions that range from student activism to defend the environment or abolish Columbus Day; to skills such as critical literacy, art, and facilitated dialogue; to inquiry-based lessons available through the museum's online education initiative Native Knowledge 360°.
In 2018 Sarah Shear, assistant professor of Social Studies Education at Penn State University–Altoona, gave the keynote presentation, based on research on U.S. history standards from all 50 states and the District of Columbia. In 2015, Dr. Shear and her collaborators Ryan T. Knowles, Gregory J. Soden, and Antonio J. Castro published data showing that 87 percent of the references to Native Americans in U.S. curricula are in the context of American history before 1900. "The narrative presented in U.S. history standards," they write, "when analyzed with a critical eye, directed students to see Indigenous Peoples as a long since forgotten episode in the country's development." Shear and her colleaguse see serious implications in the way the United States teaches its history:
When one looks at the larger picture painted by the quantitative data, it is easy to argue that the narrative of U.S. history is painfully one sided in its telling of the American narrative, especially with regard to Indigenous Peoples' experiences. . . .
The qualitative findings further illuminate a Euro-American narrative that reinstitutes the marginalization of Indigenous cultures and knowledge. Indigenous Peoples are left in the shadows of Euro-America's destiny, while the cooperation and conflict model provides justification for the eventual termination of Indigenous Peoples from the American landscape and historical narrative. Finally, a tone of detachment, especially with long lists of legal and political terms, dismisses the humanity of Indigenous cultures and experiences in the United States.