Cancerian Quotes: Cancerians are called "moonchild" for a reason. They have a strong connection with the moon and thus inherit feminine energy from it. They are caring, loving, and loyal.
Similar to the moon orbiting the earth, Cancerians love to stay close to people they care about with extreme loyalty.
Their feelings are always changing, just like the moon phase. That's why Cancerians are often accomplished creators – they draw inspirations from their own emotions.
If your birthday falls between June 22 to July 22, you are a Cancer sun. And these Cancerian quotes may speak your mind.
Cancer personality traits
Cancerians put themselves in others' shoes. They can't see their loved ones, animals, or even strangers suffer. Cancer, as a friend, is like a mother. They worry about you, check on you, and will spoil you whenever possible.
Loyal friends, Family people, Thoughtful lovers
Cancerians want to feel needed, especially by people they love. They are the ones who buy gifts for everyone long before Christmas. If Cancerians love you, they will take care of you.
Cancer hate guessing, mind games, and lies. They see honesty as their moral compass and expect others to do the same.
Emotional and self-critical
Emotions hit Cancerians like waves. They can be happy now and moody the next minute. And their ever-changing mind enables them to spot their flaws from different angles. That's why Cancerians can be harsh on themselves.
Relatable Cancer sign quotes
Cancerians shower their friends with parental care.
Cancers know they should put themselves first but still try to make sure everyone is happy.
Don't take the kindness of a Cancer for granted. You will never have that level of good again.
Don't try to ghost on Cancers. They will hunt you down if they care about you enough.
Cancerians prefer to figure things out on their own.
Even when Cancer become mother and father, they are still children inside.
Cancers are motivated by people they love and hate.
Read also: 29 Haters quotes that prove haters are the best motivators
Cancerians in two words: family people
Cancers can be very touch and go. One minute they want to tell you everything, and the next minute they just want to be alone.
– Linda Goodman
Cancerians are lie-detectors and can smell bullshit from a mile away.
Cancerians can be forgiving like a saint. But when they are done, they are done for good.
Cancers notice every tiny detail and can read you like an open book.
Funny and savage Cancerian quotes
Go above and beyond in picking gifts.
Cancer: always expect the same level of love they so freely give to others.
Cancer facing harsh criticism: "I need 100 years to heal from that."
C.a.n.c.e.r: Caring. Affectionate. Nurturing. Capable. Emotional. Reliable 
Read More
Cancer 2.0: detecting and cutting off energy vampires
Cancerian needs blanket and someone to cuddle for Netflix.
Cancer die inside when friends ask them to stay late but still say yes.
Cancer be like: Everything you can imagine is real.
"Your life isn't yours if you always care about what others think."
Cancer: "Do you have proof?"
Cancerian: Someone who overthinks, ovecares, and overloves.
I go to sleep early because I try to fall asleep before falling apart.
They may not say it, but they always know it.
Famous Cancerian quotes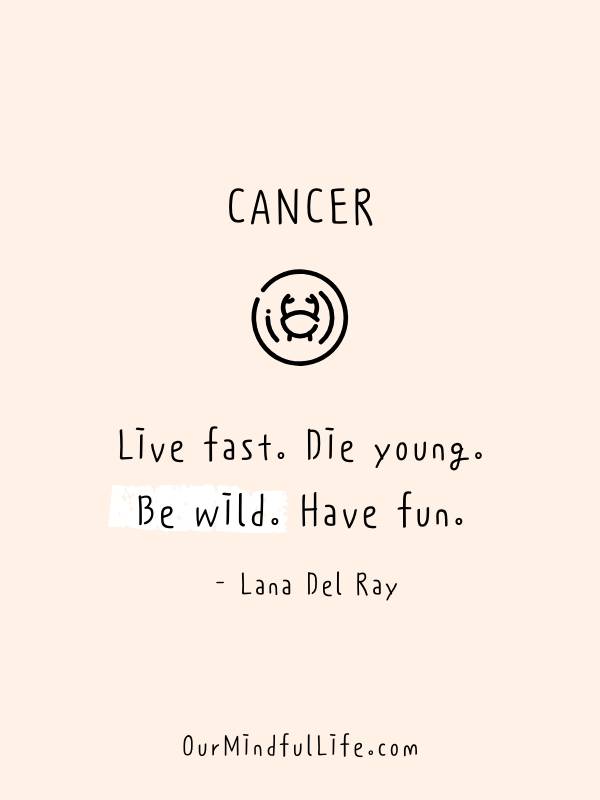 Live fast. Die young. Be wild. Have fun.
– Lana Del Ray
I have an appetite for the normal in my life, as well as the abnormal.
– Benedict Cumberbatch
I am fucking crazy. But I am free.
– Lana Del Ray
It's hard for me to watch the underdog suffer.
– Kristen Bell
When someone's hurting, be there. We could all use a little compassion.
– Ariana Grande
I love hard; I love who I love, and I don't make any qualms about it.
– Khloe Kardashian
I don't go by the rule book; I lead from the heart, not the head.
– Princess Diana
I live my life, and nothing is going to dictate how I feel unless I let it.
– Selena Gomez
Love motivates me in everything I do.
– Vin Diesel
When your happiness is someone else's happiness, that is love.
– Lana Del Ray
Family is the most important thing in the world.
– Princess Diana
Read also: 79 Friendship quotes for your ride-or-die
Everybody has something that chews them up and, for me, that thing was always loneliness.
– Tom Hanks
All the people who knock me down, only inspire me to do better.
– Selena Gomez
I wear my heart on my sleeve.
– Princess Diana
You can say you're sorry 5,000 times, but that doesn't mean you mean it.
– Khloe Kardashian
I've got a war in my mind.
– Lana Del Ray
Some people go to bed at night thinking, "That was a good day." I am one of those who worries and asks, "How did I screw up today? "
– Tom Hanks
It takes getting everything you ever wanted and then losing it, to know what true freedom is.
– Lana Del Ray
Walking with a friend in the dark is better than walking alone in the light.
– Helen Keller
Live a life less ordinary.
– Benedict Cumberbatch
Do you agree with these Cancerian quotes?
Dear Cancer, do these quotes relate to you? I love to know! Tell me about it in the comments.
If any of these Cancer quotes remind you of a friend or family, don't forget to share it with them!