This blessing may be used at special family visits (such as holidays), at the beginning or end of a visit, or at another appropriate time.  If possible, the oldest grandchild might serve as the leader.
When the grandparents, parents, and children have gathered, all make the sign of the cross.
Leader: Blessed be God, who is faithful through all generations.
R/. Blessed be God forever.
The leader introduces the blessing in these or similar words:
Grandparents are cherished members of our family. They bring gifts of wisdom, experience, and love and share with us their life of faith. We thank God for their example and ask that he bless them with happiness and good health.
Then the Scripture is read:
Listen to the words of Psalm 128:
Happy are you who fear the Lord,
who walk in his ways!
For you shall eat the fruit of your handiwork;
happy shall you be, and favored.
Your wife shall be like a fruitful vine
in the recesses of your home;
Your children like olive plants
around your table.
Behold, thus is the man blessed
who fears the Lord.
The Lord bless you from Zion:
may you see the prosperity of Jerusalem
all the days of your life.
May you see your children's children.
Peace be upon Israel!
(The family Bible may be used for an alternate reading, such as Ezekiel 37:24b-27.)
Reader: The Word of the Lord.
R/. Thanks be to God.
After a time of silence, all join in prayers of intercession and in the Lord's Prayer.  Then the leader prays:
Lord God almighty,
bless our grandparents with long life, happiness, and health.
May they remain constant in your love
and be living signs of your presence
to their children and grandchildren.
We ask this through Christ our Lord.
R/. Amen
All make the sign of the cross as the leader concludes:
May God bless us and keep us
all the days of our lives.
R/. Amen
For My Grandparents – for grandchildren
God of love,
We thank you for our wonderful grandparents.
They bring such joy and happiness into our lives.
Thank you for all the special times that we have with them.
Please watch over them, protect them and care for them now.
May they know your goodness and love always.
A Child's Prayer for Grandparents
Dear God, please bless my grandparents.
Thank you for the life they gave my parents
and for the life, they give to me.
For the ways they helped me and made me strong, I give thanks.
For the ways, they love me no matter what, I rejoice.
For the ways, they have paved the road
that leads me here, I am grateful.
Let them grow in wisdom and joy in life.
Let them find peace and rest from their work.
Let them be healed of every sickness and pain.
And let them see with their own eyes your glory
and the love of their children and grandchildren.
Bless them always until they come to rest in you.
---
Generations
God, you have blessed me indeed as the child I love has had a child I love with all that is within me.
I pray that in your mercy you watch over and protect my grandchild as you have always done for me.
May their lives be long and healthy.
May they have the courage to follow their dreams and should the day come when I am no longer on Earth with them, may they look back upon me with fond memories and may they never forget that they were and always will be deeply loved by me.
---
Look with Love
Look with love on grandparents the world over.
Protect them!
They are a source of enrichment
for families and for all of society.
Support them!
As they grow older,
may they continue to be for their families
strong pillars of Gospel faith,
guardian of noble domestic ideals,
living treasuries of sound religious traditions.
Make them teachers of wisdom and courage,
that they may pass on to future generations the fruits
of their mature human and spiritual experience.
Help families and society
to value the presence and roles of grandparents.
May they never be ignored or excluded,
but always encounter respect and love.
Help them to live serenely and to feel welcomed
in all the years of life which you give them.
Keep them constantly in your care,
accompany them on their earthly pilgrimage,
and by your prayers, grant that all families
may one day be reunited in our heavenly homeland,
where you await all humanity
for the great embrace of life without end.
---
Our Grandparents
We thank you for our grandparents who have played such an important role in our lives.
We remember with joy all of the time spent together doing simple things like fishing, doing a puzzle, baking cookies, taking a walk, reading a story and learning about the wonder of nature.
Thank you for the privilege of hearing their stories of life in another time and place that inspired us to work hard, be patient, courageously endure hard times and to dare to follow our dreams.
We are forever grateful for the wisdom and stability they provided when we felt our world was falling apart.
What a great gift to us that they loved us just because we were their grandchild.
Thank you that they counted it joy to spend time listening as we told them about the big and little things going on in our lives.
May we continuously feel their hugs and feel the warmth of their smiles so that we can better comprehend your constant and unchanging love for us.
We ask your kind forgiveness for the times we failed to appreciate our grandparents, for the times we were too wrapped up in ourselves and our own activities to spend more time with them.
Help us to become more like them as we age, learning how to accept with grace the limitations of aging bodies.  Give us their strong and supernatural grace to face the loss of our own aging friends and family the same way our grandparents have.  May we learn from them how to face the prospects of our own limited time on earth and our own deaths with the dignity, peace, and assurance of eternal life.
And when our time comes to be grandparents ourselves, help us to follow in their loving footsteps.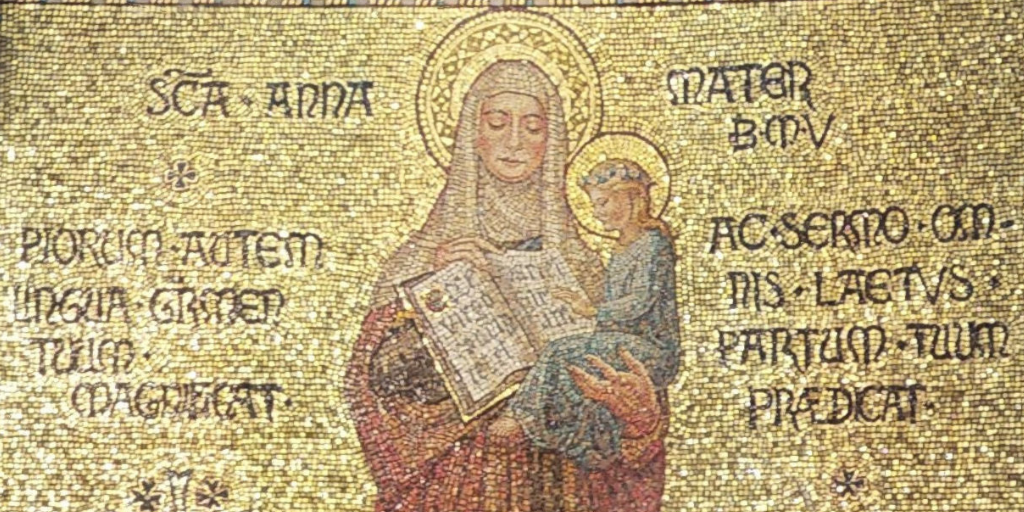 "Even to your old age I am he, even when you turn gray I will carry you. I have made, and I will bear; I will carry and will save." – Isaiah 46:4
This year marks the first celebration of the World Day for Grandparents and the Elderly on July 25. Instituted by Pope Francis in January, it exhorts the faithful to remember the elderly, and pray for those who have been isolated during the pandemic. In establishing this day, Pope Francis declared:
"Even at the darkest moments, as in these months of pandemic, the Lord continues to send angels to console our loneliness and to remind us: 'I am with you always.' He says this to you, and he says it to me. That is the meaning of this Day, which I wanted to celebrate for the first time in this particular year, as a long period of isolation ends and social life slowly resumes. May every grandfather, every grandmother, every older person, especially those among us who are most alone, receive the visit of an angel!"
With the celebration of the World Day for Grandparents and the Elderly, we are reminded of all the ways these figures have blessed us in life, and lift them up in prayer. Grandparents pass on wisdom to new generations, teaching them the practice of faith and perseverance in the face of hardship. As you pray for your grandparents and the elderly in your community, we hope these prayers serve as a helpful resource for you.
Prayer for a Blessing on a Long Life
God of mercy, you have given your children the gift of long life, and they ask for your blessing. Let them feel the tenderness and strength of your presence. As they look back to the past, let them rejoice in your mercy. As they look to the future, may they persevere in hope that does not fade. To you be praise and glory for ever.
Prayer for Blessing of Grandparents
Lord God almighty, bless our grandparents with long life, happiness, and health. May they remain constant in your love and be living signs of your presence to their children and grandchildren. We ask this through Christ our Lord. Amen.

Prayer for the First World Day for Grandparents and the Elderly
I thank you, Lord, for the comfort of your presence: even in times of loneliness, you are my hope and my confidence, you have been my rock and my fortress since my youth! I thank you for having given me a family and for having blessed me with a long life. I thank you for moments of joy and difficulty, for the dreams that have already come true in my life and for those that are still ahead of me. I thank you for this time of renewed fruitfulness to which you call me. Increase, O Lord, my faith, make me a channel of your peace, teach me to embrace those who suffer more than me, to never stop dreaming and to tell of your wonders to new generations. Protect and guide Pope Francis and the Church, that the light of the Gospel might reach the ends of the earth. Send your Spirit, O Lord, to renew the world, that the storm of the pandemic might be calmed, the poor consoled and wars ended. Sustain me in weakness and help me to live life to the full in each moment that you give me, in the certainty that you are with me every day, even until the end of the age. Amen.
God of the Ages we praise and thank you. From generation to generation You have been our refuge and strength. You give your gifts of grace for every time, place and season as we strive within the family to walk in Your ways and remain close to one another and to you. We pray that our homes may be schools of Faith, where we come to know and to love You. Teach us the Sanctity of human love. Show us the value of family life and help us to respect all life. May the young find in the family strong support for their humanity so that they may grow in truth and love. May the elderly experience respect, support, love and care within the family circle. We give thanks for Grandparents and we pray for them. We give thanks for they connect us with our heritage and our roots through the mists of time. We give thanks for their Christian memory which inspires and enlightens us. We give thanks for the example of their faith, for the witness of their lives, for the constancy of their love, for the support of their prayers.
Bless all Grandparents and keep them in Your care.Bless them with peace, health and healing. Reward them for their Faith and fidelity, for their work and goodness, for their love and thoughtfulness, for their gifts and prayers. Give them a long and happy life together. May old age come to them in the company of family and friends. And when life is over, unite them again, where parting will be no more, in the Kingdom of Your love.
We ask this through Christ our Lord.
Prayer to Saint Anne and Saint Joachim
St. Anne and St. Joachim,you were especially favoured by God,on the threshold of the New Testament,to be the parents of the Blessed Virgin Mary, Mother of God. You provided your daughter with a loving home, family and faithful teaching, and brought her up to be the worthy Mother of our Saviour, Jesus Christ. Your way of parenting was for her an example to bring forth the only-begotten Son of God, Jesus, treasuring all things in her heart. (cf. Lk.2.19,51). Your faith laid the foundation of courage and strength that allowed Mary to stand by the Cross as her Son was crucified and to still believe (cf. Jn. 19.25-27).In communion with Mary and Joseph, intercede to your grandson, Jesus, for all parents, so that they may help their children to grow in strength and in knowledge and to discover the mission that God entrusts to them in the world and in the Church.
Prayer to Saint Anne
Good St. Anne, Mother of Mary, the Blessed one among women. (cf. Luke 1.42). Intercede for all our families so that, through the help of the Holy Spirit, we may grow together in peace and understanding and make our home hospitable to our visitors and guests. May we persevere, like you, in the love of Jesus and Mary and live pure and blameless lives in the sight of God.
Grandmother of Jesus, our Saviour, you were honoured by our ancestors in your role of nurturing Him and bringing Him up to maturity. Intercede for all grandmothers so that they may nurture their grandchildren with love and wisdom, teaching them to find their way in life and to be right in word and in deed.
Prayer to Saint Joachim
Gentle St. Joachim, Father of the Virgin Handmaid of the Lord, (cf. Luke 1.38), grandfather of Jesus, among your descendants you had the privilege to count the One whom your own ancestors longed to see, the long-expected Messiah. Intercede for all elders and grandfathers who worked hard on this land, defending its integrity, and who grew old in the service of the Almighty. May God grant them to benefit from their remaining strength, to share the wealth of their experience and wisdom and to enter his Kingdom at the end of their earthly time.
Good St. Anne and St. Joachim, parents of Mary, the 'favoured one', (Luke 1.28), accompany us in our faith journey on this land to the glory and praise of God, now and for ever and ever.
Amen.