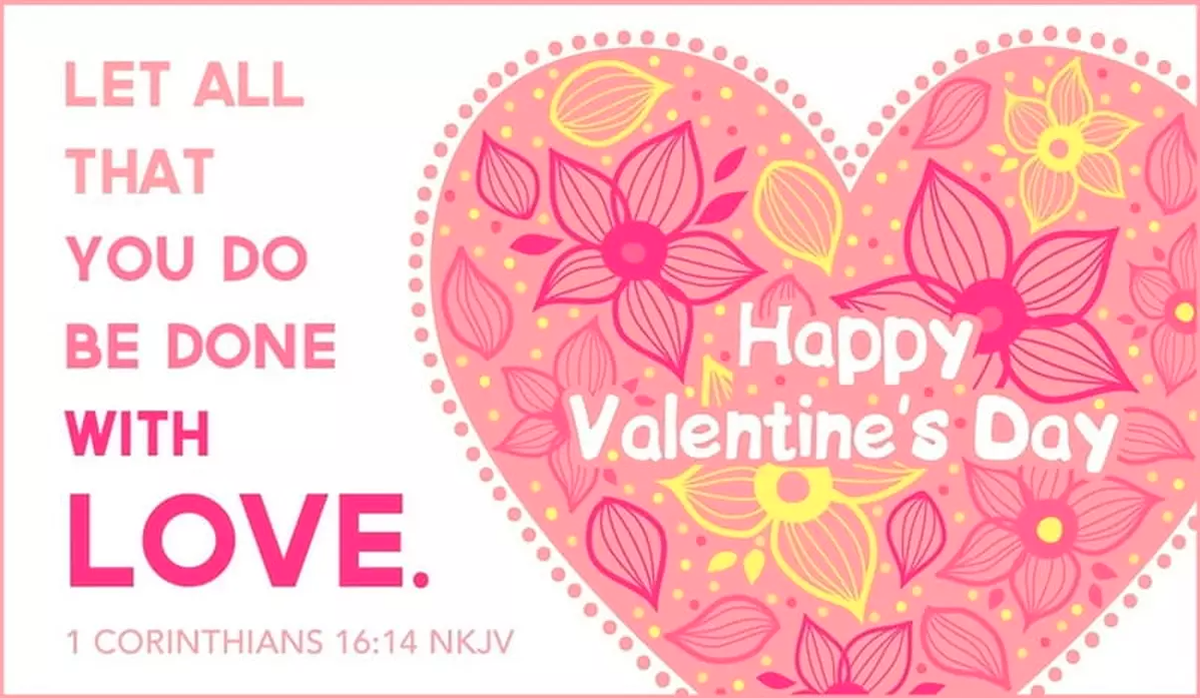 Valentine's Day, also known as Saint Valentines's Day, originated as a church holiday on February 14th to honor martyrs of the faith – saints whose names were Valentine or Valentinus. It is believed that the first heart valentine note was sent by a Valentine who was in prison for a girl he loved. Valentines notes have been recorded for as far back as the Middle ages. While the meaning and celebrations of Valentine's Day has changed, it has remained as a special day to shower with love those we hold close. What better way to celebrate than with affirming words of love with Bible verses for Valentine's Day?
Valentine's day can create a variety of emotions for different people. For some it creates great satisfaction celebrating the love you have between you, your spouse, and your friends & family. For others it can cause feelings of loneliness. Whether you are single or in a relationship, let these Bible verses encourage you to celebrate, for God has unconditional and indescribable love for us. No matter your age or stage in life, Valentine's Day can be celebrated because of God's great love. Share these Scriptures on February 14th and throughout the year to spread the love with those you hold near and dear!
1 Corinthians 13:13
13 And now these three remain: faith, hope and love. But the greatest of these is love.
1 John 4:8
8 Whoever does not love does not know God, because God is love.
Ecclesiastes 9:9
9 Enjoy life with your wife, whom you love, all the days of this meaningless life that God has given you under the sun—all your meaningless days. For this is your lot in life and in your toilsome labor under the sun.
Proverbs 31:10
10 A wife of noble character who can find? She is worth far more than rubies.
Song of Songs 1:16
16 How handsome you are, my beloved! Oh, how charming! And our bed is verdant.
Song of Songs 2:16
16 My beloved is mine and I am his; he browses among the lilies.
Song of Songs 3:4
4 Scarcely had I passed them when I found the one my heart loves. I held him and would not let him go till I had brought him to my mother's house, to the room of the one who conceived me.
Song of Songs 4:9
9 You have stolen my heart, my sister, my bride; you have stolen my heart with one glance of your eyes, with one jewel of your necklace.
Song of Songs 4:10
10 How delightful is your love, my sister, my bride! How much more pleasing is your love than wine, and the fragrance of your perfume more than any spice!
John 3:16
16 For God so loved the world that he gave his one and only Son, that whoever believes in him shall not perish but have eternal life.
1 John 3:16-17
16 This is how we know what love is: Jesus Christ laid down his life for us. And we ought to lay down our lives for our brothers and sisters. 17 If anyone has material possessions and sees a brother or sister in need but has no pity on them, how can the love of God be in that person?
Colossians 3:14
14 And over all these virtues put on love, which binds them all together in perfect unity.
Ephesians 5:23-25
23 For the husband is the head of the wife as Christ is the head of the church, his body, of which he is the Savior. 24 Now as the church submits to Christ, so also wives should submit to their husbands in everything. 25 Husbands, love your wives, just as Christ loved the church and gave himself up for her
John 15:13
13 Greater love has no one than this: to lay down one's life for one's friends.
Genesis 29:20
20 So Jacob served seven years to get Rachel, but they seemed like only a few days to him because of his love for her.