Thanksgiving Floral Centerpieces
Don't let the large turkey and smattering of sides overwhelm you: There is plenty of room on your Thanksgiving table for some well-appointed decorations. A pretty tablecloth and strategically assembled settings are two great ways to get started, but a standout centerpiece will tie the whole look together and offer ample style long after the turkey is carved.
Fortunately, there's no one way to dress up your dining room table. While traditionalists might turn to a fresh batch of fall foliage, others might opt for something a tad more unconventional such as slabs of driftwood or sprigs of eucalyptus. For inspiration, discover these standout centerpiece ideas that will truly appeal to all of the senses.
KEEP IT SIMPLE
As this setup from Julie Blanner proves, a pared-back approach can pay off. The lifestyle blogger kept it simple with pumpkins and a dusting of flowers, creating an environment that's both elegant and ethereal.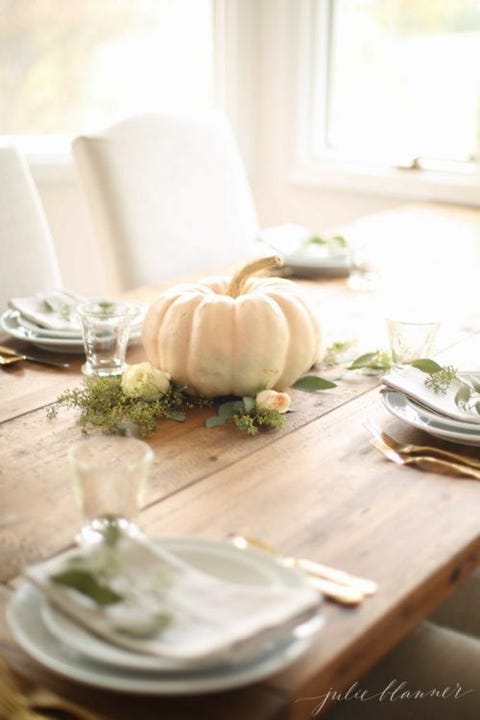 TRY THE TROUGH TREATMENT
Torn between produce, leaves, and fresh fall flowers? This space by the Identité Collective proves you can have it all. The magic lies in the wooden trough, which gives the more-is-more inspiration a pared-back edge.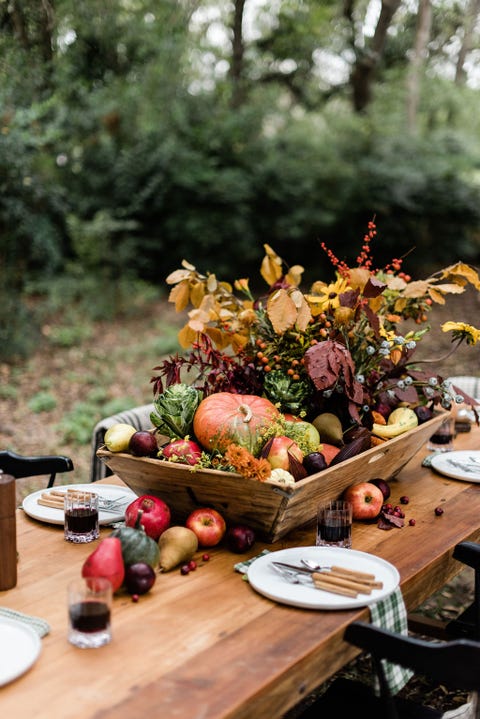 LAYER YOUR LANTERNS
If you want to light up your tablescape—but think a line of candles is overplayed—consider creating a centerpiece with lanterns. This setup, also by the Identité Collective, is peppered with equally rustic touches such as brass accents and a strand of autumnal leaves.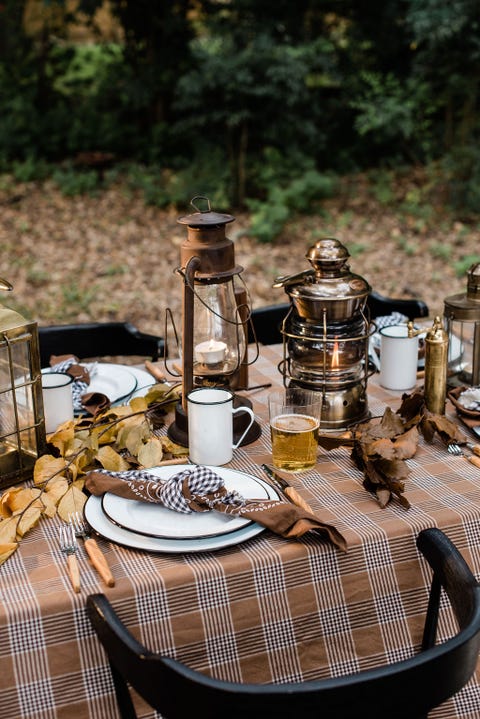 DEFY GRAVITY
Think centerpieces have to stay at eye level? The Identité Collective's Anastasia Casey is here to prove otherwise. For this moody setup, the creative offset candles of varying heights and thicknesses with a suspended floral arrangement. Turns out, the only way to go is up.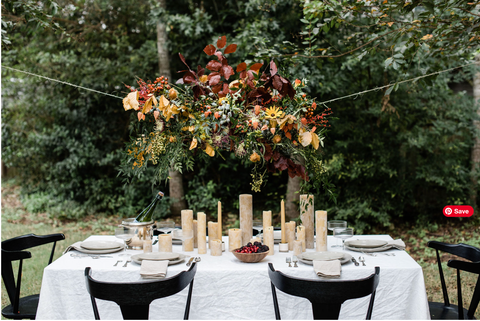 STYLE WITH A SNACK
Looking for a centerpiece that can do double duty? Take a cue from Kaitlin Moss, who decked out this dining room table with symmetrical cheese boards. The brass candlesticks anchor the centerpiece, offering plenty of style as the charcuterie wanes.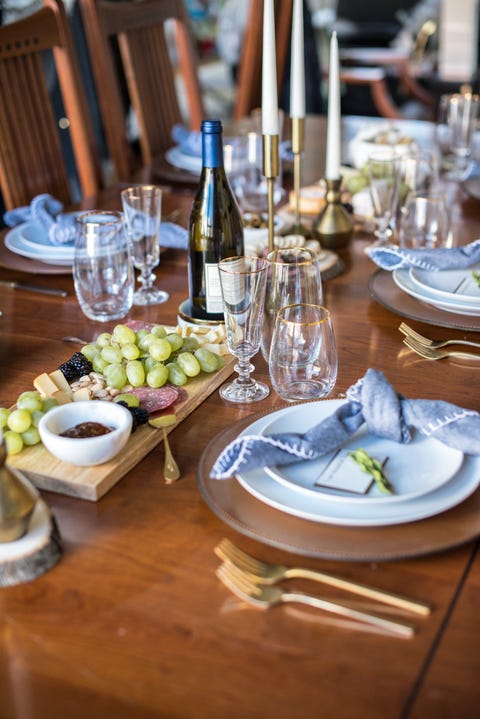 MAKE IT MONOCHROME
Pay tribute to Mother Nature by covering your centerpiece in warm, autumnal hues. Here, Kaitlin Moss mastered the look by pairing red blooms with matching tapered candles.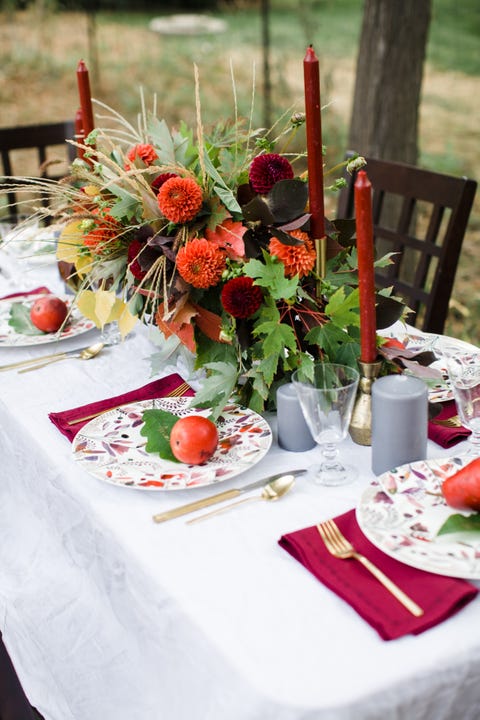 ADD POPS OF NEUTRALS
Speaking of which, it's important to know your monochromatic limits. Fortunately, Elizabeth of the College Housewife struck the perfect balance by breaking up her warm-toned table with white planters and matte black candlestick holders.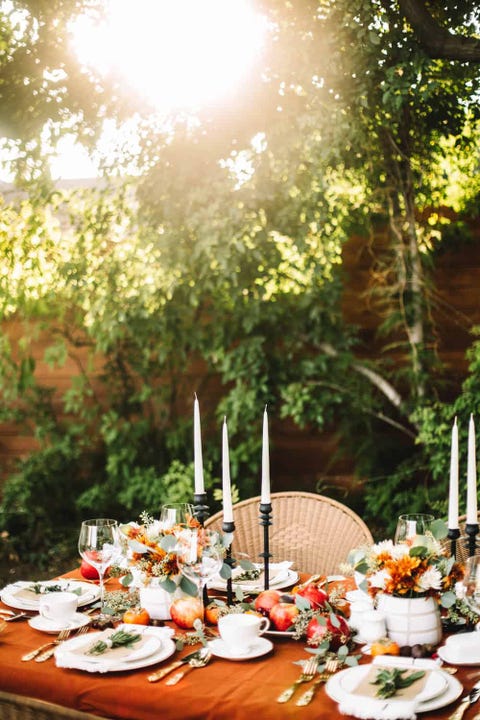 LAYER UP
For a centerpiece that feels just as warm and inviting as your Thanksgiving feast, enlist some layers. Black & Blooms' Sara Toufali mastered the look by pairing flowers and candles with a dyed tablecloth and woven runner.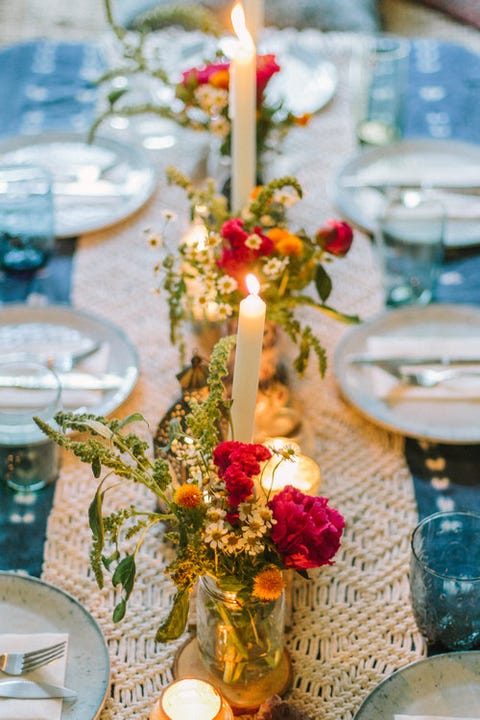 CENTERPIECE ON REPEAT
If you want to create a centerpiece that all of your guests can enjoy, repetition is key. Eden Passante of Sugar and Charm lined her table with luscious bouquets and copper-hued dinnerware to create a celebratory setup that looks good from every angle.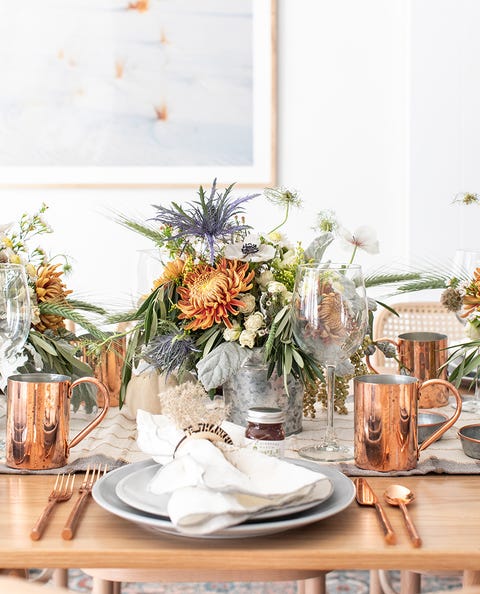 CRYSTAL CLEAR
Annie Selke brought the good vibes to her Thanksgiving table by adding crystals to her centerpiece. When paired with wood slices, pumpkins, hydrangeas, and lichen, crystals are holistic and homey.