Thanksgiving Dinner Plates
While you narrow down your options for your Thanksgiving table decor, it's probably a good idea to figure out what kind of dishes you want to use. Maybe you're feeling festive and want dinnerware that's specifically a backdrop for your holiday feast, maybe you're looking for something with fall colors or motifs that can still work year-round, or maybe you're on the search for pretty dinnerware that you can set no matter the season.
In any case, there's tons of dinnerware perfect for Thanksgiving and totally chic—seriously, no cheesy patterns and colors here, just some supremely stylish options for your fall tablescape, and an upscale turkey or pumpkin print or two. Just add a tablecloth (or runner!) and some other seasonal decor, and you'll be hosting a totally Instagram-worthy holiday table in no time. All that's left to do is figure out what'll be on your menu!
Plymouth Gate Turkey Dinner Plate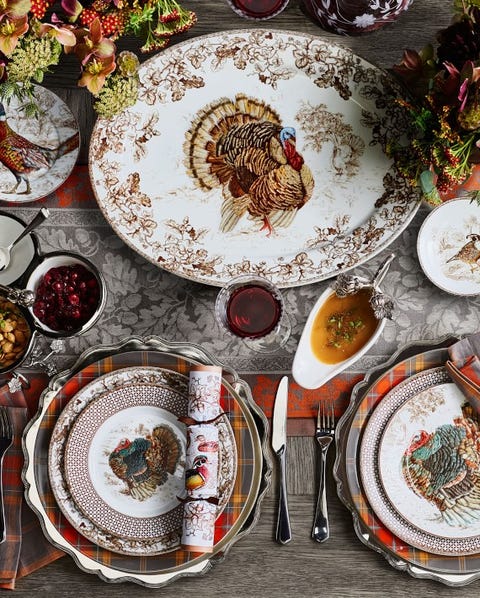 If you can't resist a traditional turkey motif, then a traditional turkey motif you shall have. These gorgeous plates will certainly add some festive feelings to your table.
Yellow Mauna Crackle 12-Piece Melamine Dinnerware Set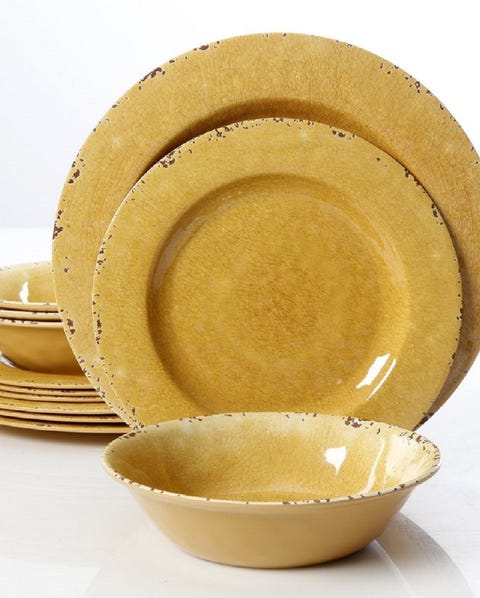 A warm yellow can work year-round, but it's especially perfect for coordinating with the oranges, reds, and browns of your autumnal tablescape. This one's melamine, too, so no worry about any chips during dinnertime cleanup.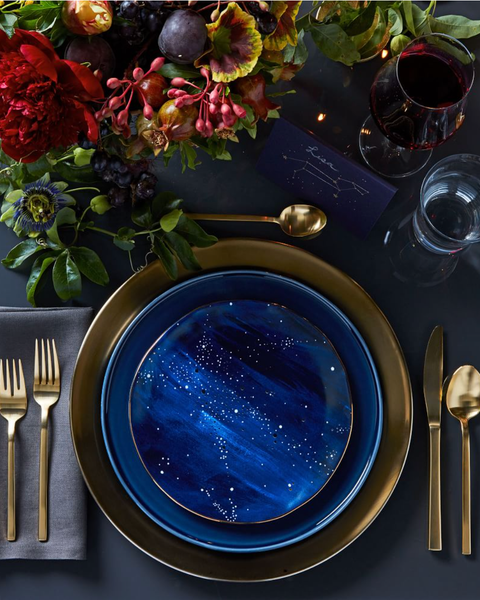 While blue seems like a surprising choice in fall, this mesmerizing hue is the perfect scene to capture your guests' attention. The post-Turkey haze doesn't stand a chance.
Floral Print Melamine Plates 4-Piece Set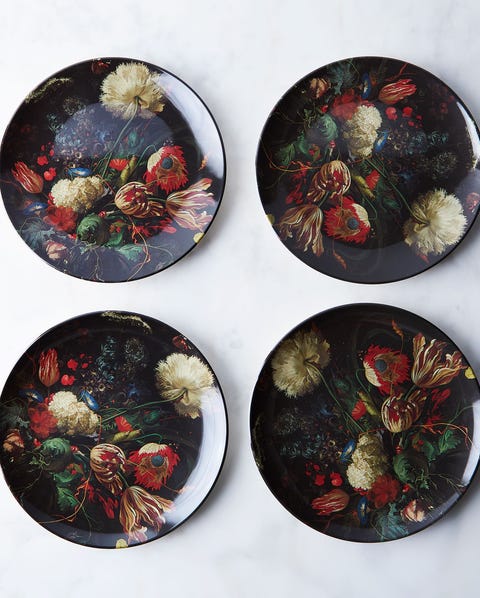 Go dark and moody with these stunningly detailed floral print plates. Paired with gold flatware and brighter accents, these plates will make a statement come dinner time. And the best part? They're melamine, so virtually unbreakable.
Stoneware Reactive Glaze Dinner Plate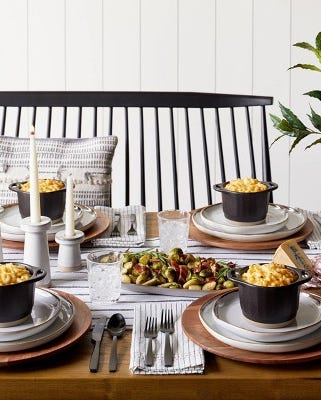 If you're into creating an epic buffet spread for your thanksgiving feast white plates with a nice gloss and speckles are a classic option. These plates are minimal, chic, and keep the attention on the hours you spent cooking a delicious meal.
Jardin 4-Piece Place Setting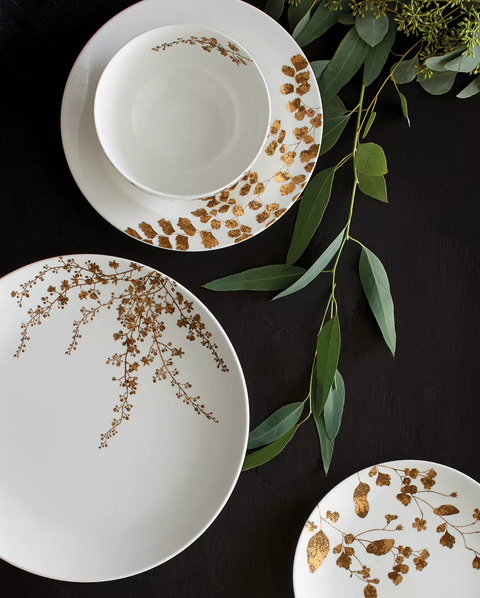 Keep it simple, delicate, and formal with this white dinnerware set adorned with gold foil botanical prints.
Mason Square 16-Piece Stoneware Dinnerware Set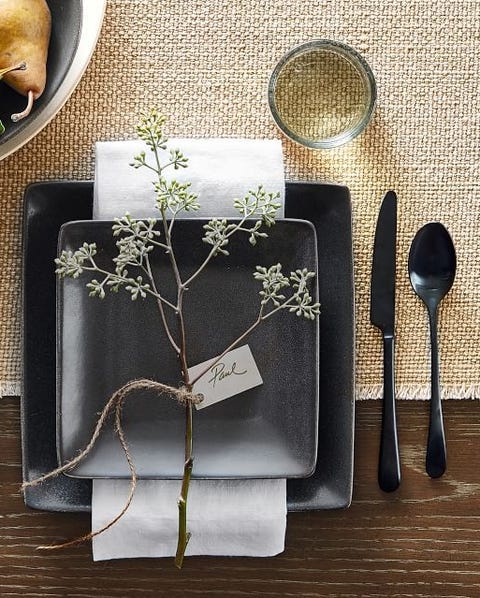 A deep charcoal stoneware set—in a non-traditional square shape, no less—make way for other colorful decorations.
Coralina 4-Piece Dinnerware Set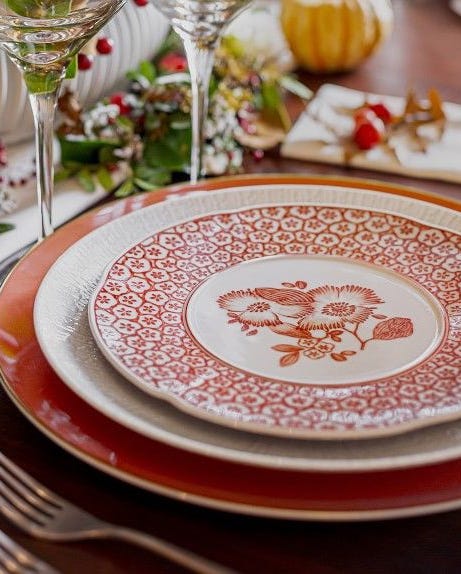 Vibrant tableware by Oscar De La Renta brings playful elegance into your dining room. The orange hue gives your table the extra punch you're looking for.
Botanical Pumpkin Dinner Plate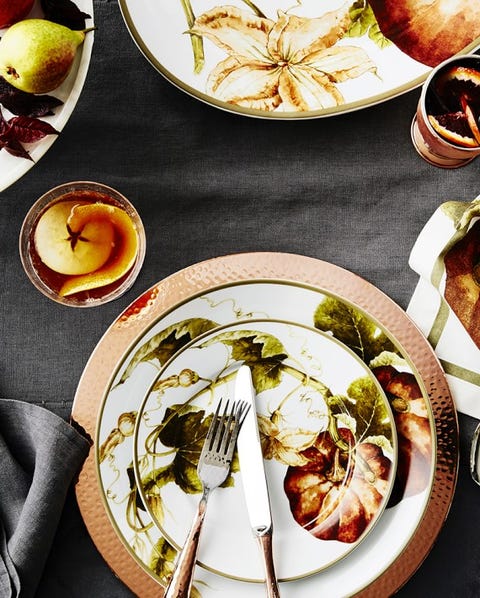 Is it Thanksgiving without a little hint of pumpkin print? These dinner plates make pumpkins feel a little more upscale for a grown-up tablescape.
Royal Crown Derby Gold Aves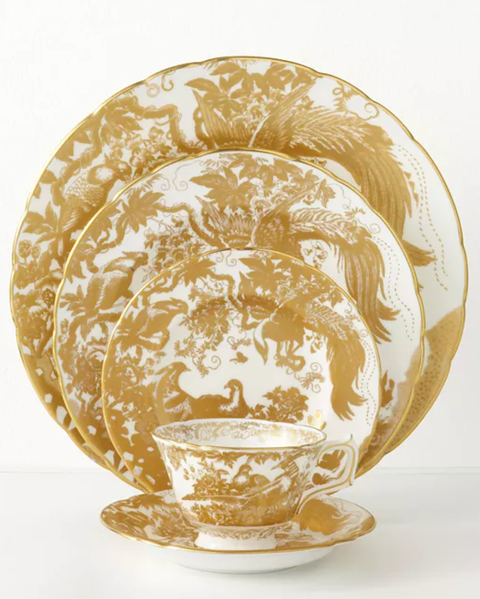 Made of bone china, the decorative Birds of Paradise and peacocks feathers designed on this set embody maximalism to the fullest.
Bordallo Pinheiro Cabbage Dinnerware Sets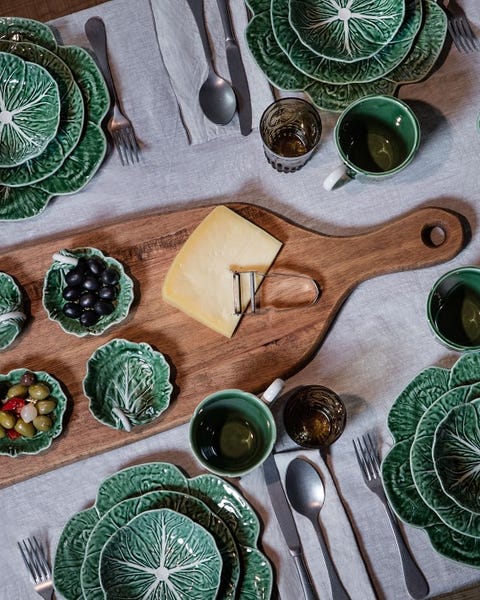 Even the pickiest eater will have no choice but to admire this rustic green cabbage set. Conceived by Portuguese ceramist Bordallo Pinheiro, the leafy green will tie in your homemade meal in a cinch.
Leila 16-Piece Dinnerware Set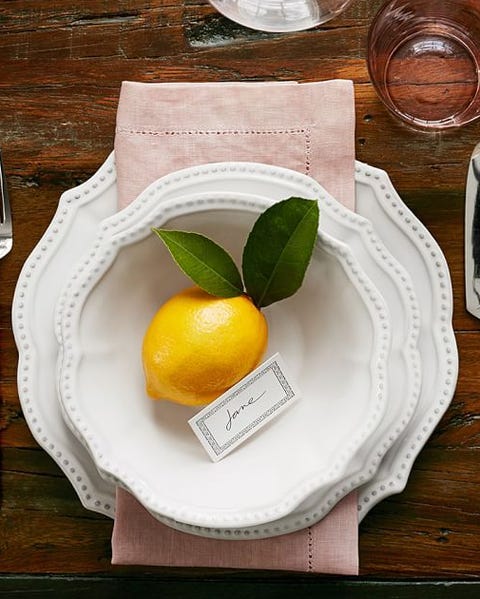 Keep it simple for Thanksgiving and the rest of the holiday season (and really, just about any hosting occasion) with this white dinnerware—the scalloped shape and stitched rim give it some extra flair.
Addison Grey 4-Piece Gold Rim Place Setting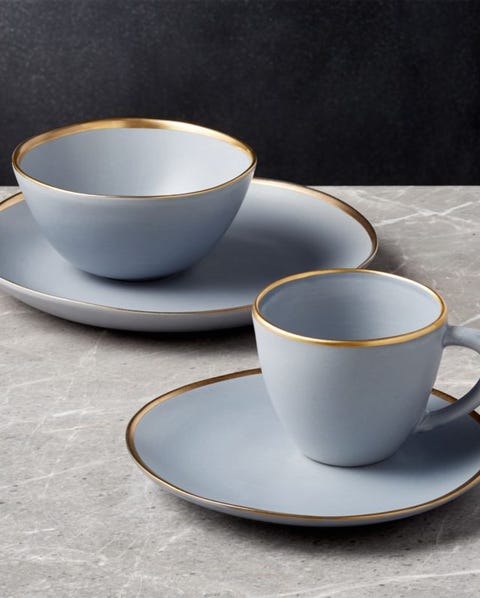 Who needs autumnal colors when you can go with an all-season set like this gray dinnerware? With its thin gold rim, it's special enough that it can easily be dressed up for the holidays, but not so fancy that you can't use it casually, too.
Middleton Pheasant Accent Plates 4-Piece Set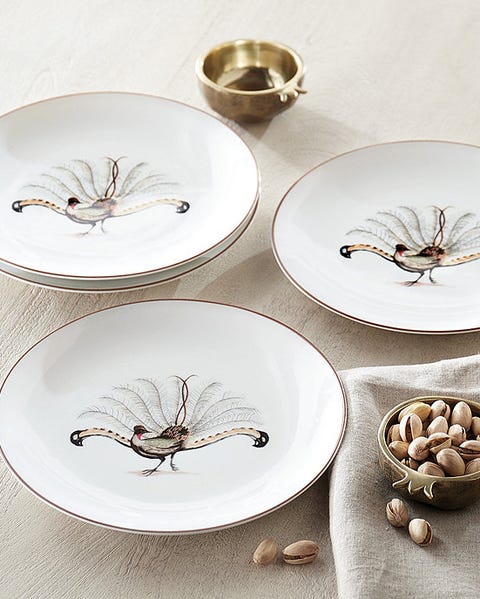 ballarddesigns.com
$40.99
BUY NOW
Who needs turkeys when you can go a little less literal and set the table with these fun pheasant-print plates?
Byzantine Dreams Porcelain Dinner Plate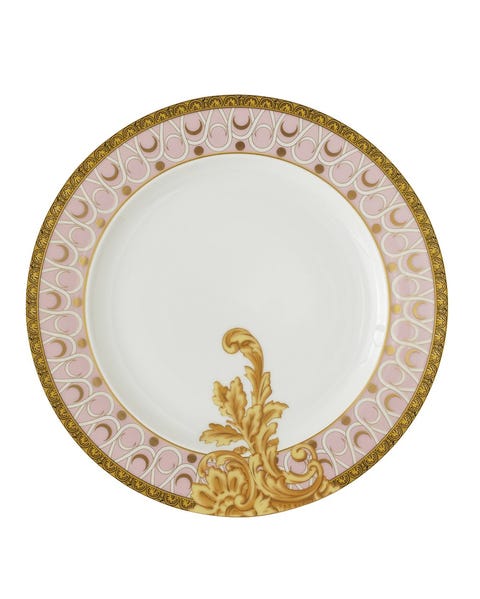 There's always room at the table for high-fashion. This Versace plate suits an intimate Thanksgiving meal and keeps the drama on the plate.
Forest Walk Party Plates Set/4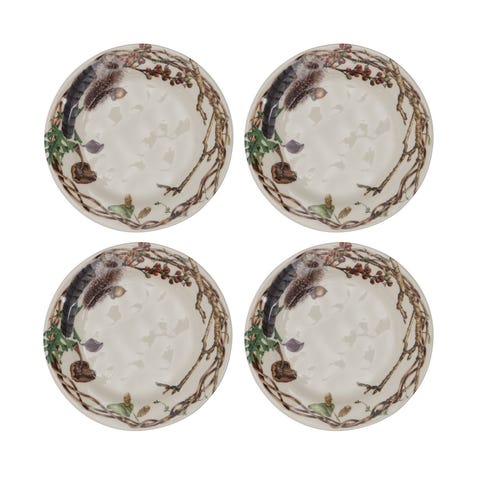 Bring the natural beauty of fall to your table with Juliska's Forest Walk dinnerware, whose rims feature details like branches, flowers, and feathers. And hey, they just might encourage you to get out for that post-meal walk on Thanksgiving!