Pioneer Woman Thanksgiving
When it comes to planning a Thanksgiving menu, we're firm believers that an incredible assortment of Thanksgiving side dishes will turn any holiday dinner into a feast for the ages. Sure, your Thanksgiving turkey will get some attention too, but no main course would be complete without a pile of creamy mashed potatoes and cranberry sauce to accompany it. Or, if you're anything like Ree Drummond, you might just stick to a plate full of sides. "Sometimes, I even forget to put the turkey on my plate," she says.
Here, you'll find all the best Thanksgiving side dishes, including classic casserole recipes, skillet cornbread, and plenty of sweet potato dishes. But you'll also want to make room on your menu to add some new additions to the mix. The homemade pumpkin ravioli topped with browned butter or the cauliflower gratin are sure to impress your guests. Looking to put a fun spin on your favorite vegetable sides? Instead of your typical green bean casserole, try Ree's green bean and mushroom casserole with candied bacon. Or, amp up your Southern Thanksgiving menu offerings with mac and cheese made with butternut squash. You'll also find Thanksgiving slow cooker recipes and Instant Pot ideas ahead in case you're looking to speed things along.
Then, once you've picked out your favorite Thanksgiving side dishes, you can move on to dreaming up the best Thanksgiving desserts!
Broccoli Wild Rice Casserole
Wild rice gives this Thanksgiving side dish a bit of chewy texture and rustic flavor. It's a fun twist on a traditional dish that's typically made with white rice.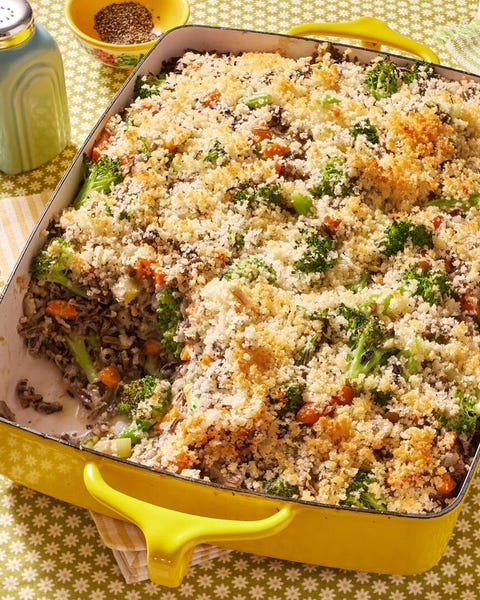 Creamy Mashed Potatoes
The best part about these extra-creamy mashed potatoes is that they can be made ahead. It'll save you a ton of time on a holiday filled with cooking and baking.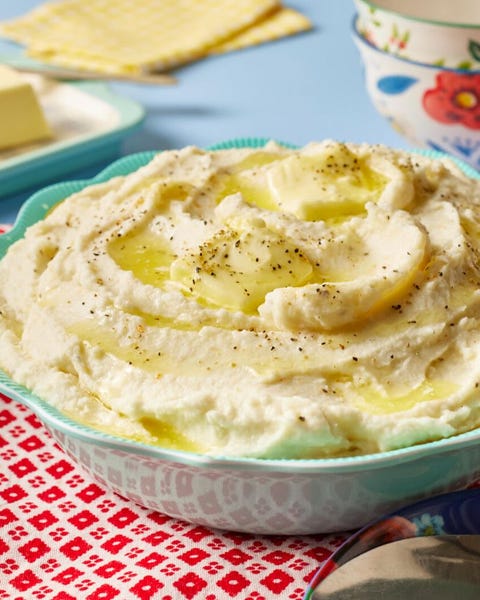 Instant Pot Cranberry Sauce
Skip the canned cranberry sauce in favor of a homemade version this year. It's easier than it looks, especially with the help of an Instant Pot.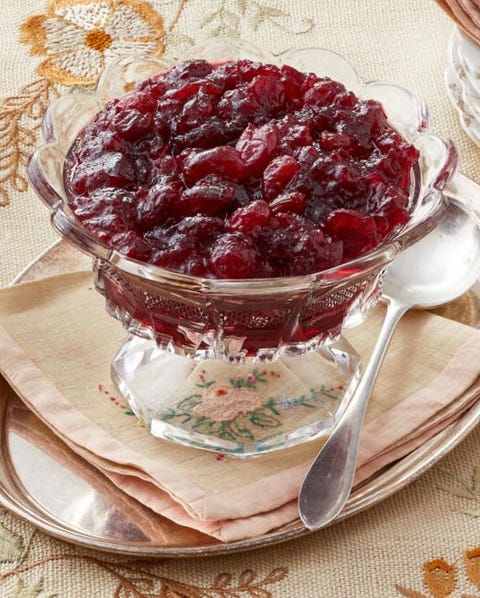 Cauliflower Gratin
You've never tried cauliflower like this before—it's creamy, cheesy, and baked to perfection with a crunchy panko topping. And it's sure to become a new favorite.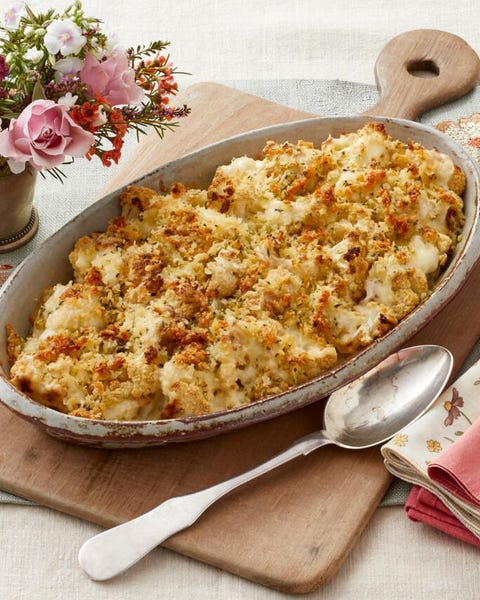 Apple-Cranberry Stuffing
This homemade stuffing is loaded with sweet and savory flavors, including cranberries, apples, thyme, and sage. It will pair perfectly with your Thanksgiving turkey.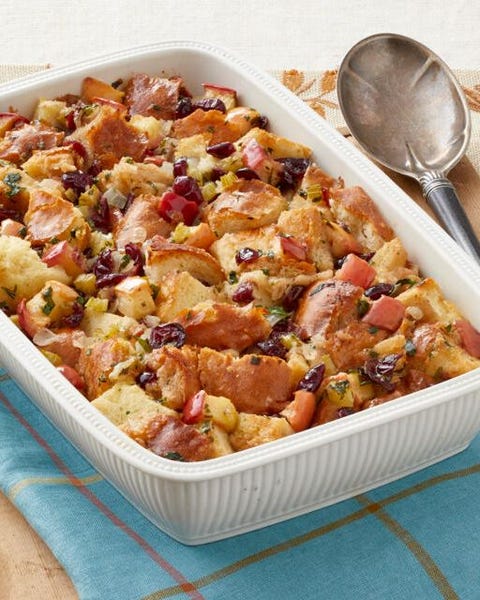 Duchess Potatoes
Looking for a new variation on mashed potatoes? Try this elegant version that uses a pastry bag to pipe the mashed spuds into beautiful swirls.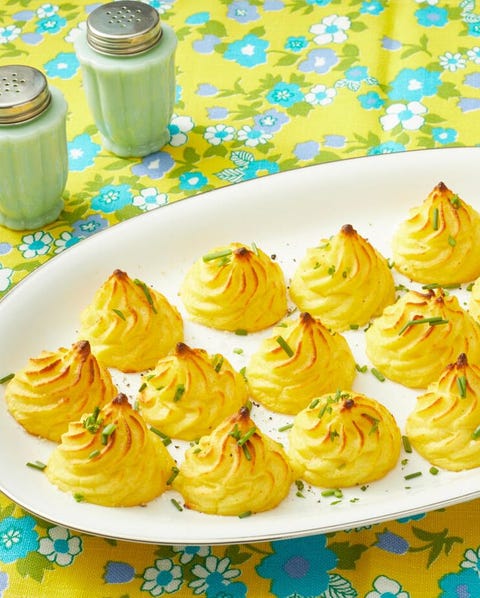 Sweet Potato Casserole with Marshmallow
This sweet side dish is made with fluffy mashed potatoes and pecan streusel topping, but it's the mini marshmallows that make it a hit with kids and adults of all ages.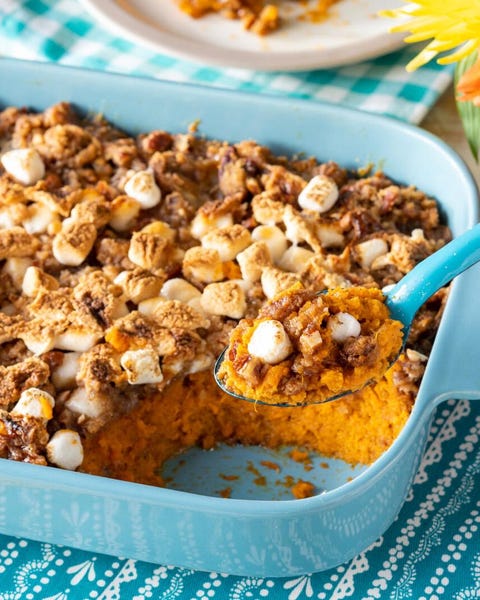 Maple-Bacon Brussels Sprouts
Looking to add something green to your holiday table? These skillet Brussels sprouts are cooked in smoky bacon fat and finished with maple syrup for a perfectly balanced side dish.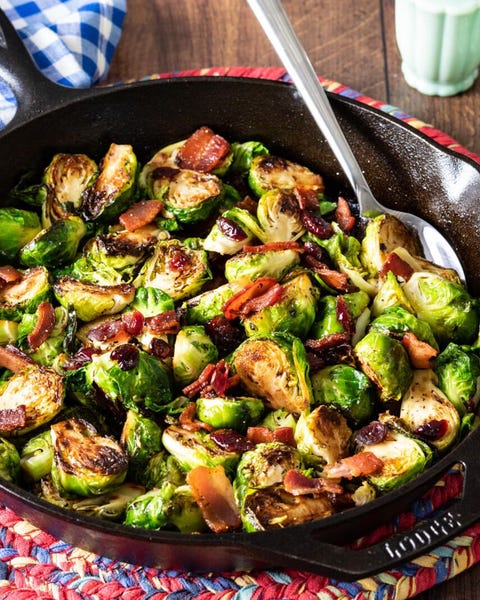 Pumpkin Ravioli
Add some pasta to your Thanksgiving menu with this quick and easy homemade ravioli. It's full of fall flavors like pumpkin, brown butter, and sage.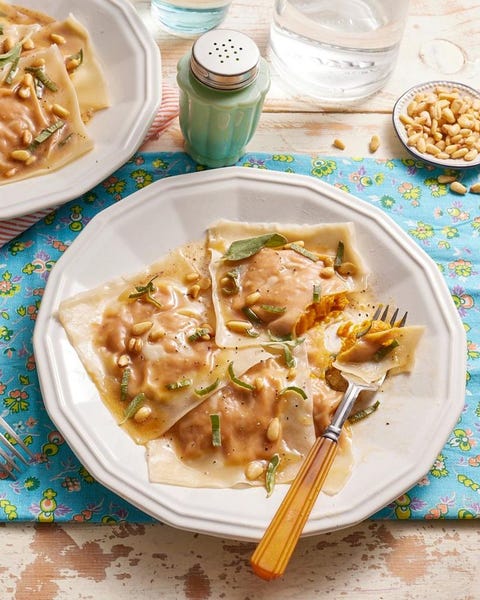 Twice-Baked Potato Casserole
This twist on twice-baked potatoes puts the creamy spuds in casserole form. It's so cheesy and satisfying!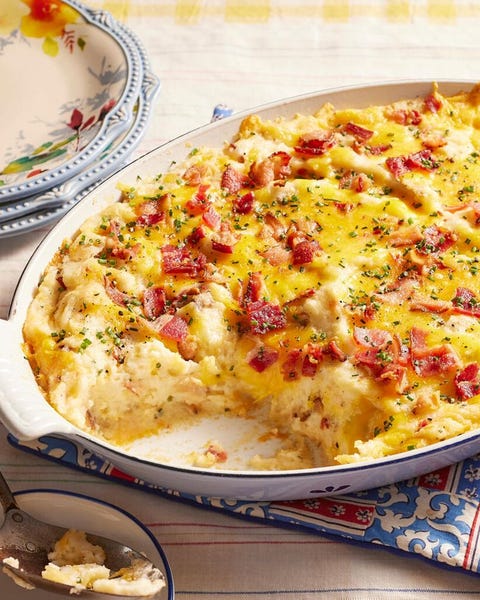 Pumpkin Soup
This creamy pumpkin soup is full of fall flavors, but if you want to give it a seasonal presentation too, you can serve it in hollowed out pumpkin "bowls."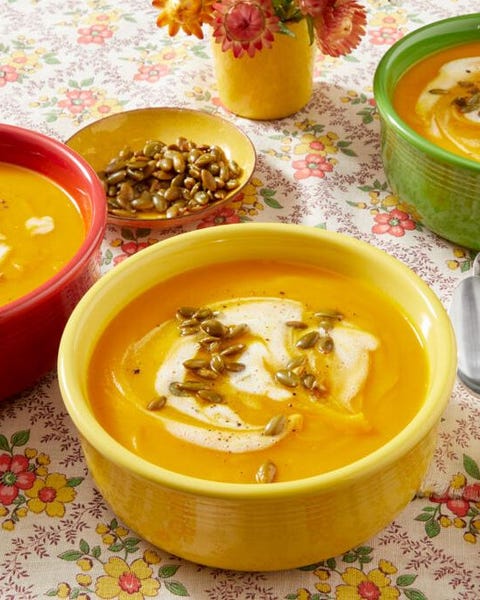 Brussels Sprouts Casserole
This side dish is similar to a baked gratin (packed with cheese and Dijon mustard), but it uses seasonal Brussels sprouts instead of potatoes. Get a head start on cooking by prepping the veggies up to two days in advance.