There is a massive French population in London. In fact, with an estimated 300,000 French citizens, London has more French nationals living in it than the cities of Bordeaux, Nantes and Strasbourg. French president Emmanuel Macron called London France's "sixth city" in terms of its French population size, and it's thought that more French people live in London than any other city outside of France. It's no surprise then that Bastille Day, the national day of France celebrated annually on July 14, is a big deal in London. Here's how to get in on all the French fun by commemorating Bastille Day in London.
Celebrate Bastille Day in London
Feast Like The French
With London's proximity to France and with its massive population of French nationals, the French fare in London is simply superb. There are plenty of French restaurants to sample this Bastille Day. Try South Kensington's Claude Bosi at Bibendum, which is right by the modern and bright Walton vacation rental. There is also Brasserie Zédel in Piccadilly Circus; Noizé in Fitzrovia; L'Escargot in Soho; Le Café du Marché in Clerkenwell; and Margaux in Kensington near the elegant and well-appointed Salisbury.
Raymond Blanc's Brasserie Blanc is another great place to celebrate Bastille Day. This year, they're serving a special, limited-edition burger. The boeuf burger'gnon is piled high with chipotle pulled beef; crispy onion rings; bacon; tomato and a red wine bourguignon sauce. For dessert, Brasserie Blanc is serving an assortment of homemade red, white and blue marshmallows in the colors of the French flag. Vive La France!
Drink Like The French
In addition to French restaurants, there are also plenty of French bars to enjoy fine French wines and other tipples this Bastille Day in London. Le Syndicat, one of the World's 50 Best Bars, is doing a pop-up at Balthazar on Bastille Day. They'll be serving cocktails made with Vichy Pastilles sweets. (Balthazar is actually another good option for French food, as they serve all the classics like entrecôte steak frites, bouillabaisse, beef bourguignon with pomme purée, and coq au vin with Vichy carrots. Ooh la la!)
Dessert? Mais Oui!
There are also plenty of French bakeries and pâtissières to sample this Bastille Day in London. Why not pick up a fresh éclair or pain au chocolat and plan a picnic for July 14? London is full of beautiful places to picnic. Or you can even choose to stay in one of our many luxury vacation rentals with outdoor spaces and have a little al fresco picnic on your private patio, terrace or backyard. Try stopping by Orée on Kensington High Street, which is right by the absolutely exquisite Kensington Court vacation rental. With three bedrooms and three-and-a-half bathrooms, Kensington Court oozes French sophistication and noble allure.
There's nothing more French than croissants, and PAUL, a French bakery brand with locations all around London, will actually be giving out free croissants this Bastille Day in London! You can find a PAUL bakery location nearest to your London Perfect apartment here.
Hang Out in South Kensington:
South Kensington is the place for French expats and Francophiles. It's almost like a little Parisian enclave. There are dozens of little French cafes, shops and bookstores around, and there's even a French cinema, Ciné Lumière at the Institut Français. There's also a great assortment of French cuisine to enjoy at South Kensington's many French restaurants. There are loads of London Perfect apartments for rent in South Kensington too. Try the Rockingham, which is a gorgeous two-story home right by the South Kensington tube station. There's also the Queensgate Studio Loft, which uses its small space most excellently and is housed in the most romantic white Victorian building.
Spend The Day—Or Night—In Paris
The only thing better than spending Bastille Day in London is spending Bastille Day in France. With Paris only a little over two hours away by the super sleek and efficient Eurostar train, spending a day in Paris is super easy. And celebrating Bastille Day in Paris is a once-in-a-lifetime treat. There is a fireworks show that takes place at the Eiffel Tower and a grand parade. If you want to spend the night, you can even find a gorgeous Paris vacation rental from Paris Perfect, London Perfect's sister branch. A highly trusted vacation rental agency, Paris Perfect has the most elegant apartments in only the very best and most beautiful Parisian arrondissements (districts).
Summer is a great time to visit London. We can help you plan the perfect trip around Bastille Day. Get in touch with the London Perfect team today. We'll find you the perfect London vacation rental to call your home this summer.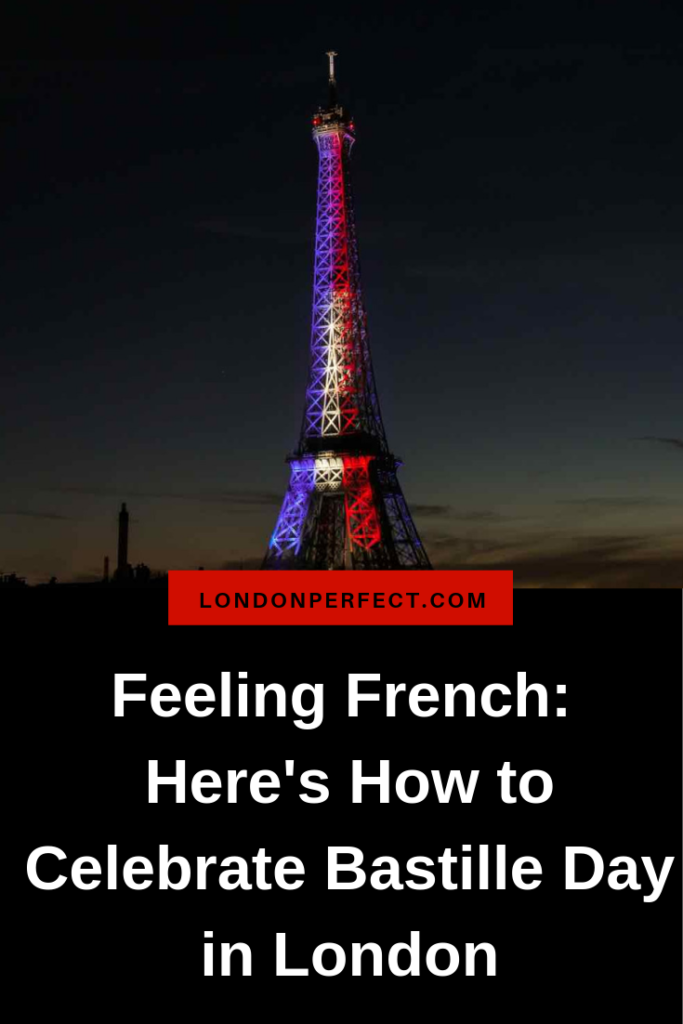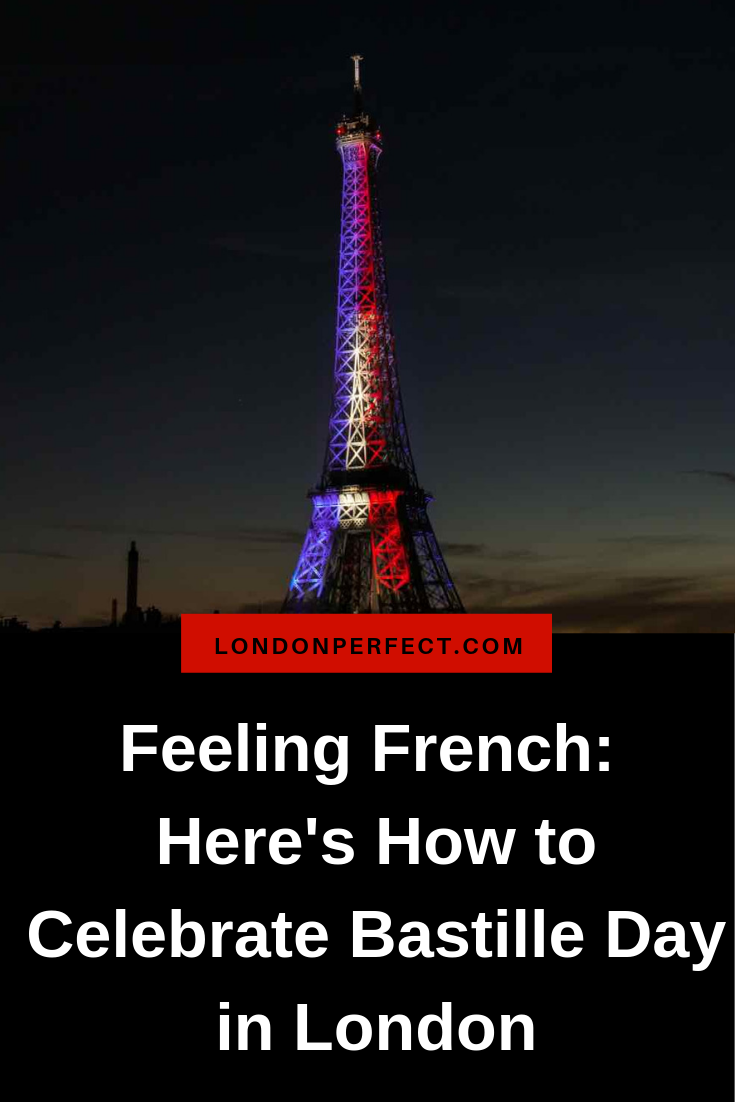 Why celebrate the French Revolution only in France? If you don't know where to spend Bastille Day, or le 14 juillet, in London this year, we have all the right addresses to help celebrate la fête nationale in the best way possible.
This brewery will give you the impression of being in the middle of Paris thanks to its distinctly French decoration. Every year since 2013, the restaurant organizes an all-day event, from 11:30 a.m. to 11 p.m., to celebrate the capture of the Bastille. Small (or big) benefit, the restaurant will offer a free meal to those who come dressed in a marinière shirt and beret. However, it is too late to book a table, as the restaurant held a draw in June. Don't despair, you can always come the same day and hope to snag a seat. — 20 Sherwood Street, London, W1F 7ED
This essential spot for pub crawl enthusiasts will host seven French breweries spread over five different pubs (Partizan, The Barrel Project, Anspach & Hobday, London Calling Sweden and Bianca Road Brewery). There will also be cheese, charcuterie, street food, and French chocolate. There is the possibility to book a private beer or cheese tasting in Partizan with the cheese brand Mons Cheesemonger, or a beer and chocolate tasting at London Calling Sweden with Pierre Hermé. Families are obviously welcome, as there will be typical French games, such as pétanque or palets. — More information here
For a chic July 14, the restaurant Le Pont de la Tour, located just above the famous Tower Bridge, will celebrate France all afternoon, from 12 p.m. to 4 p.m. Tickets are £60 for a buffet of seafood platters, oysters and barbecue. There will also be a bit of bubbly, as the event is in partnership with Moët & Chandon, who will build a champagne tower and offer a glass of rosé to all the guests. — 36D Shad Thames, London SE1 2YE
The Facebook group Les Français de Londres is organizing not one, but two parties to celebrate July 14. The first will take place at the Piccadilly Institute on Saturday, July 13, and the second at the Zoo Bar on Sunday, July 14, both starting at 9 p.m. On the agenda are French music and tricolor decorations in private rooms, with discounts on alcoholic beverages. Admission to each party costs £10, but if you're really in a festive mood, you can get tickets allowing access to both parties for £12! The organizers of the evening will be waiting for you at the entrance and will give you a bracelet that provides you access to the rooms in the two clubs. — Piccadilly Institute, The London Pavillion, 1 Piccadilly Circus, London W1J 0DA; Zoo Bar & Club, 13-17 Bear Street, London, WC2H 7AQ
If making merry is high on the agenda for this weekend, you'd do well to raise a glass with some French friends, or at least, in a gallic establishment, as it is of course Bastille Day on Sunday. Should your favourite French eatery feel not quite the level of celebration you're looking for, try these four very fun ideas instead…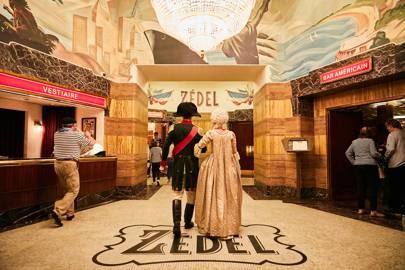 Perhaps the only establishment ever worth braving Piccadilly Circus for is the institution that is Zedels. Enjoy a steak haché and chariot of cheese in the Brasserie to the cheery soundtrack of a live accordionist playing the French classics all afternoon, followed by French gypsy classics courtesy of London-based band, Boom La Tete from 8.30pm onwards.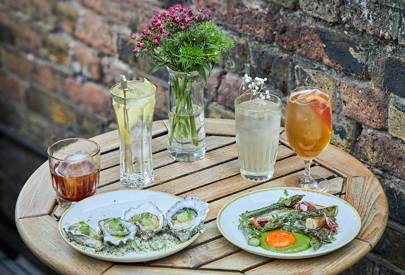 From today until Sunday, Hoxton's chicest little bistro Petit Pois will offer revellers a simple but perfectly fun Bastille Day menu. Swing by for a St-Germain cocktail (the Normandie Spritz with red grape juice and sparkling wine is particularly delicious in hot weather) served with your choice of oysters or small plates.
Petit Pois, 9 Hoxton Square, Hackney, London, N1 6NU petitpoisbistro.com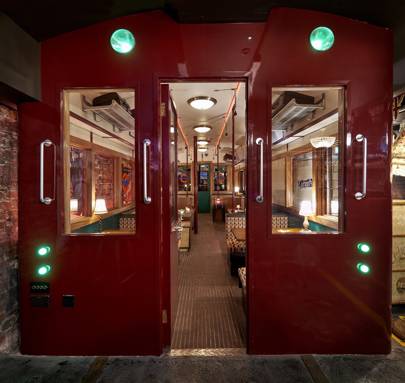 For a rather more raucous night head to Cahoots – a 1940s-inspired bar hidden in an unused underground tube station. There will be French-inspired cocktails (these are the people that brought us Mr Fogg's experiential watering holes) and oysters from Wright Brothers will flow freely for guests from 8pm. Bring your dancing shoes, there'll be live music from The FB Pocket Orchestra and Gypsy Dynamite too.
Cahoots, 13 Kingly Court, W1B 5PW, cahoots-london.com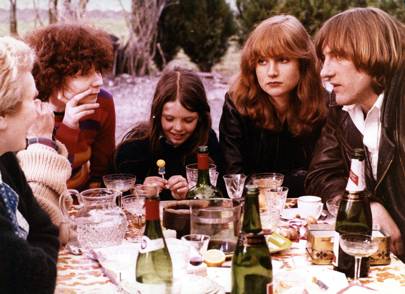 For a spot of French culture, The Barbican Cinema has curated a season called After the Wave: Young French Cinema in the 1970s. The collection features work from the post-Nouvelle Vague era of film directors whose work followed the fall-out of the civil unrest and protests of May 1968. There's still time to catch the final two; Jacques Doillon's Touched In The Head on 18th July and Maurice Pialat's Loulou starring Gérard Depardieu and Isabelle Huppert on the 25th.
Barbican Cinema, Beech Street, London, EC2Y 8DS, barbican.org.uk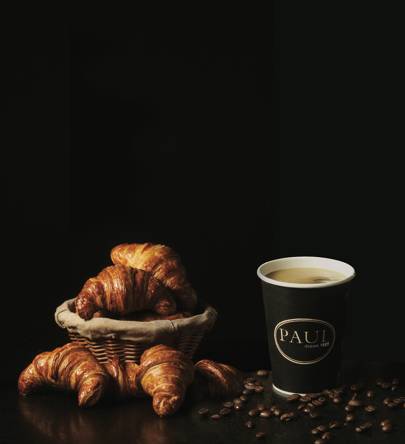 If drinking and feasting on mostly raw beef is off the cards entirely this Sunday, one should have a lovely coffee and pastry instead. PAUL will helpfully give you a freshly-baked takeaway croissant on the house – all you have to do is quote a secret password at the till. We're not ones to drop hints but for the password you'd be wise to check in on @paul_bakeryuk on Wednesday 10th.