People around you including your friends or family members may get jealous of you due to a number of reasons. They are vulnerable to some situations because of their fears and insecurities in life.
Some may be affected by your material possessions which you possess. This feeling may arise because they desire these things and aren't able to achieve them in their lives. The sense of disappointment may make them envious of you or your social stature. So do not spoil what you have by desiring what you have not. Comparison is the thief of joy. Being content with what you have is the key to happiness.
Some people often suffer from this syndrome where they feel left-out and feel that you get all the limelight and attention. These insecurities have increased in this era of social media where everything is about the number of likes, followers, etc.
Some people who feel ignored, unloved and unimportant in life, often feel envious of people who are popular, loved or in a happy relationship. This is just an outburst of their emotions which makes them hate you to have what they don't.
So, if you come across a person who is negative or seems to hate you for no reason, please remember its not about you, it's about them. So try to understand the underlying reason and be kind to them. May your reaction changes them. We are sharing a collection of quotes about jealousy and envy people which may help you to understand and bounce back from a situation when you face unnecessary flak from negative people.
FAMOUS QUOTES ABOUT JEALOUSY AND ENVY
"Jealousy… is mental cancer."- B. C. Forbes


---

"Comparison is the thief of joy."- Theodore Roosevelt


---

"Jealousy is just loved and hate at the same time."- Drake


---

"Envy and jealousy are incurable diseases."- Robert Kraft


---

"Envy is thin because it bites but never eats." – Spanish Proverb


---

"Jealousy injures us with the dagger of self-doubt." – Terri Guillemets


---

"Do not spoil what you have by desiring what you have not" -. Ann Brashares


---

"Jealousy contains more of self-love than of love."


---

"Jealousy is an awkward homage which inferiority renders to merit."


---

"The jealous are troublesome to others, but a torment to themselves."- William Penn


---

"As iron is eaten away by rust, so the envious are consumed by their own passion."- Antisthenes


---

"The jealous are possessed by a mad devil and a dull spirit at the same time."


---

"Our envy always lasts longer than the happiness of those we envy."


---

"Do not overrate what you have received, nor envy others. He who envies others does not obtain peace of mind."- Buddha


---

"Envy is a symptom of a lack of appreciation of our own uniqueness and self-worth. Each of us has something to give that no one else has."


---

"Jealousy—Tormenting yourself, for fear you should be tormented by another."- Paul Chatfield


---

"O! Beware, my lord, of jealousy; It is the green-eyed monster which doth mock the meat it feeds on." – William Shakespeare, Othello


---

Jealousy in romance is like salt in food. A little can enhance the savor, but too much can spoil the pleasure and, under certain circumstances, can be life-threatening. Maya Angelou
JEALOUSY AND ENVY QUOTES AND IMAGES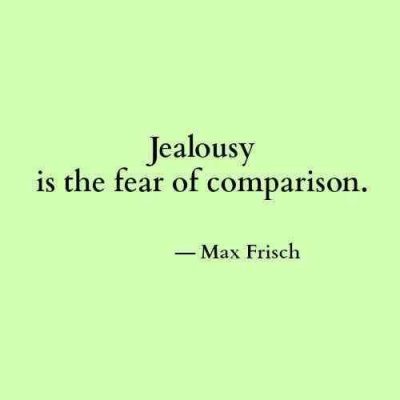 INSPIRATIONAL ENVY PICTURE QUOTES