A large selection of great Fathers Day quotes for writing in a card to your dad, including hearfelt, inspirational, and funny quotes, all celebrating fathers and the wonderful role they play in the family.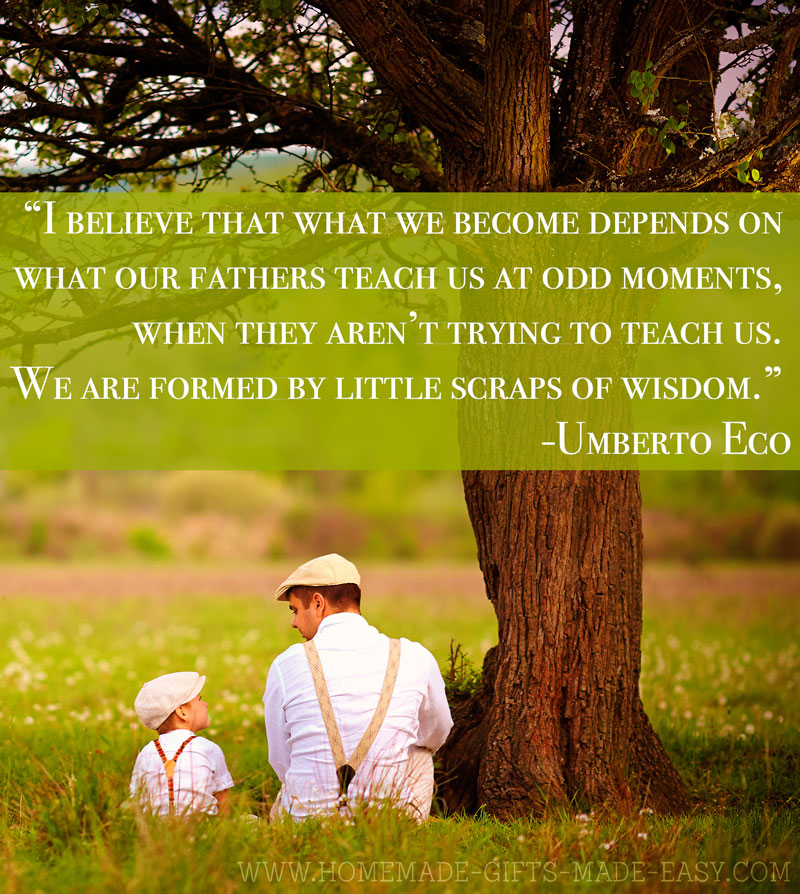 Funny Happy Fathers Day Quotes
These funny happy father's day quotes and sayings capture the father-child relationship with light-heartedness and humor.
"When I was a boy of fourteen, my father was so ignorant I could hardly stand to have the old man around. But when I got to be twenty-one, I was astonished at how much the old man had learned in seven years."
~ Mark Twain
"Dad taught me everything I know. Unfortunately, he didn't teach me everything he knows."
~ Al Unser
"The older I get, the smarter my father seems to get."
~ Tim Russert
"Dad, you're someone to look up to no matter how tall I've grown."
~ Anon
"A man knows when he is growing old because he begins to look like his father."
~ Gabriel Garcia Marquez
"Dads are like chocolate chip cookies; they may have chips or be totally nutty, but they are sweet and make the world a better place."
~ Hillary Lytle
"If at first you don't succeed, call Dad."
~ Anon
"Who needs a super-hero when I have you as my Dad?"
~ Anon
"Some people don't believe in heroes but they haven't met my dad!"
~ Anon
"Daddy, you are as smart as Ironman,
as strong as the Hulk,
as fast as Superman,
as brave as Batman.
You are my favorite super-hero."
~ Anon
Inspirational Happy Fathers Day Quotes
A collection of sweet, inspirational happy father's day quotes to celebrate fathers and fatherhood, and are perfect for including in a heartfelt note or text to your dad to thank him for all he has done for you and the role he plays in your life.
"I believe that what we become depends on what our fathers teach us at odd moments, when they aren't trying to teach us. We are formed by little scraps of wisdom."
~ Umberto Eco
"My father gave me the greatest gift anyone could give another person, he believed in me."
~ Jim Valvano
"Everyone can be a father, but it takes a lot to be a dad."
~ Wade Boggs
"He didn't tell me how to live; he lived, and let me watch him do it."
~ Clarence B Kelland
"FATHER: a son's first hero… and a daughter's first love."
~ Unknown
"When you need real understanding, When you need someone to care, When you need someone to guide you… A father's always there."
~ Thomas J. Langley
"Dads are most ordinary men turned by love into heroes adventurers, story-tellers, singers of songs."
~ Pam Brown
"A father is neither an anchor to hold us back, nor a sail to take us there, but a guiding light whose love shows us the way."
~ Unknown
"It is a wise father that knows his own child."
~ William Shakespeare
"I cannot think of any need in childhood as strong as the need for a father's protection."
~ Sigmund Freud
"I have found the best way to give advice to your children is to find out what they want and then advise them to do it."
~ Harry S. Truman
Father's Day Quotes from Daughters
A selection of father daughter quotes that work well as fathers day quotes from daughters and celebrate the special relationships dads have with their daughters, whatever their age. A beautiful way to thank your dad for all that he's done for you.
Someday I will find my Prince but my Daddy will always be my King.
A daughter needs a dad to be the standard against which she will judge all men.
To a father growing old, nothing is dearer than a daughter.
~ Euripides
It was my father who taught me to value myself. He told me that I was uncommonly beautiful and that I was the most precious thing in his life.
~ Dawn French
Certain is it that there is no kind of affection so purely angelic as of a father to a daughter. In love to our wives there is desire; to our sons, ambition; but to our daughters there is something which there are no words to express.
~ Joseph Addison
It is admirable for a man to take his son fishing, but there is a special place in heaven for the father who takes his daughter shopping.
~ John Sinor
Fathers, be good to your daughters. You are the God and the weight of her world.
~ John Mayer
A man's daughter is his heart. Just with feet, walking out in the world.
~ Mat Johnson
My fingers may be small but I've got my daddy wrapped around them.
A father's job isn't to teach his daughter how to be a lady, it's to teach her how a lady should be treated.
Every girl dreams about living the life of a princess. I have never dreamed of that because I have always been treated like a princess by you. I love you Dad. Happy Fathers day.
A father holds his daughter's hand for a short while but he holds her heart forever.
A daughter may outgrow your lap but she'll never outgrow your heart.
There's nothing like being a father to a little girl. A daughter can turn the hardest man into the world's biggest softy. A dude could be a straight up gangster, but around his little girl he becomes a teddy bear.
Father's Day Quotes from Son
A collection of father son quotes to honor the relationship between a dad and his son on fathers day. These fathers day quotes are perfect for writing in a card from father to son and thank your dad for all he has done for you.
My father used to play with my brother and me in the yard. Mother would come out and say, "You're tearing up the grass." "We're not raising grass," Dad would reply. "We're raising boys."
~ Harmon Killebrew
One father is more than a hundred schoolmasters.
~ George Herbert
A father is someone who wants to catch you before you fall but instead picks you up, brushes you off, and lets you try again.
Every father should remember that one day his son will follow his example instead of his advice.
~ Charles F Kettering
When you teach your son, you teach your son's son.
~ The Talmud
Every son's first superhero is his father, and it was the same for me. For me, he was Superman and Batman combined.
~ Tiger Shroff
Small boys become big men through the influence of big men who care about small boys.
My father didn't tell me how to live; he lived, and let me watch him do it.
~ Clarence B. Kelland
Happy Fathers Day Quotes from Wife to Husband
A selection of fathers day quotes that could be written to the father of your children, expressing gratitude and thanks for their role in the family.
A man never stands as tall as when he kneels to help a child.
~ Knights of Pythagoras
The only thing better than having you as my husband is our children having you as their father.
~ Unknown.
A man's worth is measured by how he parents his children. What he gives them, what he keeps away from them, the lessons he teaches and the lessons he allows them to learn on their own.
~ Lisa Rogers
The reward of child rearing is spending the rest of your life proudly knowing this person you helped guide.
~ Mike Sager
The greatest thing a father can do for his children is love their mother.
~ Anjaneth Garcia Untalan
Religious Happy Fathers Day Quotes
Religious fathers day quotes that reflect on how important and special a father's role is in raising children.
"Father! – to God himself we cannot give a holier name."
~ William Wordsworth
"Blessed indeed is the man who hears many gentle voices call him father!"
~ Lydia M. Child
"Train up a child in the way which he should go and when he is old he will not depart from it."
~ Proverbs 22:6
A Father's Prayer
"May God give you the grace of wit and wisdom to understand that rainbows are only the result of showers, dust, and hope…"
~ Unknown
Father's Day Image Quotes
A small collection of beautiful image quotes that capture the special relationship of a father with his children.
For more father's day images, take a look at our Happy Fathers Day Images collection.