Stepfathers can play a vital role in the life of any child who has one. Not only do they provide additional love, guidance, and care for their partner's child or children, they prove that you don't need to share DNA with a person to share a special connection with them. So this Father's Day, tell the father figure in your life how much you appreciate him with one of these gifts for stepdads.
Whether he likes a good pun or is in desperate need of a new mug for his morning brew, there's something on the following list your stepdad is bound to love. And while a gif is always nice, most importantly, your stepdad will know that he is special, appreciated, and loved. (As always, don't forget to include a heartfelt, personalized card, so you can truly express your wholehearted gratitude and the one-of-a-kind love you have for this special man in your life.)
Stepdad Definition Pillow
This sweet throw pillow shares the true definition of step-fatherhood, and he'll love the thoughtful reminder each time he sees it on his favorite chair.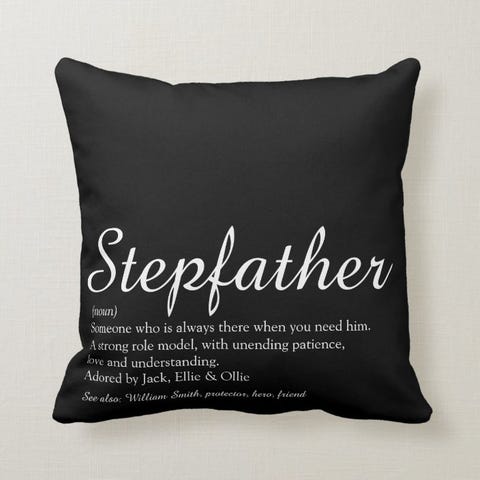 Stepdad Beer Mug
This silly pint glass is perfect for a stepfather who loves a good laugh, and an ice-cold beer, at the end of the day.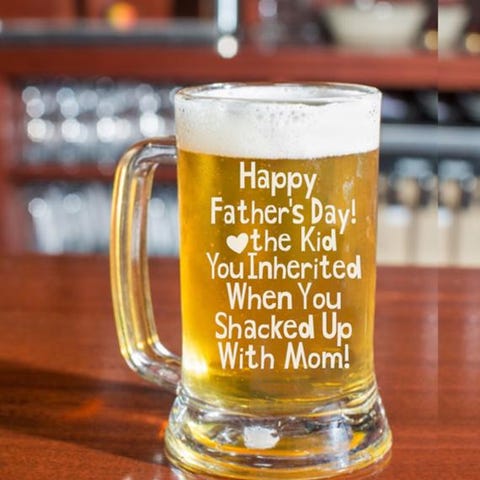 Stepdad Custom Name Sign
This custom stepdad sign is the perfect accessory for your stepdad's home office or bedside table.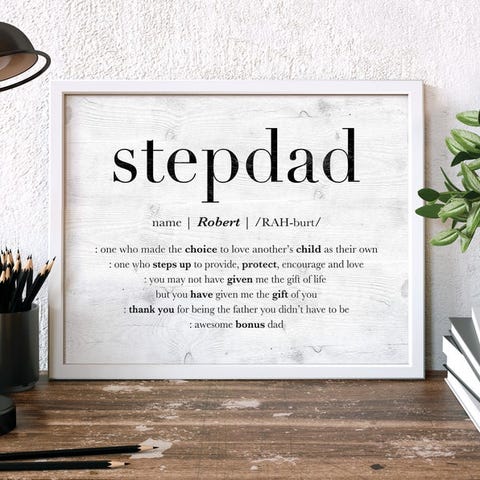 Step Dad Coffee Mug
Sure, the technical term might be "stepdad," but you see him as more of a "Bonus Dad." Tell him how much better he's made your life with this meaningful mug.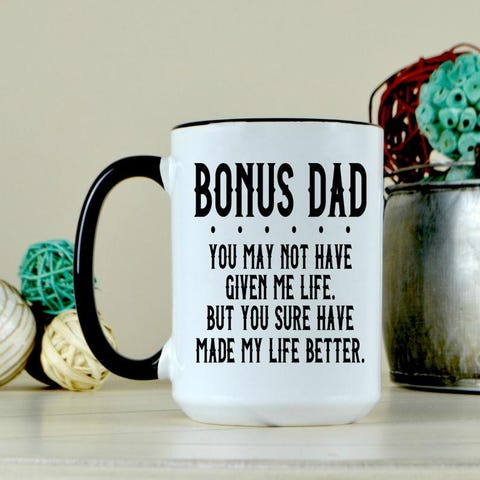 Gardening Seat & Tool Kit
If your stepdad taught you everything you know about gardening, he'll love this tool kit and fold-up seat. (And when it's safe to do so, join your stepdad in the garden and plant some flowers together.)
Wish Bracelet
If you want your stepdad to have his choice of wishes for Father's Day this year, then get him this wish bracelet. After opening, he can make any wish, then sit back and watch them come true when the bracelet beings to fray and break off.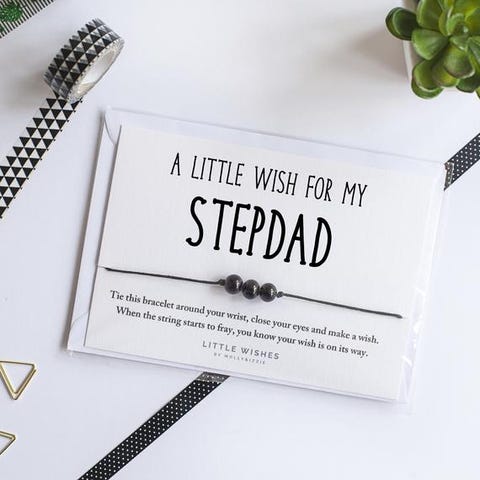 Personalized Whiskey Glass
If your stepdad is something of a whiskey connoisseur, he'll love this personalized whiskey tumbler that proudly says he's the best.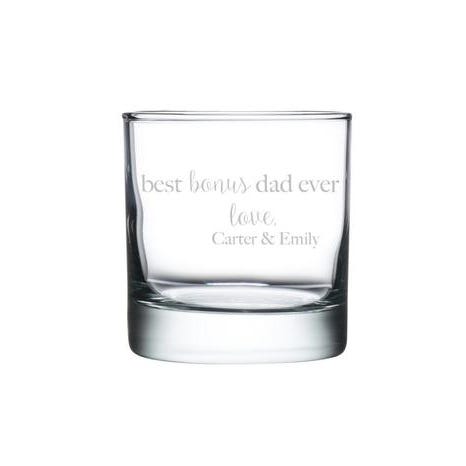 We Hooked the Best Bonus Dad
For the stepdad who taught you all about the ins and outs of fishing, this cute fishing keychain will look perfect on his house keys (and will remind him of all the fun times you had together out by the water).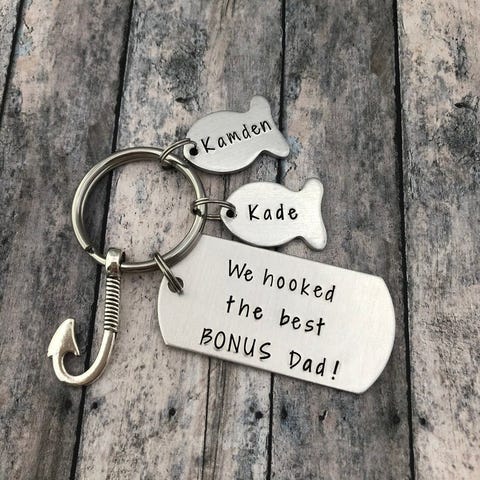 Nacho Pun Mug
It's just a fact of life: Dads love puns. This funny nacho-themed pun will make your stepdad crack a smile each time he takes a sip of his morning coffee.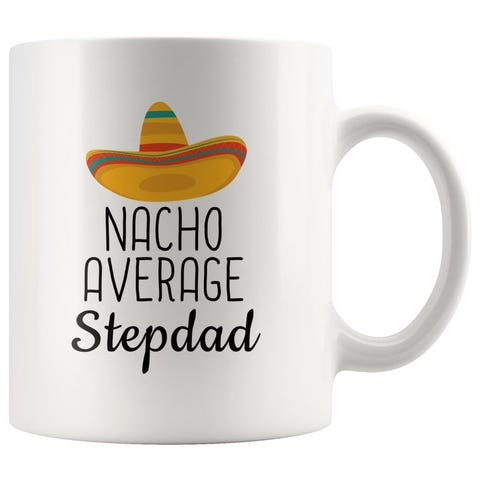 Tile Pro
It can be adorable when your stepdad is accidentally misplacing things all the time, but if you want to help him keep track of his car keys or glasses, this electronic tile will do just the trick.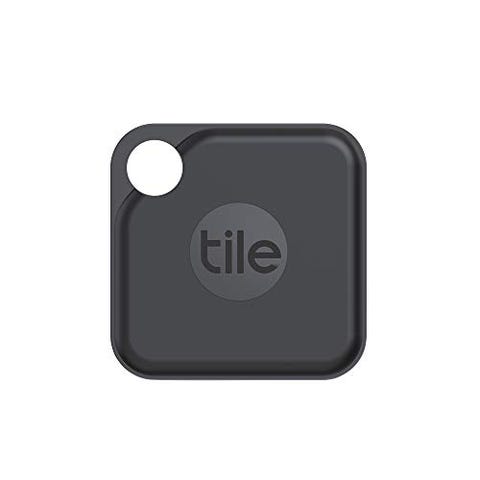 Unsaid Words Mug
The bond between a stepfather and child can be so strong that some things don't need to be said out loud… like the fact that you're *obviously* the favorite.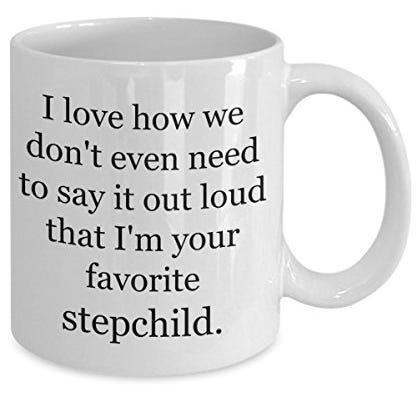 Periodic Table T-shirt
If a cringe-worthy dad joke is just the type of thing to make your stepfather smile this Father's Day, then a cringe-worthy dad joke is what he shall receive.