This Father's Day, pay tribute to dad (or grandpa, or any father figure) with a poem that says just how you feel. But if you're not a poet, fear not: Let our curated collection of Father's Day poems and passages inspire that perfect greeting card or social media tribute, whether you want your message to be poignant, inspirational, grateful, or just plain funny. Our list includes a diverse range of excerpts, so you can find just the right words to express the depth of your love and admiration for him. (And you'll find something in here that works even if your relationship is more complicated, too.)
"Hesperus," By Shann Ray
My four-year-old daughter handed me a card.
To Daddy written on the front
And inside, a rough field
Of  five-pointed lights, and the words
You're my favorite Daddy in the stars.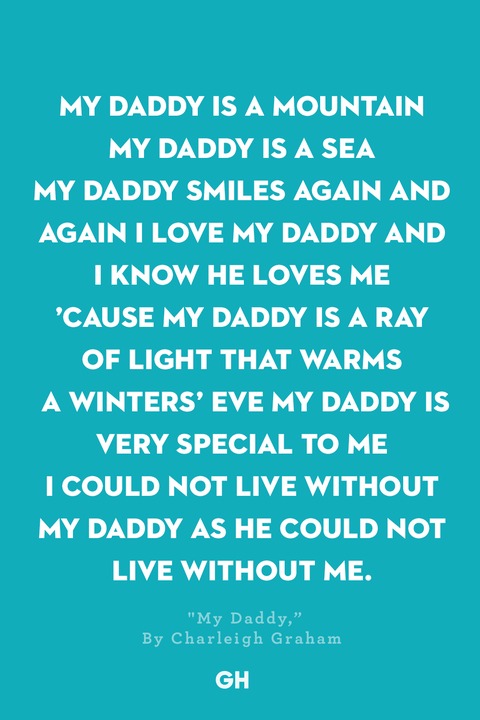 "Only a Dad," By Edgar Albert Guest
Only a dad, but he gives his all
To smooth the way for his children small,
Doing, with courage stern and grim,
The deeds that his father did for him.
This is the line that for him I pen,
Only a dad, but the best of men.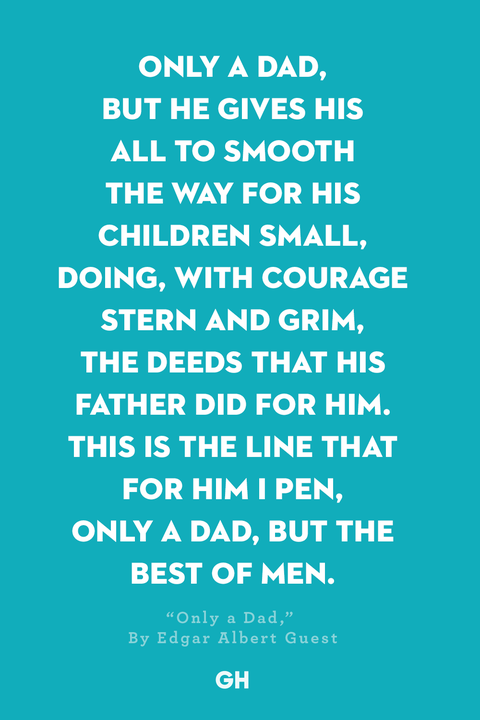 "My Dad's Hands," By David Kettler
I gave little thought in my formative years of the reason for Dad's raspy mitts:
The love in the toil, the dirt and the oil, rusty plumbing that gave those hands fits!
Thinking back, misty-eyed, and thinking ahead, when one day my time is done.
The torch of love in my own wrinkled hands will pass on to the hands of my son.
I don't mind the bruises, the scars here and there or the hammer that just seemed to slip.
I want most of all when my son takes my hand, to feel that love lies in the grip.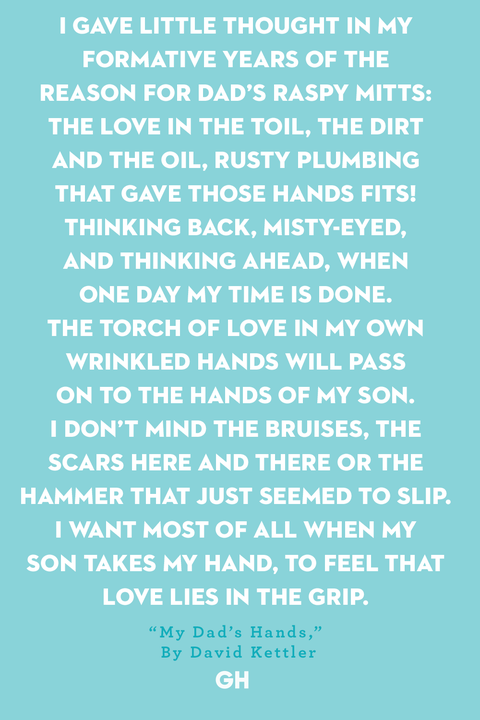 "My Daddy," By Charleigh Graham
My Daddy is a mountain
My Daddy is a sea
My Daddy smiles again and again
I love my Daddy and I know he loves me
'Cause my Daddy is a ray of light that warms a winters' eve
My daddy is very special to me
I could not live without my daddy as he could not live without me.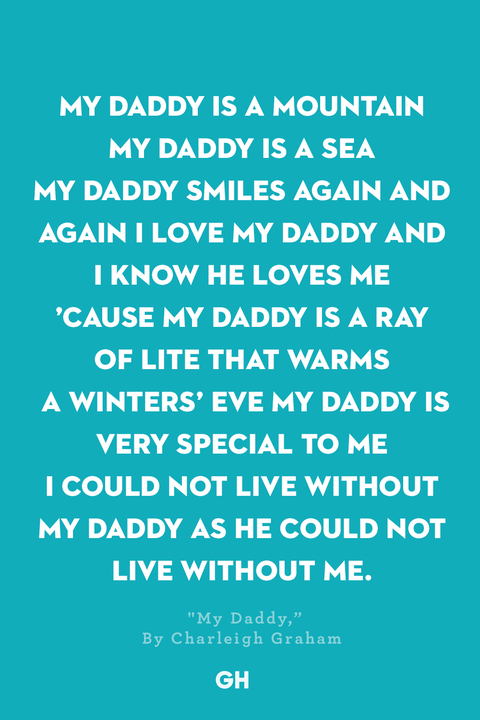 "Father," By Edgar Albert Guest
My father knows the proper way
The nation should be run;
He tells us children every day
Just what should now be done.
He knows the way to fix the trusts,
He has a simple plan;
But if the furnace needs repairs,
We have to hire a man.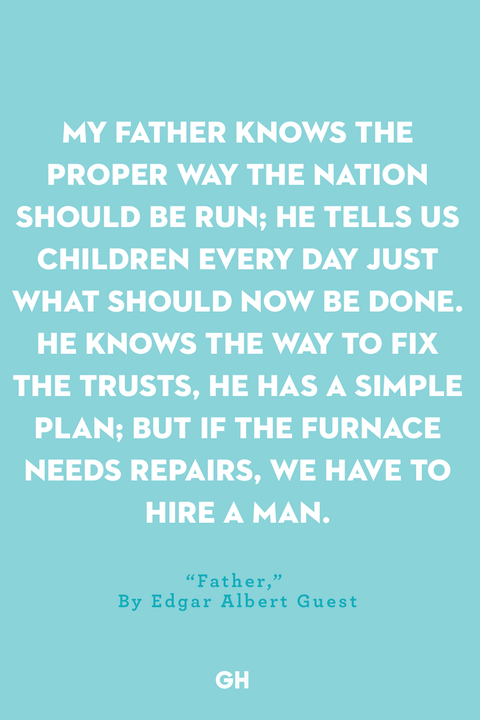 "Father's Song," By Gregory Orr
My daughter cried her tears;
I held some ice against her lip.
That was the end of it.
Round and round: bow and kiss.
I try to teach her caution;
She tries to teach me risk.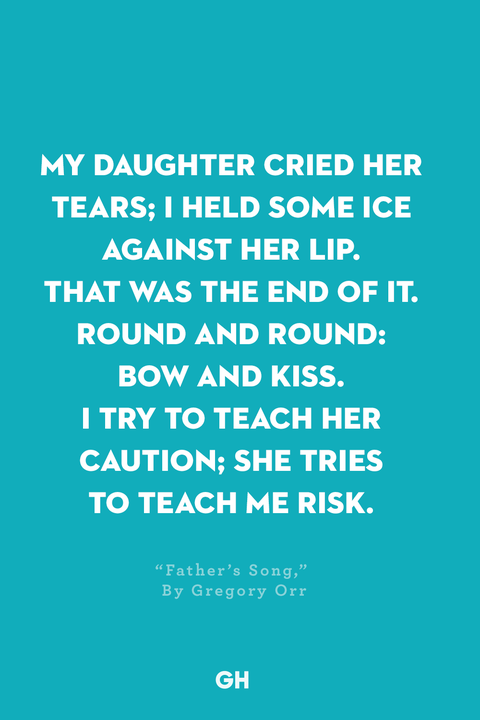 "Father," By Ella Wheeler Wilcox
He never made a fortune, or a noise
In the world where men are seeking after fame;
But he had a healthy brood of girls and boys
Who loved the very ground on which he trod.
They thought him just little short of God;
Oh you should have heard the way they said his name –
'Father.'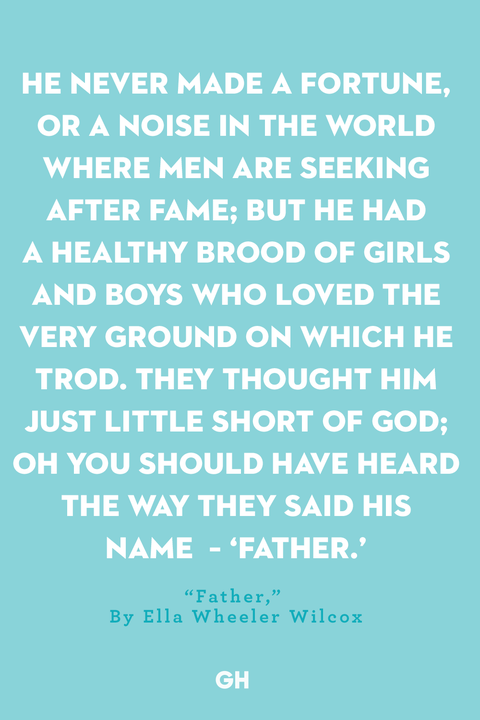 "The Gift," By Li-Young Lee
To pull the metal splinter from my palm
My father recited a story in a low voice.
I watched his lovely face and not the blade.
Before the story ended, he'd removed
The iron sliver I thought I'd die from.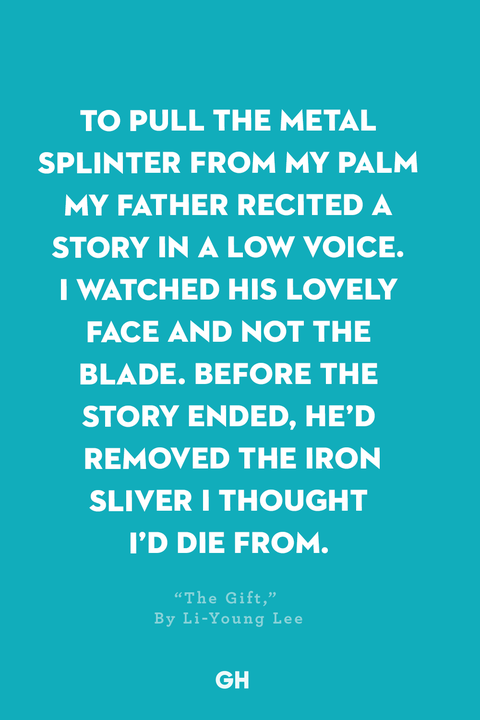 "Dad," By Karen K. Boyer
He never looks for praises
He's never one to boast
He just goes on quietly working
For those he loves the most
His dreams are seldom spoken
His wants are very few
And most of the time his worries
Will go unspoken too
He's there… A firm foundation
Through all the storms of life
A sturdy hand to hold
In times of stress and strife
A true friend we can turn to
When times are good or bad
One of our greatest blessings
The man that we call dad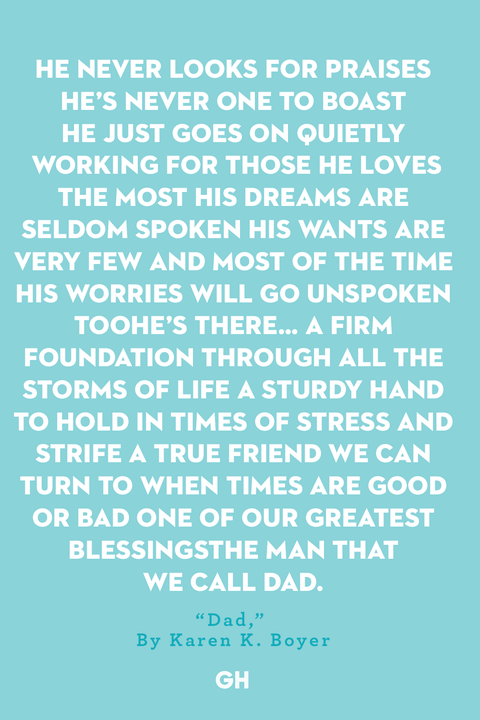 "A Boy and His Dad," By Edgar Guest
And the boy is learning the ways of men
From the finest man in his youthful ken.
Kings, to the youngster, cannot compare
With the gentle father who's with him there.
And the greatest mind of the human race
Not for one minute could take his place.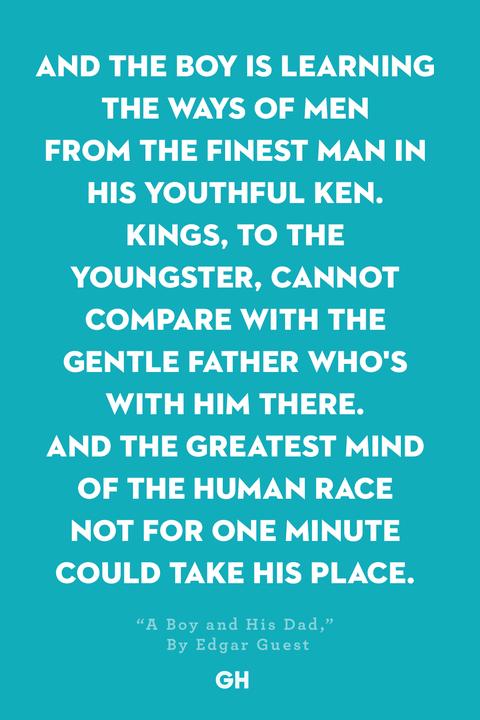 "On the Beach at Night," By Walt Whitman
From the beach the child holding the hand of her father,
Those burial-clouds that lower victorious soon to devour all,
Watching, silently weeps.
Weep not, child,
Weep not, my darling,
With these kisses let me remove your tears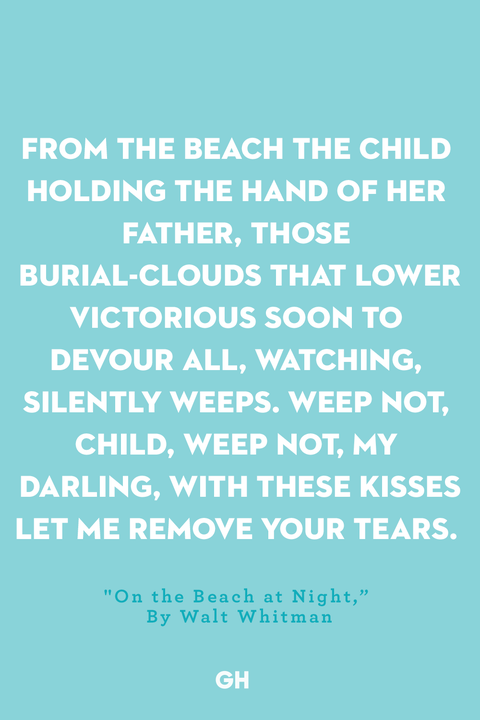 "In Her Eyes," By Michelle W. Emerson
The depth of a father's love shows in his daughter's eyes.
What's known is what's shown from sunset to sunrise.
A foundation built on more than just what is spoken.
It's commitments kept and promises that go unbroken.
An emotion so immense that nothing in this world can erase.
The permanent impression of love is tattooed upon her face.
A relation so peculiar that only the two can understand,
Yet so immaculate it's obvious that, by God, it was planned.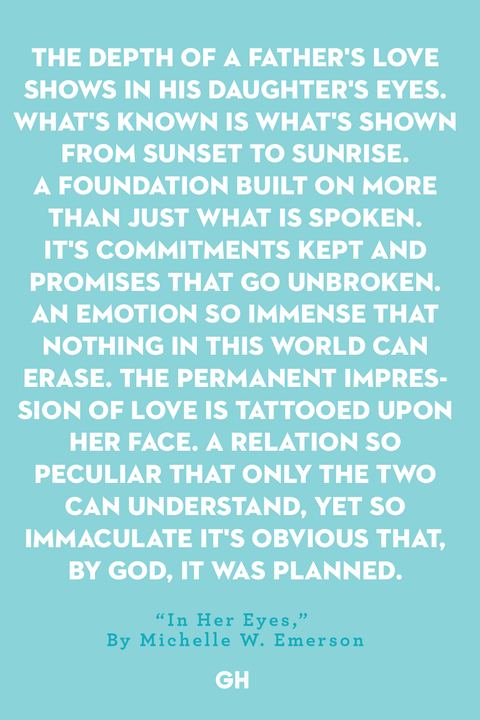 "Star Dad," By Karl Fuchs
I love you, Dad, and want you to know
I feel your love wherever I go
Whenever I've problems, you're there to assist
The ways you have helped me would make quite a list
Your wisdom and knowledge have shown me the way
And I'm thankful for you as I live day by day
I don't tell you enough how important you are
In my universe you're a bright shining star