Everyone agrees that the hardest person to buy gifts for is Dad (with Grandpa coming in at a close second). Sure, if you take a moment, you can find a few things out there that are perfect gifts for dads who want nothing, but there are also a few DIY ideas that are sure to make your pop's heart sing since they're gifts that are both handmade and from the heart. Whether you need ideas for your own dad, your husband, or even gifts that the kids can make, we've got plenty of fun projects that will suit any and all father figures. These clever DIYs also make for excellent last-minute Father's Day gifts, since you can raid your craft closet and get to work.
When you're looking to make your dear old dad smile, why not make him his very own etched beer glass or a personalized snack jar (of which there are several to choose from)? Speaking of snacks, some of these DIY trinkets will go quite nicely in a DIY Father's Day gift basket—like a candy "stache" jar or a bottle of homemade orange bitters. And there are several hands-on ideas the kids can get involved with, such as the decorated grilling spatula or the LEGO cuff links. These DIY Father's Day gifts are perfect for any dad in your life—just don't forget the Father's Day cards!
Personalized Spatula
For an easy DIY gift from the kids, let them decorate a spatula for their grill-loving dad with a sweet message.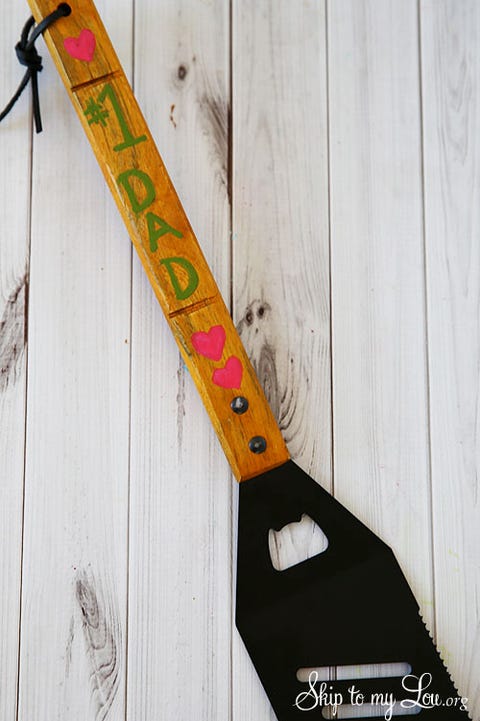 Homemade Orange Bitters
For the perfect old fashioned, gift Dad these homemade orange bitters that will add a little flavor to his favorite cocktail.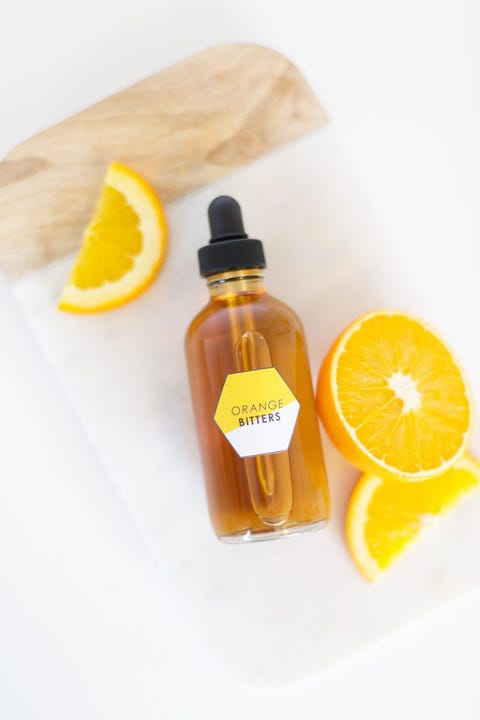 Surprise Paper Airplane Box
Remind your dad of all those paper airplanes you made as a kid with this sweet garland idea.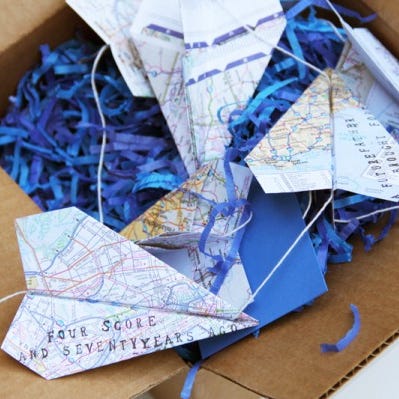 DIY Snack Tin
Make both the snack tin and the tasty mix that goes inside with just a few easy steps.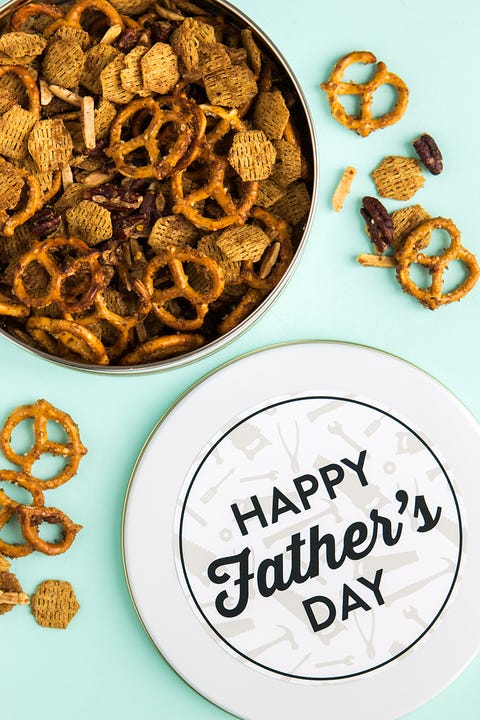 LEGO Cuff Links
Putting these adorable cuff links together with your kids will make for a thoughtful gift from the whole family.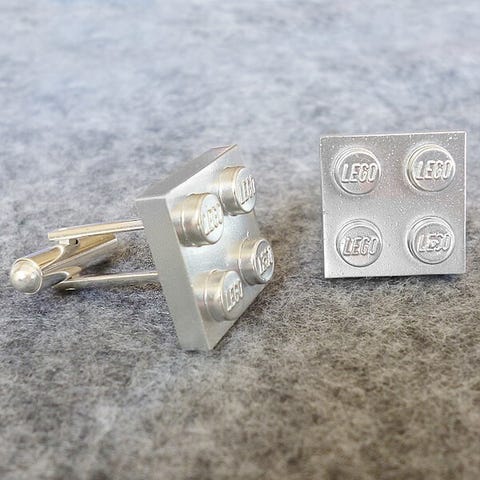 Bottle Tags
Build a six pack of his favorite craft beers and print off these cute tags for a personalized touch.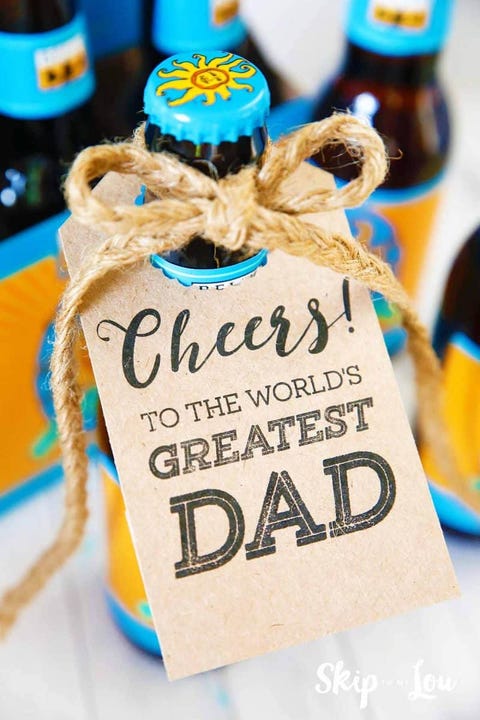 DIY Canvas Tool Apron
Does your dad love to fix things and do work around the house? This tool apron is the perfect DIY gift to present him with for Father's Day.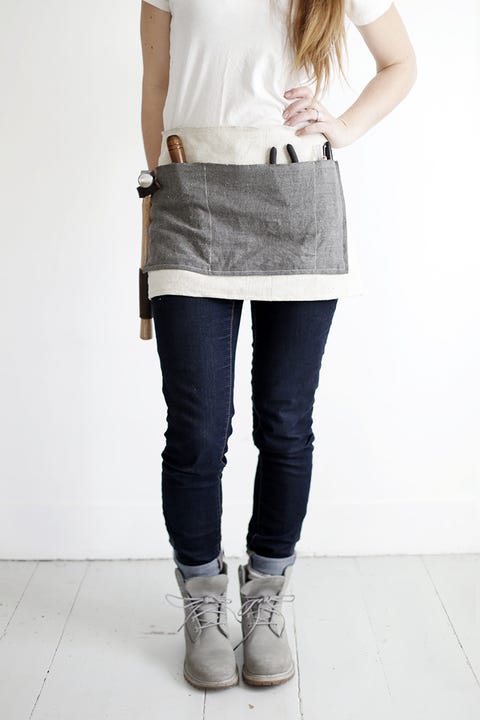 DIY Canvas Wine Bag
What Dad doesn't love wine? With this fun DIY, you'll be able to spruce up the classic gift with a little homemade love.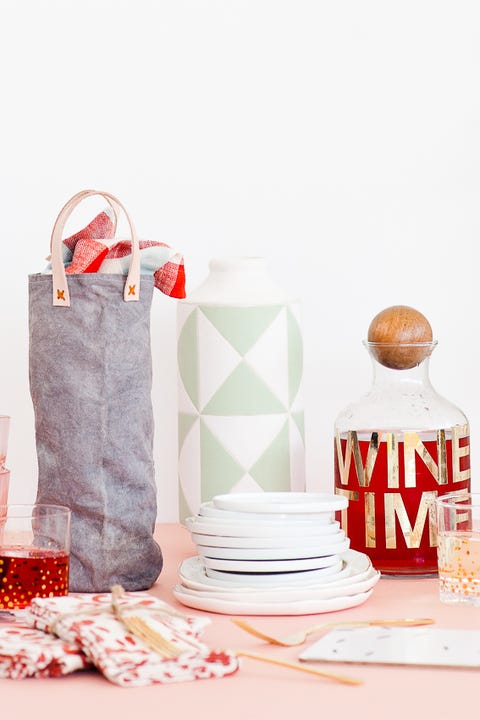 Tea Gift Box
Tea is the name of the game in this sophisticated gift basket. Even the basket itself is lined with a tea towel! Include a bag of pancake mix, a jar of fresh jam, ripe apples, and loose-leaf tea for a gift that's as delicious as it is nice to look at.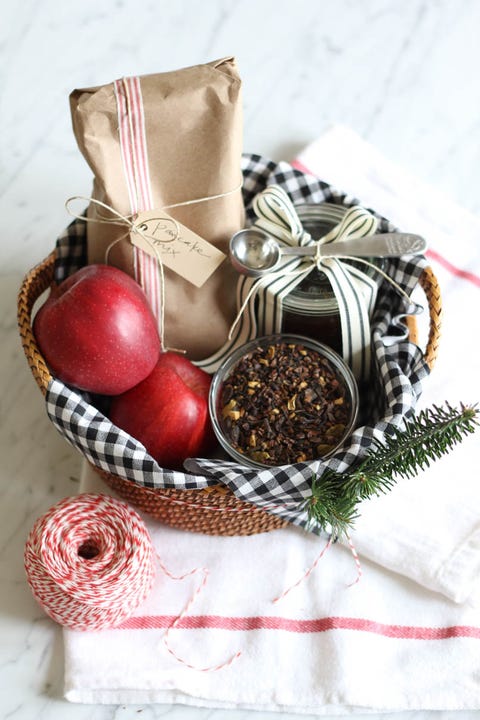 DIY Candy Dispenser
Does Dad have a sweet tooth? Help him satisfy his cravings with this nifty DIY candy dispenser (you can even pick and choose from his favorite candies to "personalize" it further).
DIY Beer Caddy
This DIY beer caddy kit comes with everything you need to make a holder with room for six cold ones. Pre-drilled holes, smooth sanded pieces, and included screws make it easy.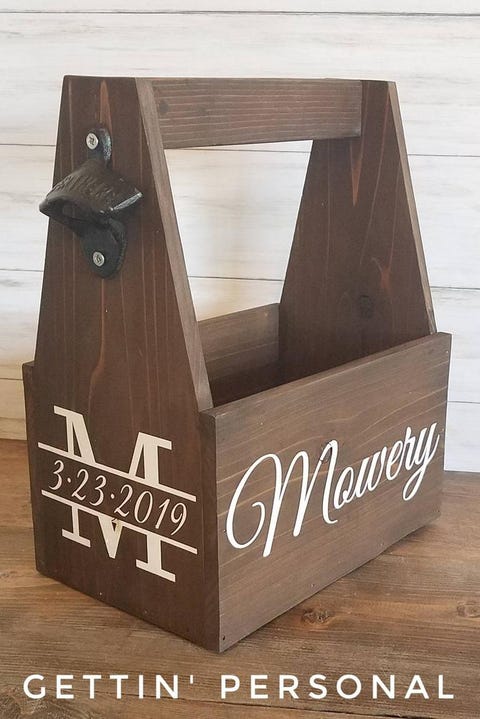 DIY Agate Coasters
If your dad's into wine, beer, or plain old lemonade, he'll appreciate these gorgeous coasters, both for their utility and their beauty. Believe it or not, they're made of acrylic paint and polymer clay—that's it.