Every individual has his own Karma, whether we believe it or not. Karma denotes the cause and effect of our actions in our life. I believe in good karma, I believe, we reap what we sow. Our actions shape our future eventually. Whether its love, relationships or work, you should always watch your acts and doings, because ultimately we get what we give!
Your bad Karma will eventually catch up with you with what you deserve. Do you believe in Karma? Sharing some amazing Karma Quotes and Sayings and hope you all be positive and spread the same. #KarmaQuotes
If you are interested to know more about the theory of Karma then read here!
COLLECTION OF BEST KARMA QUOTES & SAYINGS
"How people treat you is their karma; how you react is yours."


---

"There's a natural law of karma that vindictive people, who go out of their way to hurt others, will


---

"Be honest, like karma, it will eventually come back to you."


---

"Don't waste time on revenge. The people who hurt you will eventually face their own karma."


---

"Nothing happens by chance, by fate. You create your own fate by your actions. That's Karma."


---

"Before you begin on the journey of revenge, dig two graves."


---

"Revenge will never solve anything, KARMA will."


---

"Karma bides it's time. You will always have to watch out. Karma is unforgiving and always gets payback."


---

"Karma has no menu. You get served what you deserve."


---

Some day people will ask me what is the key to my success…and I will simply say, "good Karma.


---

"Like gravity, karma is so basic we often don't even notice it."


---

"Good things could happen to not so bad people."


---

"According to the karma of past actions, one's destiny unfolds, even though everyone wants to be so lucky."


---

"I know what karma is, but it never happens to the people that need it."


---

"I believe in Karma. If the good is sown, the good is collected. When positive things are made, that returns well."


---

"Karma, simply put, is an action for an action … good or bad."


---

"Do good and good will follow you."


---

"What goes around comes around. Do to others what you would like to receive yourself."


---
FAMOUS FUNNY KARMA QUOTES IMAGES FOR FACEBOOK, TUMBLR, PINTEREST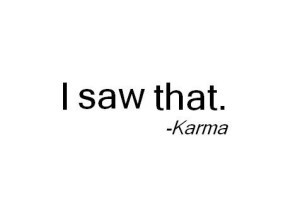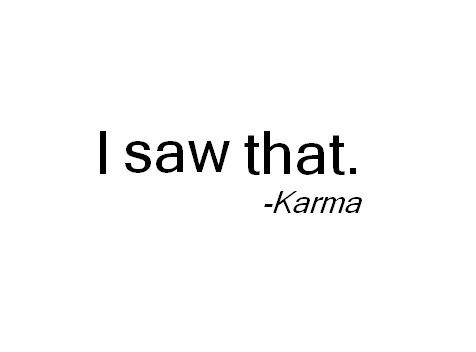 If you like our collection of Karma quotes feel free to share it with friends and family on Facebook, Tumblr or tagalog!